Bitcoin's price action over the past few weeks has been "boring" to many traders.
Due to similar indecision in the equities market, which has influence over what direction cryptocurrencies will head, BTC has stalled in the $8,000s and $9,000s from early May until now.
At long last, analysts say that a breakout for Bitcoin is finally due. And history suggests it could be a massive breakout.
Bitcoin Is About to See a Massive Spike, RSI Study Predicts
Bitcoin's consolidation over recent weeks has allowed the one-day relative strength index (RSI) to tighten, forming a symmetrical triangle formation marked by two converging trendlines.
According to a trader, the RSI suggests that a "price volatility spike" will happen today or tomorrow "at the latest," with the indicator finally breaking out of that triangle after weeks of consolidation.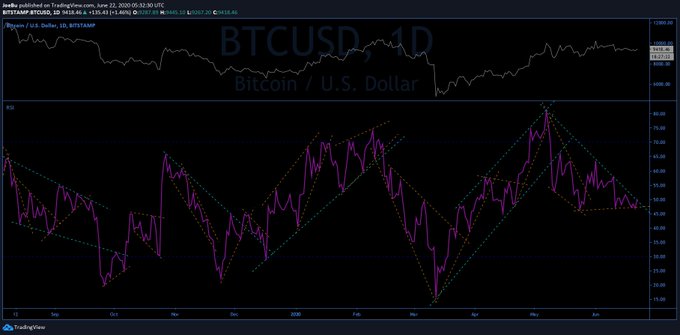 Bitcoin one-day relative strength index study shared by trader "JB" (@Blackswan0815 on Twitter). Chart from TradingView.com
Also suggestive of an imminent breakout is the Bollinger Bands, "a type of statistical chart characterizing the prices and volatility over time of a financial instrument or commodity."
As reported by NewsBTC previously, a technician noted that the width of the indicator had reached low levels not seen since February 2020, prior to the drop from the $10,000 range to $3,700 in weeks' time.
What Way Will BTC Break?
With Bitcoin flirting holding both crucial supports and failing to break past crucial resistances over the past weeks, it may seem like anyone's guess as to what comes next.
The funding rate of BTC futures markets also show that cryptocurrency traders are indecisive: after a flash of negative funding rates in March and brief periods of positive funding rates in May/June, rates are converging on zero.
Analysts are equally as unsure as to what comes next, with different technical and fundamental analyses signaling different things.
One trader recently noted that Bitcoin's price action looks extremely similar to how it looked prior to rallying 50% in two weeks. Another suggested that the cryptocurrency is still trading in a textbook pattern predicting a retracement to $8,000. 
Whatever comes next, an industry investor and executive has reminded investors to accumulate and "stack sats" to maximize potential gains in the long run, as short-term trading comes with the risk of missing out on trends to the upside.
The CEO of crypto mining startup Blockware Mining, Matt D'Souza, said:
"Buying at $8500 vs $9300 has 0 relevance when the objective should be capturing a market cycle over the next 18-36 months that could print $20,000, $50,000 or $100,000+. Short term scalping is a distraction, it'll lead to missing the big move. "
Featured Image from Shutterstock
Price tags: xbtusd, btcusd, btcusdt
Charts from TradingView.com
Key Indicator Predicts a Massive Bitcoin Spike Will Happen Today or Tomorrow