Bitcoin saw a sharp drawdown today that led its price to the lower end of its long-held consolidation channel. This decline came about unexpectedly and appears to be the result of the rejection seen at $10,000 yesterday.
The cryptocurrency is now showing some signs of weakness as it struggles to garner any upwards momentum, but analysts are noting that buyers were able to defend the lower boundary of a bullish technical formation.
It is important to note that BTC's macro support sits quite a way below its current price level, and one analyst believes that a movement to these lows is imminent.
The analyst explains that this potential path forward is support by historical precedent.
Bitcoin Posts Signs of Overt Weakness, But Buyers Defend Key Level 
At the time of writing, Bitcoin is trading down just over 4% at its current price of $9,400. The cryptocurrency has been hovering around this price level for the past couple of hours due to an emergence of buying pressure.
The crypto did decline to lows of $9,000 on many major margin trading platforms, although there does appear to be some strong support between $9,000 and $9,400.
If BTC is able to hold above this region in the days and weeks ahead, it is highly probable that the crypto will begin inching higher.
This price region also coincides with the lower boundary of the long-held range that BTC has been trading in throughout the past several weeks.
The upper boundary of this range sits around $9,900, and an ardent defense of this support could be enough to lead Bitcoin back to these highs.
One factor to bear in mind in the near-term is that BTC's recent lows also coincided closely with the lower boundary of a pennant formation that has been leading it higher over the past month.
While speaking about this technical formation, one analyst explained that this latest price decline is not significant.
"This is not 'the big move'. Nothing significant happened. We are still stuck inside this big consolidation range," he noted while pointing to the below chart.
Analyst: BTC Likely to See Another Far-Reaching Selloff
Another popular pseudonymous analyst explained that he believes BTC will still see a 40% decline in the near-term due to historical precedent.
"BTC. I've been seeing more and more comments saying BTC going down to support is unlikely because that'd be too big a drop. That's not how Bitcoin works. Retraces are short and vicious. Crashes even more so. 40% down is not unlikely, it's happened before, it'll happen again," he stated.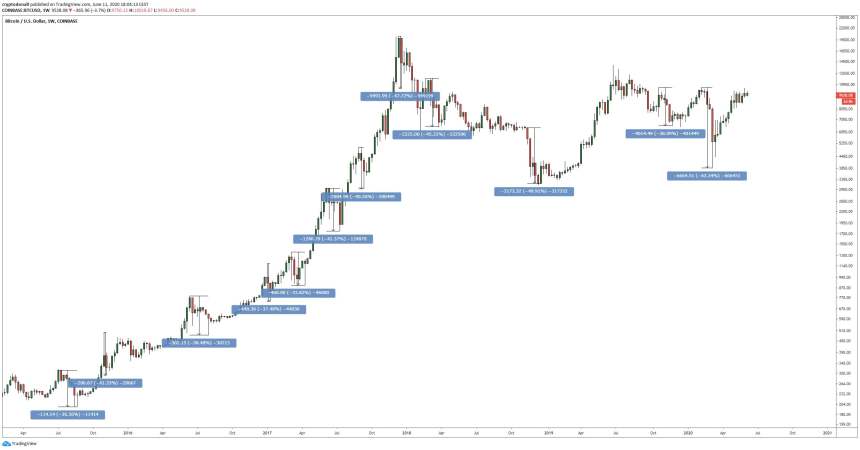 The chart seen above does indicate that these types of declines can come about during the course of macro-uptrends, and shows that they are a natural part of its historical price action.
Featured image from Shutterstock.