Since NewsBTC's last market update, the Bitcoin market has continued to flash signs of weakness.
After managing to temporarily reclaim $9,000, the cryptocurrency started to plunge just minutes ago, falling as low as $8,675 — 4% lower than where BTC started the day and about 15% below the May highs.
This latest leg lower has resulted in a liquidation event on margin-enabled exchanges, with this rapid drop catching most traders off guard.
According to Skew.com — a website tracking crypto derivatives — just shy of $20 million worth of long positions have been liquidated over the past hour, adding to the millions more liquidated earlier today.
May Get Worse for Bitcoin Bulls
Unfortunately, Bitcoin is prepared to fall even lower after this move, analysts say.
One prominent trader shared the chart below, which shows that Bitcoin's weekly chart is printing a textbook "tweezers" top on the weekly chart, marked by two similar candles in succession. Add a rejection at a key resistance level, $10,000, and the cryptocurrency is purportedly primed to move lower.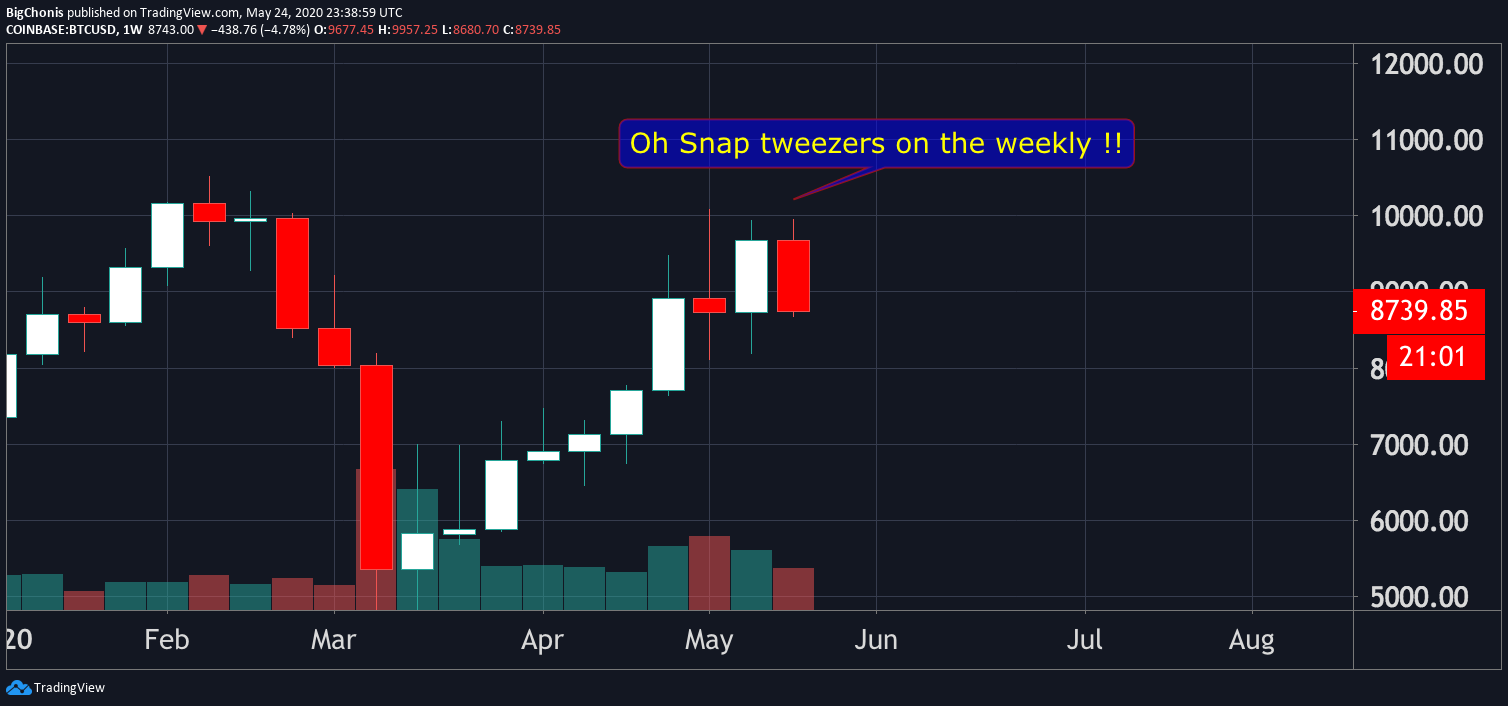 Also bearish are on-chain signals.
Five of seven of IntoTheBlock's primary market signals — Smart Price, Net Network Growth, In The Money, Bid-Ask Volume Imbalance, and Large Transactions — are currently in "bearish" territory.
Fundamental Factors Still Favor Bulls
Even still, the fundamentals purportedly favor Bitcoin bulls in spite of the recent drop.
For one, the Chinese yuan has recently begun to underperform the U.S. dollar once again. The foreign currency is falling lower after President Trump remarked that he and Washington would react "very strongly" to new mainland Chinese government proposals about Hong Kong.
Analysts say that this could be a boost to Bitcoin. Chris Burniske, a partner at Placeholder Capital, explained:
"If China's CNY continues to weaken against USD, then we could have a 2015 and 2016 repeat, where BTC strength coincided with yuan weakness."
Adding to this, Mike McGlone — senior commodities strategist at Bloomberg Intelligence — noted that there is growth in the number of active Bitcoin addresses and in the futures market. This suggests growing retail and institutional adoption of cryptocurrency.
Featured Image from Shutterstock