On its birthday, a top exchange executive has wished Bitcoin a long, bullish life.
Andy Cheung, the Head of Operations at OKEx, predicted "something good" as Bitcoin market continues to trend calmly amidst a global stock market sell-off. He pointed at two significant events to show the digital currency's evolution. The first was when an individual had purchased a pizza after paying 2,000 BTC units, marking the beginning of Bitcoin Pizza Day. And, the other one was when the digital currency established its all-time high at $19,290 in 2017.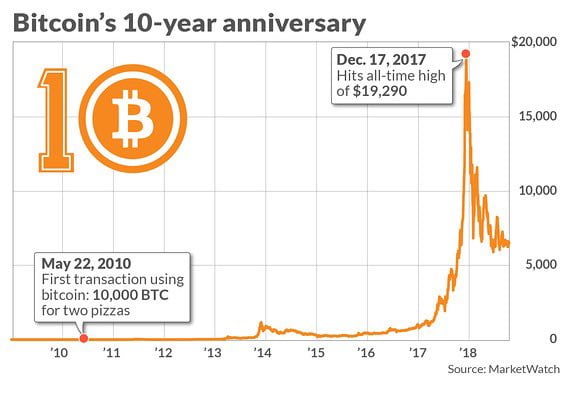 However, the bulls couldn't sustain the peak for too long. The Bitcoin price reversed and kept extending its downtrend throughout 2018, falling over 70 percent. The same downtrend saw a strong accumulation range between the two critical downside levels, defined by $5,750 and $6,000. The entrance of the institutional investors around the same accumulation area validated the scale as Bitcoin's newfound bottom.
The Stability Period
The third significant event, as hinted by Cheung, could be the stability. Bitcoin for most of the October has remained rangebound, especially at the time when global stock markets are going haywire. The leading tech shares, including those of Netflix, Amazon, and Apple, have fallen notably. The Dow Jones Index the previous week closed on a 3 percent weekly loss, while Nasdaq also noted a 2.5 percent drop within the same timespan.
The fundamentals over a stronger dollar and rising interest rates are further intensifying the stock market bearish bias. But the ongoing wreckage has left Bitcoin altogether. The digital currency these days is moving only 0.5-1 percent. This price action looks relatively new if compared to Bitcoin's volatile reaction to the stock market capsizing in February. During that period, the digital currency had lost more than 30 percent of its value in just two days. In contrast, today's Bitcoin looks isolatedly unaffected from the mainstream market worries.
Bearish Sentiment Remains
Though the Bitcoin steady trend marks a slowdown in relentless selling experienced since the beginning of this year, it has not validated its longevity whatsoever. The market upside remains capped by a yearly bearish sentiment, and a stronger US Dollar at this time could be making it impractical for big investors to dissipate their sums into the crypto market. The next sell-off in the dollar market could see the wealth parked into the most promising assets, which would bring Bitcoin in lines of every bullish fiat, commodity, and stock.
The other major catalyst would be regulation. The US Securities and Exchange Commission is expected to tone down its stance on Bitcoin ETFs, relaxing institutional investors into adding digital currencies to their portfolios. Both the factors, combined, looks bullish for bitcoin in a long-term. Nevertheless, the current health status of the market remains bearish.