Over the past few weeks, many analysts have questioned if Bitcoin is really on the verge of a bull market.
After a strong rally in March, April, and May, the cryptocurrency sustained a heavy rejection at $10,500 at the start of June. Bitcoin's inability to cross $10,500 has been seen as a strong blow to the bull case, especially since the level has macro importance.
A once-a-cycle signal, though, has just appeared in a win for BTC buyers.
One of Bitcoin's Long-Term Moving Averages Is Trending Up
A once-a-cycle Bitcoin bull signal is about to appear, according to a macro analysis of BTC by a trader.
He shared the image below, remarking how the 27-period moving average on the three-week chart (in black) is finally curving up.
According to the trader who shared the chart, this is a signal that only appears once every cycle. It last began to trend higher, for instance, in 2016, before BTC rallied over 2,000% from under $1,000 to $20,000.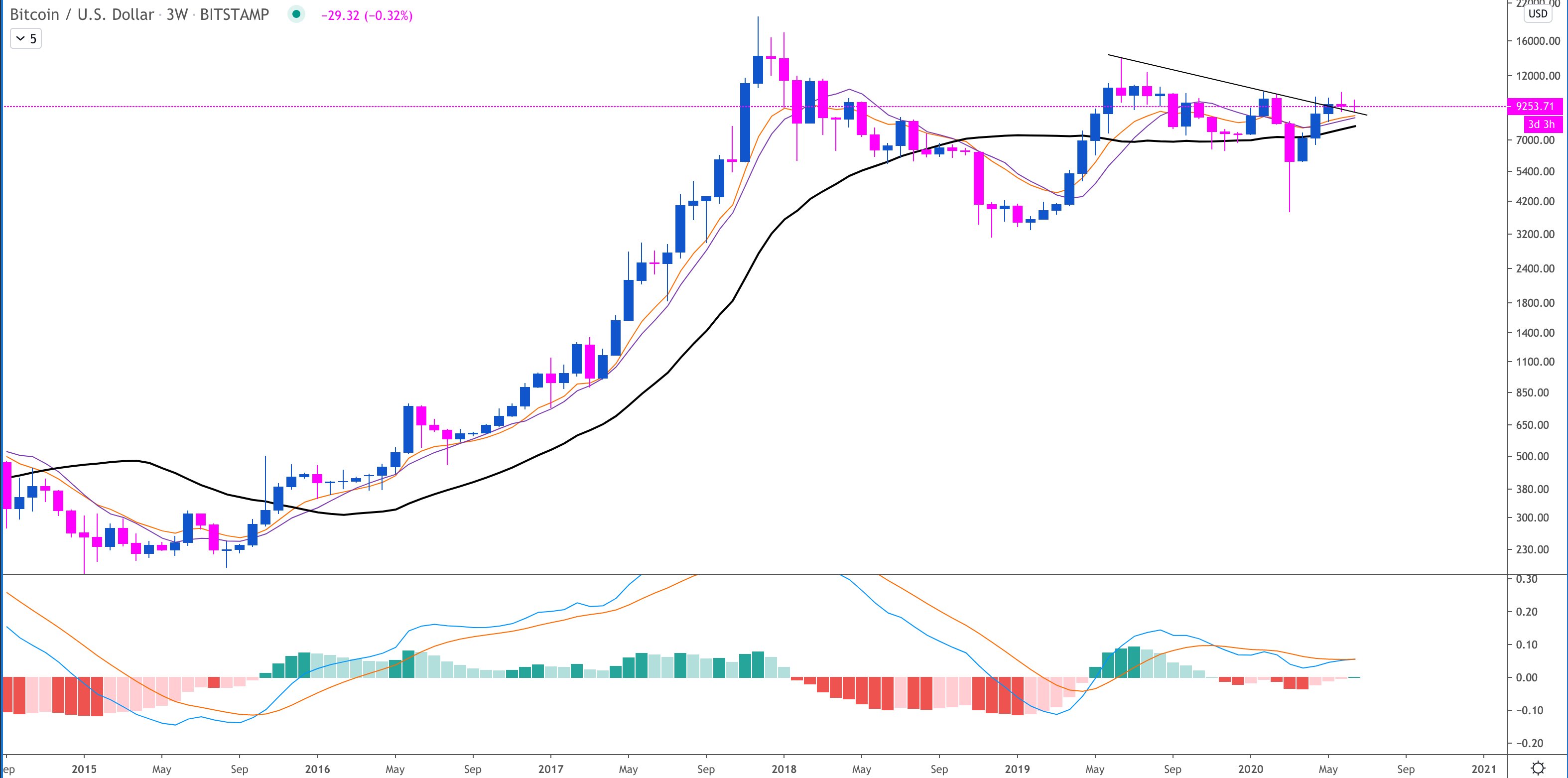 Macro BTC analysis by trader "Polar Hunt" (@Polar_hunt on Twitter). Chart from TradingView.com
The bullish reversal in the direction of the 27 moving average isn't the only reason why the analyst is bullish.
Further referencing the chart above, he identified two other technical analysis factors supporting the bullish view:
Bitcoin has tested a key diagonal trendline after breaking above it, confirming it as support. The diagonal is important because it was formed at the $14,000 2019 highs.
The three-week Moving Average Convergence Divergence (MACD) has crossed bullish for the first time since April/May of last year. The time this signal was seen before that was in 2015, before the rally from the $300 region to $20,000.
Not the Only Bull Signal
Aside from technical trends, there is the simple fundamental fact that there is controversy in the cryptocurrency industry.
Commenting on the debate versus proponents of centralized finance and decentralized finance, Kain Warwick, the founder of leading DeFi protocol Synthetix, said:
"Forget price action for a second, if there's one metric that most clearly points to a bull market it's internecine warfare in crypto. See blocksize debate. Now you have CeFi vs DeFi skirmishes starting up. It's going to get crazier soon, people fight when there's value at stake."
Furthering the bull case, Bitcoin's hash rate has continued to rocket higher in spite of the block reward halving.
This comes on the back of an influx of investments by crypto mining companies, especially in the U.S. This has been deemed bullish by market participants as investments in mining are only profitable in the long run, not so much in the short run.
Featured Image from Shutterstock
Charts from TradingView.com
Price tags: xbtusd, btcusd, btcusdt
Once-a-Cycle Bitcoin Bull Signal Just Appeared for the 1st Time Since 2016