After holding the low-$9,000s for days on end, Bitcoin has attempted to break out over recent hours. The cryptocurrency trades at $9,250 as of the time of this article's writing, having established a local peak at $9,300.
Technical analysis, unfortunately, confirms that BTC may soon see a rejection.
Bitcoin Could See a Strong Rejection at $9,500: Here's Why
There's a perfect storm of technical factors suggesting that Bitcoin will sustain a rejection at $9,500.
A cryptocurrency trader shared the chart below on July 1st in an attempt to convey this sentiment. It shows that within a few dozen basis points of $9,500, there is a large confluence of technical resistance levels. These include but are not limited to:
A daily pivot level
June's volume-weighted average price
The four-hour 200 simple moving average
The price Bitcoin traded at on June 1st.
A descending trendline that marked three distinct highs over the past month.
The 61.8% Fibonnaci retracement of the $10,500 highs.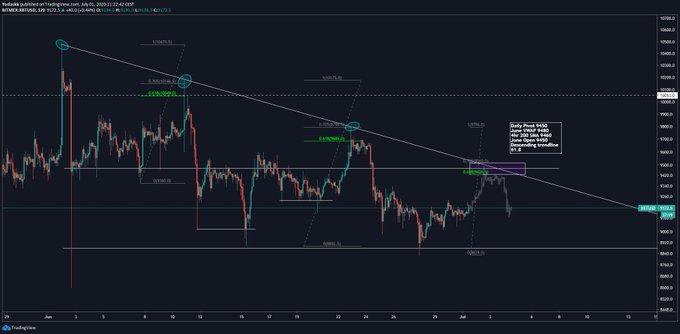 Important Bitcoin levels analysis from trader "Coiner-Yadox" (@yodaskk on Twitter). Chart from TradingView.com
The fact that so many technical resistance levels currently exist at $9,500 suggests that a sell-off will take place once this zone is reached.
Only adding to the chance that takes place, Bitcoin is also facing down a sell wall in that region.
As reported by NewsBTC previously, the same analyst observed that there was over $10 million worth of sell orders on Binance right at $9,500. It is unclear if those orders are still there, yet there are many traders online identifying $9,500 as a point at which Bitcoin's micro-rally will reverse.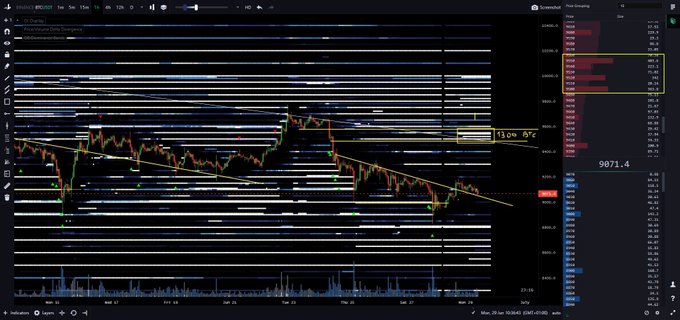 BTC chart over the past few days with order book dominance indicator from trader "Coiner-Yadox" (@yodaskk on Twitter)
One analyst implied that Bitcoin reaching $9,500 will confirm his bearish macro sentiment.
He wrote: "I don't want any correction, I want to see price continue to extend into $9,500 on BTC. It would play into my macro thoughts if this happens."
This comes shortly after the same analyst suggested that Bitcoin is likely trading in a high time frame pattern of "distribution" predicting a drop under $7,000.
What Happens if BTC Crosses $9,500?
With $9,500 clearly being an important level for Bitcoin, what will happen if the cryptocurrency crosses and secures that level?
According to some, it would confirm that more upside is likely.
One trader shared that Bitcoin is currently cleared to move lower, though his opinion will change if $9,500 is flipped into support.
"This is the current path that PA could be looking to take, buyers defended the initial breakdown in high 8000's range which is a good start, next level to test is $9250… To flip to a bullish bias $9500 needs to be flipped into support on a daily timeframe."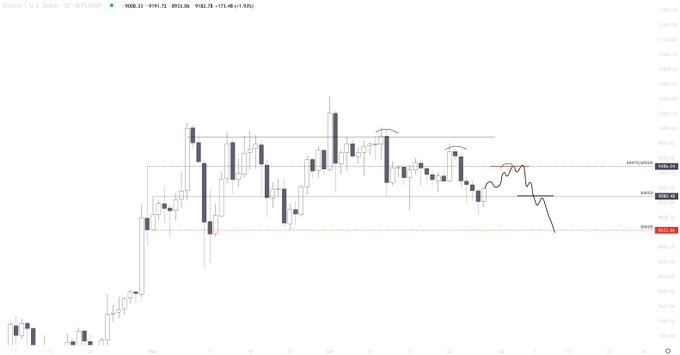 Bitcoin price analysis by trader Cactus (@TheCryptoCactus on Twitter). Chart from TradingView.com
Photo by Michael Rogers on Unsplash
Charts from TradingView.com
Price tags: xbtusd, btcusd, btcusdt
"Perfect Storm" of Technicals Indicates Bitcoin May Plunge After Hitting $9,500