As Bitcoin continues to toss and turn day-to-day, failing to establish a solid footing at a single support level, the crypto market's preeminent analysts have assumed the mantle of forecasting where prices could head next.
While some commentators are often lambasted for their dubious and baseless predictions, there remain voices of reason, who analyze crypto with caution and finesse, even in the direst of straits.
Bitcoin at $4,900 Could Be Possible, Important Short-Term Level
Since November 14th, the eve of Bitcoin Cash's contentious network upgrade, the crypto market has been endowed with a renewed sense of panic, catalyzing sell-off after sell-off in recent weeks.
In a matter of two weeks, Bitcoin fell from $6,200, where it held throughout the summer, to a year-to-date low of $3,500, the asset's lowest value since China clamped down on crypto in September 2017.
Related Reading:Investor: China Has a "Love-Hate" Relationship with Crypto and Blockchain
However, since Bitcoin fell under $4,000 on two recent occasions, which came alongside the aggregate value of crypto assets foraying below $130 billion, bears have scaled back on their apparent crusade. In the past 72 hours alone, Bitcoin has moved from $3,700 to a weekly high of $4,375, an 18% move that didn't go unnoticed.
Alex Kruger, a well-respected markets analyst, recently took to his expansive Twitter following to divulge his most recent analysis. Kruger noted that if the aforementioned digital asset makes a convincing move above $4,400, $4,800 to $4,900 could be in Bitcoin's cards.
Looking for 4800-4900 if 4400 gets breached. That's the base of Nov/19 and right above 20EMA. Starting with 4800 interested in shorts. This was initially 4400, changed plan. Below 3700 exit longs. Too soon to short the lows again, would like prior consolidation for that. $BTC pic.twitter.com/hVQ5bGnTIc

— Alex Krüger (@krugermacro) November 29, 2018
Elaborating on the significance of this specific target, Kruger, a New York-based crypto backer, noted that not only is $4,900 slightly above the 20-day exponential moving average (EMA), but also the base of Bitcoin on November 19th.
Although the importance the analyst places on the 2o-day EMA indicator is self-explanatory, Kruger's use of the November 19th's base is rather astute, as that day preceded the thirdhand sell-off that sent Bitcoin under $4,800, a supposed key level.
Keeping this data in mind, Kruger then noted that he changed his short position order to $4,800, rather than $4,400. This, of course, indicates that for now, Bitcoin could undergo a hefty 10% move in the coming days.
Not All Crypto Analysts Are Expecting a Reversal Just Yet
Although Kruger, known for his cautious optimism, now holds a bullish-leaning short-term outlook for the cryptocurrency realm, not all of his peers, other industry insiders, are in his boat, so to speak.
As reported by NewsBTC previously, Vinny Lingham, CEO of Civic, recently noted that Bitcoin will likely remain range-bound between $3,000 and $5,000 "for a while." Giving his claim more specificity, Lingham explained that trading within the aforementioned $2,000-wide range is likely to continue for a minimum of three to six months, a common timeline referenced by crypto bears.
Interestingly, the savant noted that as there are boatloads of buying pressure at $3,000, as it stands, that specific support level has a high possibility of holding its ground successfully. Still, the entrepreneur added that if a convincing breakout isn't established by the end of Bitcoin's six-month range, a foray under $3,000 wouldn't be out of the realm of possibility.
Murad Mahmudov, an astute cryptocurrency analyst formerly of Princeton University, issued similar sentiment, drawing attention to an in-depth chart of his creation that highlighted a year-long descending triangle for Bitcoin.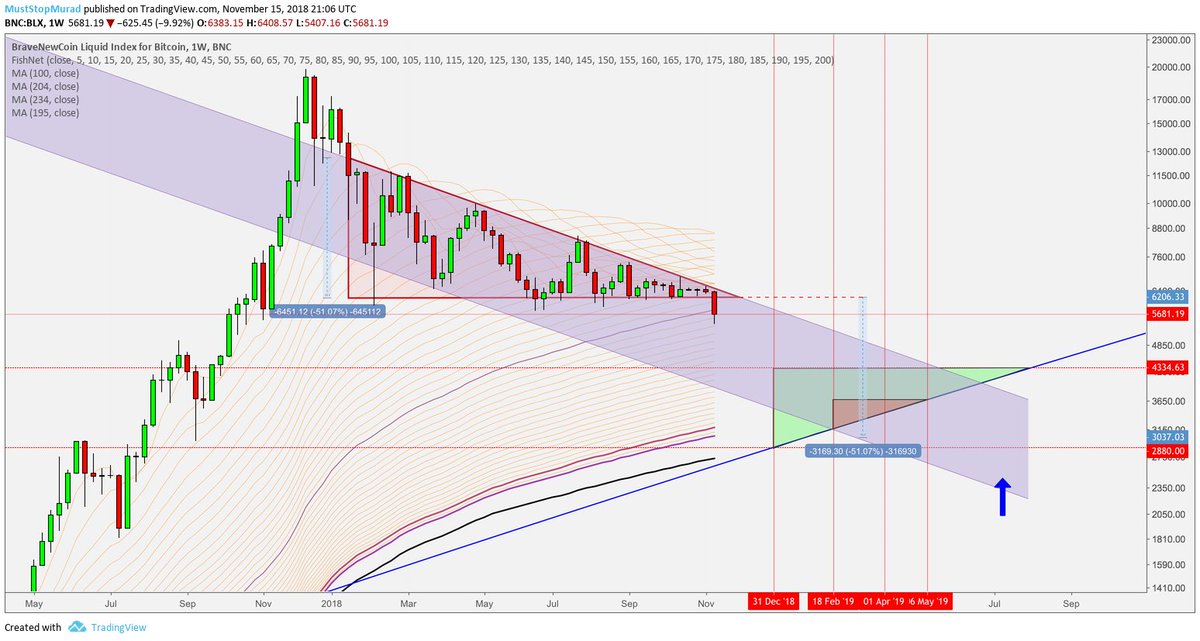 Keeping the trepid chart in mind, Mahmudov claimed that Bitcoin could be poised to bottom in the ~$3,000 range by the turn of the year.
And interestingly, Kruger himself, responding to his short-term analysis, claimed that this is a "static/base game plan" for traders, not for investors. He added that due to the macro landscape, likely referencing the drawdown in traditional equities markets, the long-term bottom for cryptocurrencies may still be a distant speck on the horizon, not a looming obstacle.
Featured image from Shutterstock.