Mastercard, the leading credit card conglomerate, will allow its users to utilize some cryptocurrencies on its payment network, becoming the latest to adopt crypto. The price of Bitcoin moved rapidly after the Mastercard and BNY Mellon news broke, refueling momentum in the market.
Raj Dhamodharan, executive vice president of digital asset and blockchain products and partnerships, said:
"Many of the hundreds of digital assets in circulation still need to tighten their compliance measures, so they won't meet our requirements. We expect consumers and the ecosystem as a whole will start to rally around the crypto assets that offer reliability and security.
Our change to supporting digital assets directly will allow many more merchants to accept crypto — an ability that's currently limited by proprietary methods unique to each digital asset. This change will also cut out inefficiencies, letting both consumers and merchants avoid having to convert back and forth between crypto and traditional to make purchases."
What happens to crypto and Bitcoin next?
Mastercard's decision to adopt cryptocurrencies comes as BNY Mellon also enters the crypto market.
Generally, the level of mainstream adoption in the cryptocurrency space among institutional investors and public corporations is currently unprecedented.
Analysts and fund managers say that Bitcoin has never seen this much institutional interest in the past, noting that the market sentiment remains overwhelmingly positive.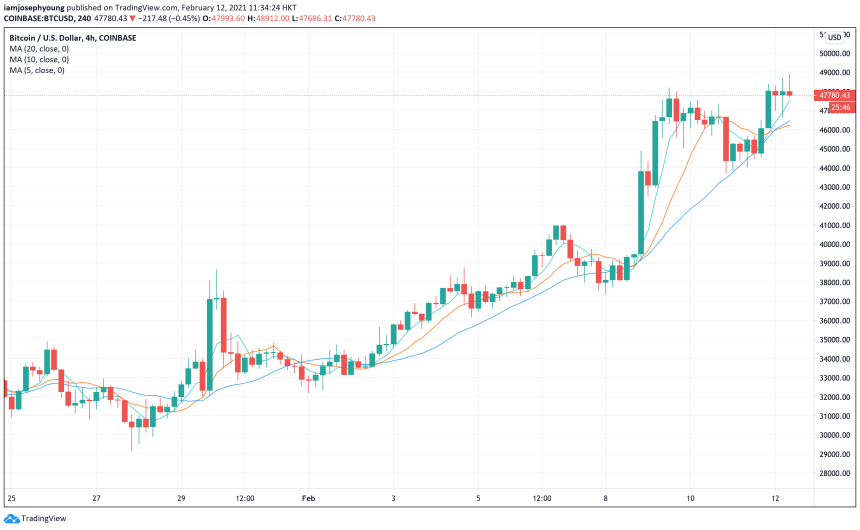 Following Mastercard and BNY Mellon's statements, the price of Bitcoin surged from around $45,000 to a new all-time high above $48,000.
The sentiment around Bitcoin was already significantly positive after Tesla purchased $1.5 billion worth of Bitcoin. The Mastercard and BNY Mellon news further amplified the positivity around the market.
In the near term, traders say Bitcoin is likely to continue its rally despite a heavily overcrowded futures market.
The demand for Bitcoin has been coming from the spot market and institutional vehicles, such as the Grayscale Bitcoin Trust.
Hence, even if the futures market is extremely overheated, the probability that the rally would continue on remains high.
The risk of short-term corrections persists, as the futures market resets, but the macro picture remains healthy.
Wall Street is coming en masse
Kelvin Koh, a partner at Spartan Group, one of the biggest DeFi-focused funds in Asia, emphasized that the most respected figures in Wall Street and Silicon Valley are now nvested in crypto. He said:
"Mark Cuban, Peter Thiel, Elon Musk, Chamath P, Paul Tudor Jones, Stan Drunkenmiller. The Who's who of Wall Street and Silicon Valley all own crypto. If you are still a skeptic, what is your defense? Are you smarter than these guys combined?"
Considering the continuous inflow of capital from institutions and high-net-worth investors, the overall positivity around Bitcoin would likely remain intact for the foreseeable future.