On CNBC's Rundown, respected researcher, and financial analyst Ronnie Moas from Standpoint Research stated that in the long-term, the bitcoin price will likely reach $400,000.
"Bitcoin is already up 500 percent since I recommended it in the beginning of July, and I'm looking for another 500 percent move from here. The end-game on bitcoin is that it will hit $300,000 to $400,000 in my opinion, and it will be the most valuable currency in the world," said Moas.
In July, Moas predicted the price of bitcoin to surpass the $5,000 mark by the end of 2017, when bitcoin was trading at below $2,600. As of December 18, the price of bitcoin remains above $19,000 and its market cap has surpassed $317 billion.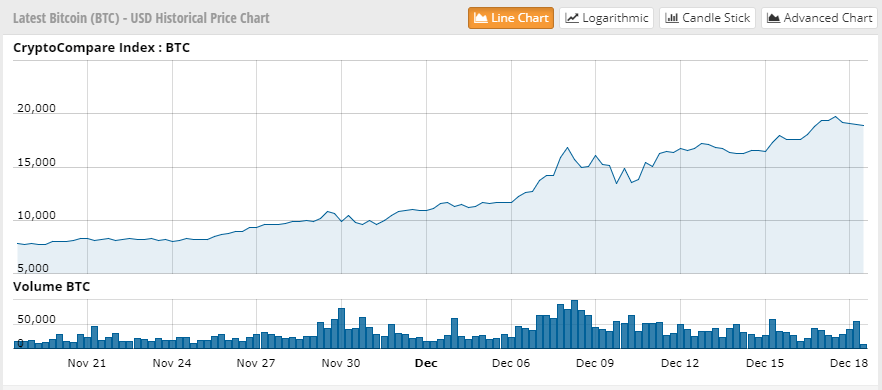 $400,000 Long-Term Target
Essentially, a $400,000 long-term price target of bitcoin would require the market valuation of the cryptocurrency to achieve exactly $8.4 trillion, a market cap that is larger than that of gold.
In 2013, Thompson Reuters GFMS revealed in a report that there exists 171,300 tons of gold in supply. That estimate placed the valuation of the gold market at $7 trillion. For the price of bitcoin to surpass $400,000, its market cap will have to surpass that of the gold market.
Previously, NewsBTC reported that JPMorgan global markets strategist Nikolaos Panigirtzoglou explained the potential of bitcoin penetrating into the gold market and establishing itself as the premier store of value through a drastic increase in liquidity and adoption.
Panigirtzoglou stated that the launch of bitcoin futures contracts and integration of the cryptocurrency by major financial institutions would allow bitcoin to compete against traditional asset classes such as gold. He stated:
"In all, the prospective introduction of bitcoin futures has the potential to elevate cryptocurrencies to an emerging asset class. The value of this new asset class is a function of the breadth of its acceptance as a store of wealth and as a means of payment and simply judging by other stores of wealth such as gold, cryptocurrencies have the potential to grow further from here."
Bitcoin Already Penetrating Into Offshore Banking Market
As many analysts including Blocktower co-founder Ari Paul noted, bitcoin is already penetrating into the offshore banking market at a rapid pace, an industry which major banks such as JPMorgan and Goldman Sachs dominate.
The offshore banking market is estimated to be worth over $40 trillion, with the majority of holdings and wealth of large-scale investors and traders stored overseas. Paul emphasized that as a robust and decentralized store of value, Bitcoin is capable of serving the offshore banking market in orders of magnitude better than centralized financial institutions, as it provides financial freedom, privacy, and independence.
Over the next few years, if bitcoin can sustain its current growth rate as a store of value and a currency, the market cap of the cryptocurrency will likely enter the trillion dollar region.
In April, ShapeShift CEO Erik Voorhees, who has always been extremely optimistic in regards to the mid to long-term growth trend of the cryptocurrency market, explained that he would be satisfied if the cryptocurrency market cap surpasses $300 billion by 2021.
Tokens as an asset class have surpassed $30 billion. I predict over $300 billion within 4 years. https://t.co/BNqBzdUfKk #bitcoin #ethereum

— Erik Voorhees (@ErikVoorhees) April 24, 2017
The bitcoin market cap has surpassed the $300 billion cryptocurrency market cap prediction by Voorhees, and the market valuation of all of the cryptocurrencies in the market combined has surpassed $587 billion.