In 2018, Bitcoin plunged as low as $3,200. Save for a handful of analysts, few investors expected the cryptocurrency to fall that low and that from its $20,000 all-time high.
Despite the drop, bulls managed to re-assert control over the market, taking BTC back to $14,000 in the six months after the low. With this move, most analysts are certain that BTC will never trade in the low-$3,000s again.
But according to Peter Schiff, the CEO of Euro Pacific Capital and a long-time BTC skeptic, this low "will not hold."
Peter Schiff Doesn't Think Bitcoin's 2018 Low Was It
The prominent gold bull and cryptocurrency skeptic commented on July 10th that he thinks Bitcoin's $3,200 low "will not hold":
"So far. That low will not hold much longer. The #Bitcoin bear market has a long way to run."
So far. That low will not hold much longer. The #Bitcoin bear market has a long way to run.

— Peter Schiff (@PeterSchiff) July 10, 2020
Schiff's assertion that Bitcoin is currently in a bear market has been interestingly confirmed by a trader. Per previous reports from NewsBTC, he said:
"Allow me to explain: BTC hasn't made a higher high in a full year, so per definition, it's not a bull market. BTC has made lower lows and lower highs consecutively for a full year, so per definition, it's a bear market," he wrote referencing the chart below that shows BTC's price action and macro phases.
The Gold Effect
While Schiff thinks Bitcoin's 2018 lows will not hold, he is a strong believer in the sentiment that gold will continue to rocket higher. This, some say, may boost BTC rather than crush it.
Bloomberg senior commodity analyst Mike McGlone shared in June the following comment on the correlation between gold and Bitcoin:
"Increasing companionship with gold is a BTC-price tailwind, in our view. At the highest-for-longest 52-week correlation and beta ever vs. the metal, the first-born crypto should continue to advance for reasons similar to gold, fueled by unprecedented global central-bank easing. Our graphic shows the Bitcoin-to-gold beta near 2x and the metal advancing toward an eight-year high."
With gold rallying past $1,800 for the first time in eight or nine years, it seems that Bitcoin may soon follow the precious metal higher.
Take the chart below from a cryptocurrency trader, which shows that should Bitcoin follow gold, it will soon rally past $10,000.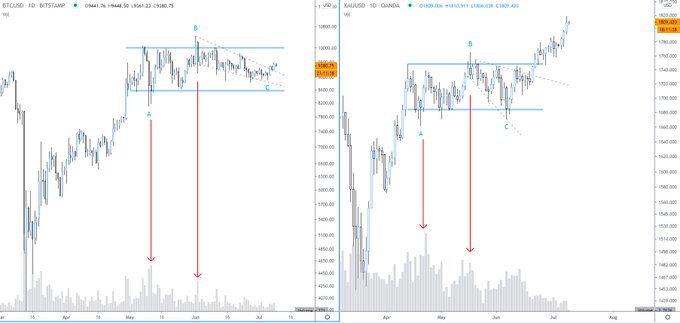 Bitcoin and gold fractal analysis by trader "Ethereum Jack" (@BTC_JackSparrow on Twitter). Chart from TradingView.com
Schiff, however, does not seem to be convinced there is any concrete correlation between these markets.
He instead said that from how he sees it, BTC is more closely correlated to the S&P 500 than to gold.
Featured Image from Shutterstock
Price tags: xbtusd, btcusd, btcusdt
Charts from TradingView.com
Peter Schiff Thinks BTC's 2018 Lows of $3,200 "Will Not Hold"