Even after a healthy rally from $9,000 to a local high of $9,400, Bitcoin remains in no man's land.
The cryptocurrency is caught below $9,500 and caught above $8,500, both important levels on a medium-term time frame. Bitcoin may seem directionless as a result, as it is still anyone's guess as to which way this range will break.
An analyst has observed, however, that there's a growing likelihood Bitcoin will break to the upside. He primarily cites an indicator suggesting bears are losing their grip on the market.
There's a Forming Bitcoin Signal That Could Send Prices Higher
From the $8,500 candle lows in May, Bitcoin has actually been in somewhat of an uptrend: as depicted in the chart below, BTC's past three locals lows at $8,500, $8,800, and $9,000, have all been higher than the last. While prices have trended higher, the three-day relative strength index (RSI) has made lower lows.
This is called a "hidden bullish divergence," which is when an indicator trends lower while the price of an asset moves higher.
According to a cryptocurrency chartist, the existence of such divergences indicates at least two positive things:
Pullbacks in the dominant trend (an uptrend in BTC's case) are for buying
Continuation of the prior trend (an uptrend in BTC's case) is likely.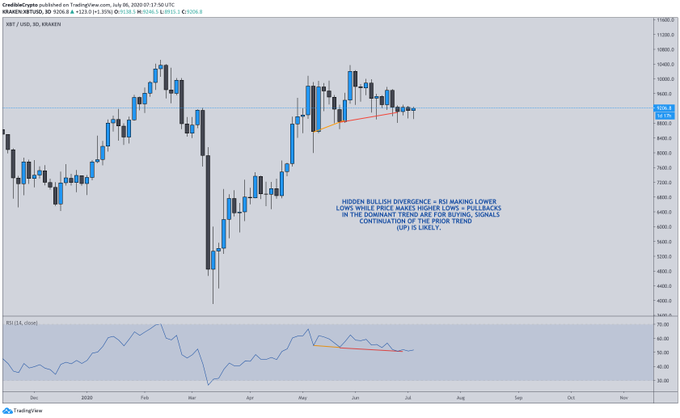 Bitcoin relative strength index analysis by trader Credible Crypto (@CredibleCrypto on Twitter). Chart from Tradingview.com
He later added that as long as Bitcoin continues to close above $8,800, "this hidden bullish divergence is likely to play out and send us above $10,500."
The reason why $8,800 is important is that Bitcoin will invalidate the divergence if it breaks below that level. The predicate of divergences is that the trends in the price of an asset and an indicator's reading stay intact until the divergence plays out.
Corroborated by Fundamentals
There are non-technical factors suggesting Bitcoin will undergo a bullish breakout.
The Chinese stock market is currently pressing new all-time highs, passing the "mania highs" seen in 2015. This surge comes on the back of the People's Bank of China signaling a more easy monetary policy. It also comes in spite of a worsening global economy and the ongoing pandemic.
Analysts say this trend is decisively bullish for crypto. Qiao Wang, the ex-head of product at Messari, commented:
"This is a major development. China just shilled its stock market in front of 1.4B people on national television. The risk-on sentiment might spill over to crypto."
There's also the fact that Bitcoin's hash rate (seven-day moving average) just reached a new all-time high. Strength in the hash rate signals strong investment in the Bitcoin ecosystem by miners.
Featured Image from Shutterstock
Price tags: xbtusd, btcusd, btcusdt
Charts from TradingView.com
This "Hidden" Signal Could Confirm a BTC Breakout to $10,500