Bitcoin (BTC) has been firmly planted within the $3,000 region for the past several months and has failed to reach any price point that allows it to experience a sustainable price surge fueled by increased buying pressure.
Although in the short-term Bitcoin appears to be stable in the upper $3,000 region, one widely used technical indicator is now signaling that the cryptocurrency may soon incur a massive influx of selling pressure.
Technical Indicator Shows That Bitcoin's Slight Upwards Momentum is Slowing
Although Bitcoin has established some levels of stability around its current price of $3,900 for the past several weeks and volatility has been steadily decreasing, as a recent Bloomberg report points out, Bitcoin's Moving Average Convergence Divergence indicator has been declining since mid-February, which may signal that the cryptocurrency will soon incur significant selling pressure.
This indicator, which is most commonly referred to as MACD, offers traders and analysts insight into the momentum and trends of a specific asset, and is calculated by subtracting the 26-period Exponential Moving Average (EMA) from the 12-period EMA. This indicator's primary use is for gauging the strength or weakness of specific price trends.
As noted in the report, the MACD is currently showing that since mid-February, "long-term buying demand for Bitcoin are deteriorating, potentially showing that selling pressures could intensify."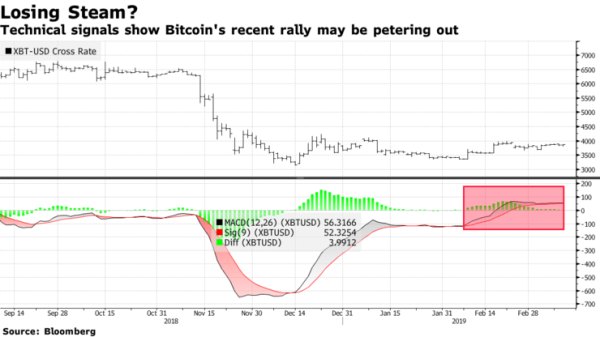 Mike McGlone, a Bloomberg Intelligence analyst, spoke about Bitcoin's current price action, bearishly noting that conditions now are eerily similar to how they were in November of 2018 just prior to the widespread market drop.
"The entire industry is ripe to resume a path to lower prices…Conditions are akin to November, just prior to the collapse. Prices are consolidating within narrowing ranges, with a few sharp bear-market rallies that appear fleeting," he explained.
Despite Dreary Market Outlook, are BTC's Fundamentals Improving? 
Although the markets are currently caught in a persisting bear market that is showing few signs of improving, there may be multiple factors related to increased adoption that could soon lead the markets to recover much of their recent losses.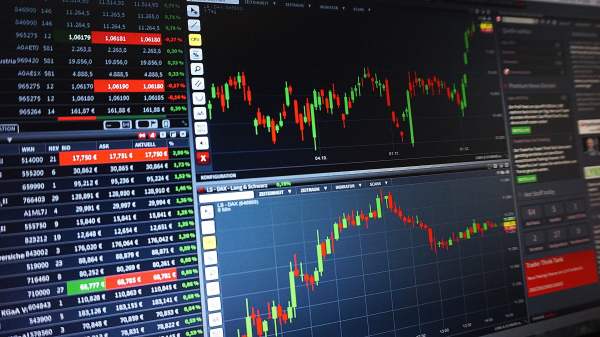 Recently, multiple major figures in the tech industry have grown increasingly vocal about their interest in crypto, with Apple co-founder Steve Wozniak recently noting that current BTC prices are not the result of fundamental weakness, Twitter and Square CEO Jack Dorsey noting that he is currently spending a large amount of money acquiring Bitcoin, and Tesla CEO Elon Musk recently lauding Bitcoin as "brilliant."
Recently, a prominent analyst spoke to MarketWatch about the importance of not valuing price over fundamental strength and adoption, explaining that a focus on development and adoption far trumps a focus price growth.
"No matter how strange it may sound to crypto enthusiasts, the best thing that can happen with the crypto market is a moderate dynamic in which all participants can concentrate on the development and implementation of technologies, rather than on prices jumps," Alex Kuptsikevich, a markets analyst at FX Pro, explained. 
When considering the amount of fundamental growth the crypto industry as a whole is currently undergoing, and accounting for the growing movement amongst tech leaders to praise Bitcoin, it seems inevitable that the technology will ultimately garner widespread adoption, despite the current gloomy state of the markets.
Featured image from Shutterstock.