Last week, the crypto community was shocked when the New York Attorney General's (NYAG) office revealed that Tether Limited, the issuer of the USDT asset, and world-renowned Bitcoin (BTC) exchange Bitfinex may be in precarious financial standing.
Respected sources, however, claim that Bitfinex is trying to get off of the purported thin ice, potentially through a deal that could be valued at as much as $1 billion.
Bitfinex IEO Could Be On The Horizon
First, let's take a brief look at how the Hong Kong-headquartered Bitfinex, one of the earliest Bitcoin exchanges, got to a point where it would consider raising $1 billion.
For those who missed the memo, last Thursday, the NYAG, Letitia James, stated that iFinex, the holding company of both Tether and Bitfinex, may be participating in "ongoing activities that may have defrauded" cryptocurrency investors. A 23-page document signed by Brian Whitehurst, the Assistant Attorney General, unveiled more about the situation.
It was stated that as per the authority's investigations, Bitfinex currently has an $850 million hole in its books, due to an inability to obtain these funds from Crypto Capital, a Panama-based payments processor. Crypto Capital is believed to have the assets under its management frozen by governmental entities in Poland, Portugal, and the United States.
As a result, Bitfinex went into a frenzy, purportedly searching for funds to satisfy customer withdrawal requests and business expenses.
Eventually, the exchange's management determined that the best course of action would be to secure a line of credit with the affiliated Tether Limited, the firm behind the USDT stablecoin. Whitehurst then revealed that Bitfinex still has a $700 million line of credit, backed by shares in iFinex, open with Tether.
As the prominent trading platform is presumed to still be in Tether's debt, rumors have begun to swirl around how the exchange will pay its dues. Per Dovey Wan, the founding partner of Primitive Ventures, the company is planning to raise $1 billion through the sale of Bitfinex-branded tokens and an on-platform initial coin offering, more commonly referred to as an IEO. What's notable is that this $1 billion will be raised primarily in USDT, not Bitcoin.
BREAKING and WTF ????

Bitfinex is planning on a exchange token sale + IEO… plan to raise $1B in $USDT….

This is really a WTF situation ??‍♀️??‍♀️

— Dovey 以德服人 Wan ?? (@DoveyWan) April 29, 2019
This may sound crazy, but Wan was the first on English-speaking Crypto Twitter to report on the news of the Bithumb hack last month and that Bitmain laid off over half its staffers and lost its then-chief executive, Jihan Wu.
A Twitter going by "Zirui" later confirmed this rumor. Citing a statement from Zhao Dong, a Chinese cryptocurrency legend that owns shares in Bitfinex, she explained that there is a "high possibility" that the exchange will do an IEO, as some "whales" have already secured positions in the upcoming deal with $300 million worth of USDT.
Bitcoin Shorts Continue To Skyrocket As Fears Fester
All this may seem innocuous, but Wan postulates that this attempt to raise a ten-figure sum might be a sign that Bitfinex isn't all that spick and span. She explains that if the exchange is "highly cash flow positive" and isn't concerned about the NYAG's threats, why did it originally borrow from Tether and why is it intending to host an IEO.
In other words, she worried that this either confirms that the exchange is truly in hot water with regulators, or that it may be attempting to cover up its books.
No matter what the truth really is, the market has concluded that something is not right. Since the NYAG released its report, the number of Bitcoin short contracts open on Bitfinex has rallied from 25,000 to 29,894 — an increase of 20% in under a week's time — as investors expect for this debacle to further implode, thus depressing the value of BTC.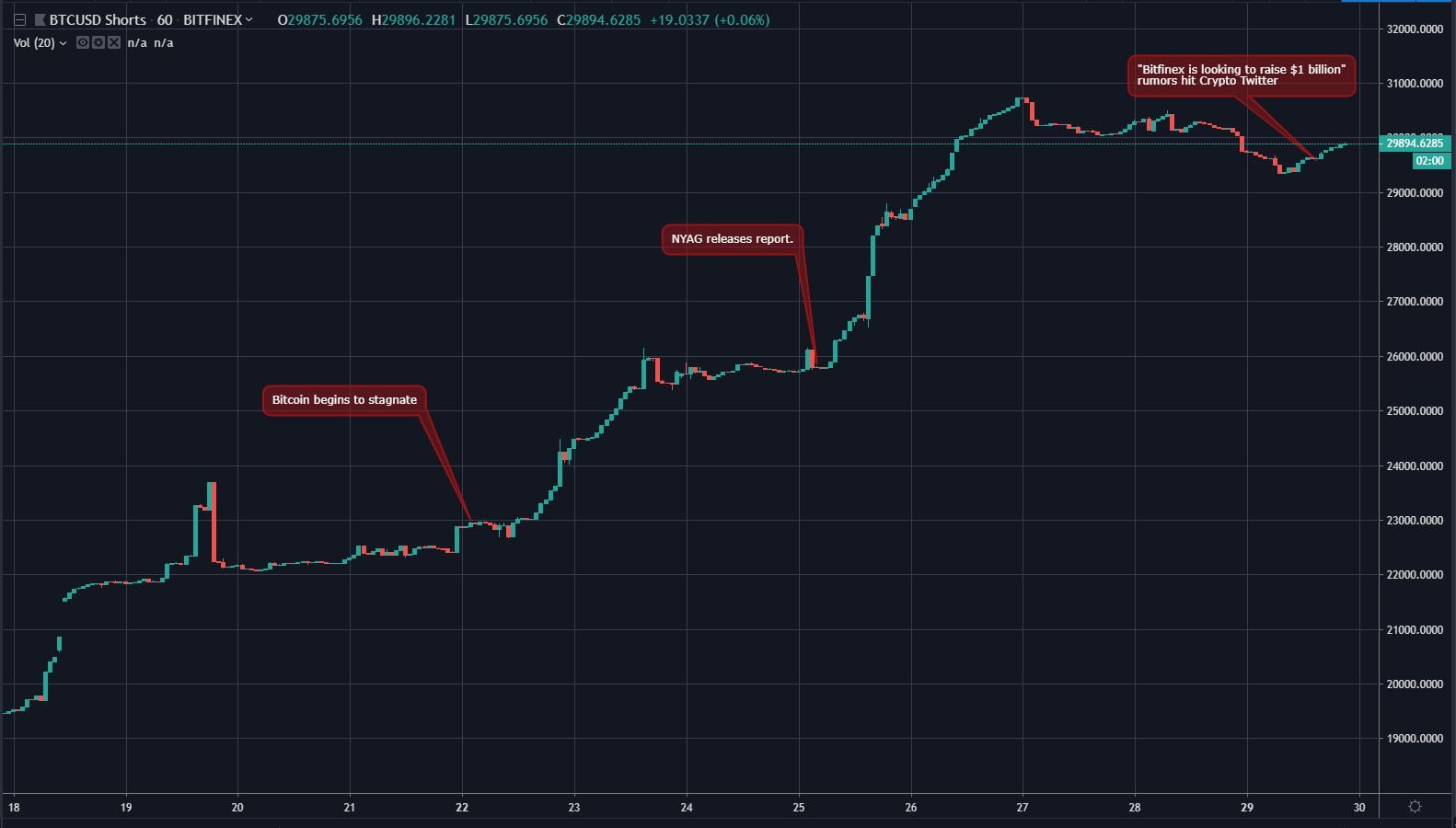 Alistair Milne, the chief investment officer of the Atlanta Digital Currency Fund, however, claims that signs are pointing towards a short squeeze.
In a recent Twitter thread, the investor remarked that with Bitfinex users liquidating their Bitcoin and withdrawing funds en-masse, coupled with the margin funding rates on the platform skyrocketing to 0.09% a day, there is a "high risk of a very significant short squeeze, especially if BTC withdrawals continue." Milne did not divulge where BTC could head as a result of the potential squeeze.
Featured Image from Shutterstock