The past few days were so tense for me and NewsBTC, so I decided to choose a light topic that can put a smile on our readers' faces. As bitcoin, is the world's top anonymous online currency, you can use it to buy the weirdest things ever. Moreover, most fraudsters prefer to sell their scams for bitcoin, because it is rather difficult to trace transactions along the blockchain.
I looked through the Dark Web to find the goofiest things one can buy for bitcoin and those were the most pathetic bitcoin scam attempts:
Digital Scamming, oops Smuggling, Service:
This is one of the most hilarious items offered for sale for bitcoin on the dark web. The seller claims that he/she would save you the hassle of exposing your IP while downloading files, so he/she offers to download the stuff you want, save it on a flash drive and ship it to your doorstep for 0.46 bitcoin (around $150).
So, instead of exposing your IP online, risk receiving a flash drive from an anonymous buyer who is mostly engaged in cybercrime and tries to add a few coins to his/her address by tricking people using this cheap scam. Who on earth would fall for such a scam?!
Amazon Unlimited Money – Hardy har har !!!
Here is another cheap crook trying to sell an elusive product for bitcoin. The product, Amazon Unlimited Money method, is a 0.0137 Bitcoin (around $4.5) product that adds unlimited money to your Amazon account to buy anything you want!! Using such a cheap scam reflects the low IQ of the guy who set this item for sale!! Just for the record, Amazon accepts payments via US ACH bank transfers, credit cards and transfers from users' Amazon account balances and the security of Amazon's payment cart is top notch, so rest assured that you can never hack Amazon with a $4.5 product!!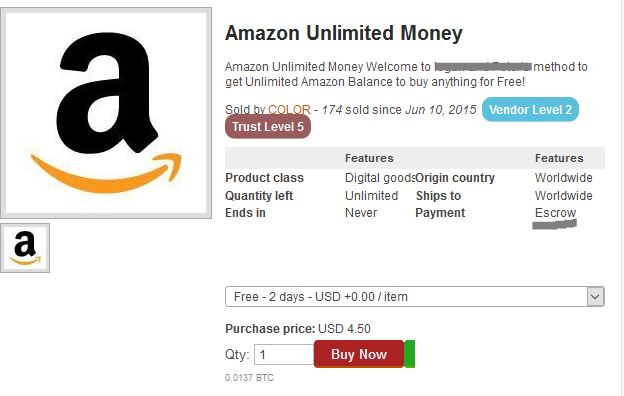 Kalashnikov AK47 – Are you kidding me?!
Yes, it is true this merchant is offering Kalashnikov AK47 for sale and ships to anyone in Europe via DHL!! Of course, DHL doesn't permit shipping of explosives or firearms. Interestingly enough, the seller has good feedback (trust level 3) and uses escrow i.e. he won't receive the bitcoin payment, except after the buyer confirms receiving the package. I was sure that this is a scam, or an invitation to get the Feds deliver the package to your back door! However, curiosity tempted me to contact the buyer to ask him about how he ships the gun without being busted by the customs and security guys at the airport. He responded saying that he ships the gun in 5 parts, packaged separately and each part is concealed in a mechatronic kit, so according to him, the gun will be shipped safely to the buyer without igniting any problems with the cops. Of course, this seller is most probably trying to put a hole in your pocket, or if he is really going to ship you that Kalashnikov, DHL, the customs and airport security won't allow it to be dropped at your door step!!