Bitcoin investors have been accumulating the cryptocurrency at a rapid pace throughout the past few months, with much of this buying pressure coming from retail investors.
One metric from analytics platform Glassnode highlights just how intense this accumulation trend has been as of late, with the number of "accumulation addresses" seeing rapid growth throughout the past year.
This indicates that the number of long-term BTC holders is rising at a rapid pace, potentially laying the groundwork for the crypto to see major strength in the years ahead.
Analysts are also observing that medium-sized whales have also been buying massive amounts of Bitcoin in recent weeks.
The confluence of accumulation amongst both retail investors and so-called "whales" is a positive sign for the benchmark cryptocurrency's mid-term outlook.
Number of Long-Term Bitcoin Holders is Growing at a Rapid Pace
Bitcoin's price action over the past few months has generally favored bulls, with the cryptocurrency gaining a firm foothold within the five-figure price region.
Although it has witnessed some short-term weakness throughout the past several weeks as it struggles to break above $12,000, it is important to note that its fundamental strength has been growing by leaps and bounds.
One sign of fundamental strength can be seen while looking towards the number of long-term Bitcoin investors.
This metric can be gauged by looking towards Glassnode's "accumulation addresses" metric, which shows the number of addresses that have seen over two incoming transactions, have never spent BTC, and have been active over the past seven years.
"There are over 500,000 Bitcoin 'accumulation addresses' holding a total of 2.6 million BTC (~14%). Accumulation addresses: – have 2+ incoming txs – never spent BTC – were active in the past 7 years (accounting for lost coins) – exchanges & miners are excluded."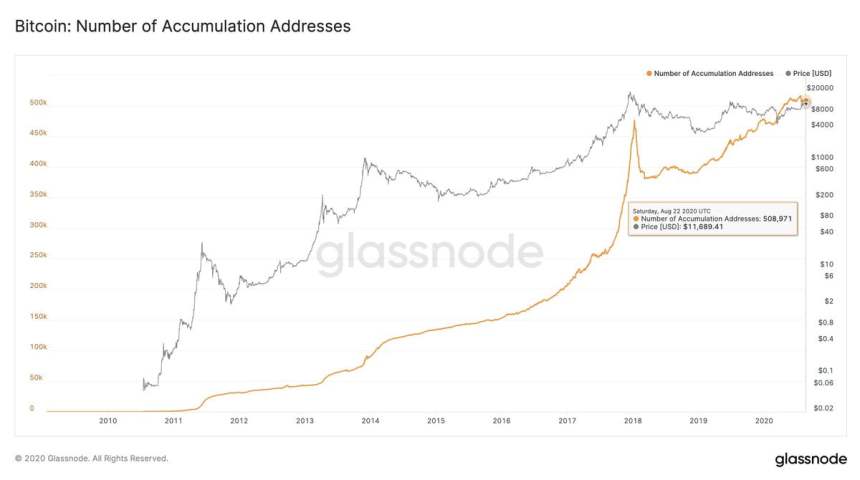 Image Courtesy of Glassnode.
BTC Whales Accumulating Despite Turbulence Price Action 
Another sign of fundamental strength has been accumulation trends amongst medium-sized whales in recent weeks.
This trend can be observed while looking towards the below chart, which shows that Bitcoin has been witnessing massive inflows of buying pressure from these investors over the past two months.
Image Courtesy of Byzantine General.
This trend, coupled with the accumulation pattern seen amongst general investors, shows that the vast amount of Bitcoin is being purchased with the intent of being held for extended periods.
This reduces the supply circulating available on the markets, boosting its macro fundamental strength.
Featured image from Unsplash.
Pricing data from TradingView.