Bitcoin may still be up 135% from March's lows, but the cryptocurrency's technical outlook is far from bearish.
After peaking at $10,000 multiple times over the past month, showing BTC does not yet have the momentum to clear resistances, the cryptocurrency slid as low as $8,625 on Sunday evening in a move that liquidated approximately $20 million worth of BitMEX longs. 
There are many analysts saying that this is a precursor to further losses.
One trader, for instance, explained that Bitcoin's weekly chart has just printed a textbook "tweezers top," marked by two candles with the same-sized body in succession. It's a sign that is indicative of impending downside.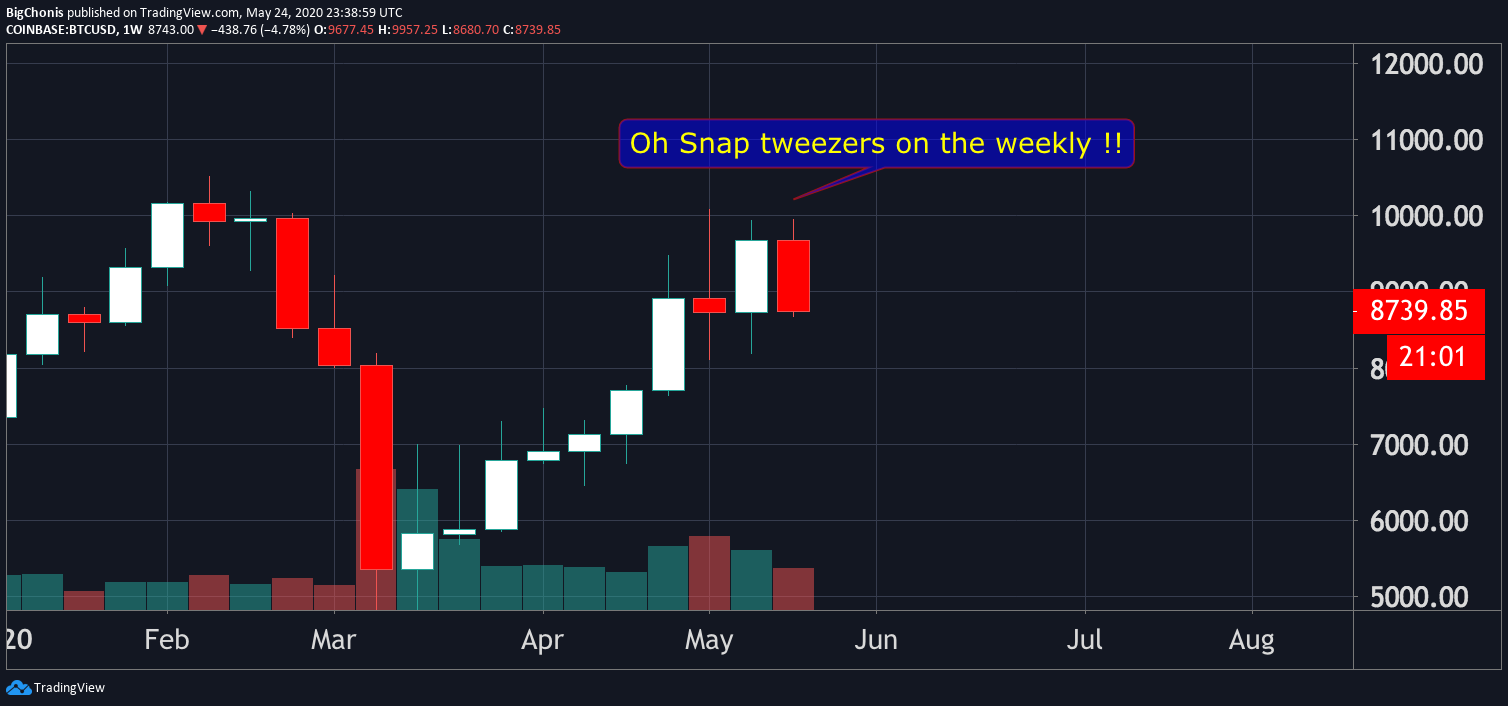 Adding to this, five out of seven of IntoTheBlock's foremost market signals  — Smart Price, Net Network Growth, In The Money, Bid-Ask Volume Imbalance, and Large Transactions — are currently in a "bearish" zone for Bitcoin.
Though, a market study has shown there is a relatively high likelihood that Bitcoin trades above $9,000 in the coming week.
Bitcoin Could Trade Back At $9,200 Again
Due to the fact that the CME doesn't open its Bitcoin market on the futures, there are so-called "gaps" formed on the charts every Monday morning when there is a discrepancy between Bitcoin's price on Friday evening and on Monday morning.
This much was made clear just hours ago, when the CME's BTC market opened up in the high-$8,000s, hundreds of dollars shy of the Friday close at $9,200.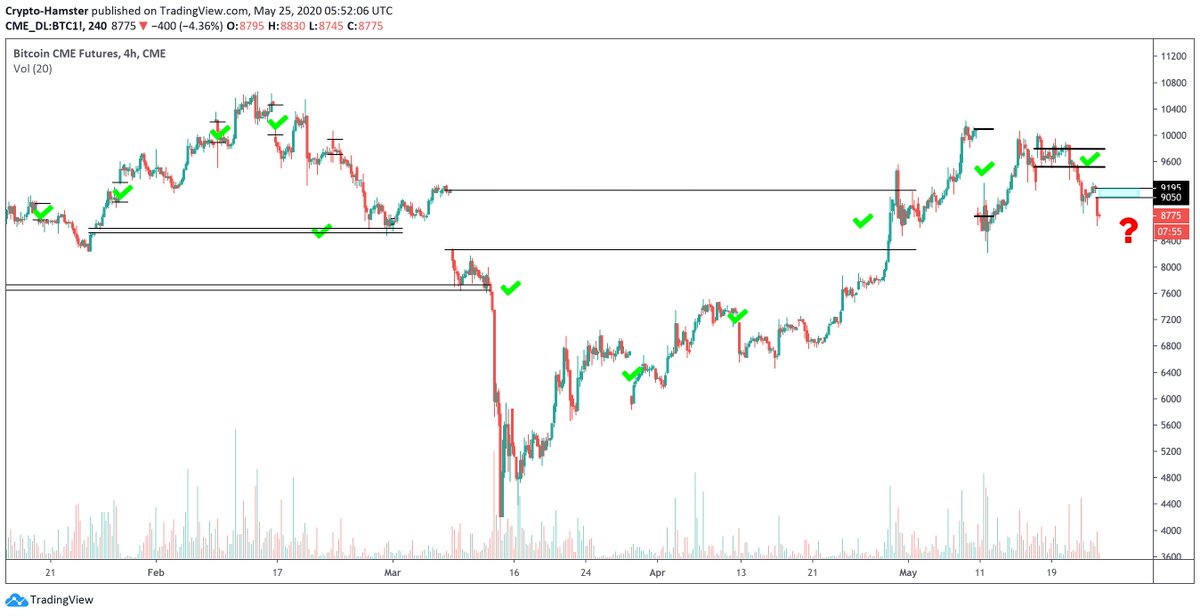 It's a potentially bullish sign for the Bitcoin market, a market study has suggested.
Published on December 30th of 2019, a crypto data firm known as Market Science found that 77% of CME gaps fill — which means the price touches each side of the gap — "in the subsequent week" after the gap forms.
That's to say, should historical data hold up, there is a 77% chance that BTC trades upwards of $9,200 this week.
Bitcoin Formed a Massive $1,200 Gap Two Weeks Ago, And It Still Filled
A perfect example of a CME gap rapidly being filed was two weeks ago.
Over the course of the weekend before last, BTC dumped from around $10,000 to $8,800 due to an influx of selling pressure prior to the block reward halving. A record $1,000+ gap appeared on the CME on Monday morning.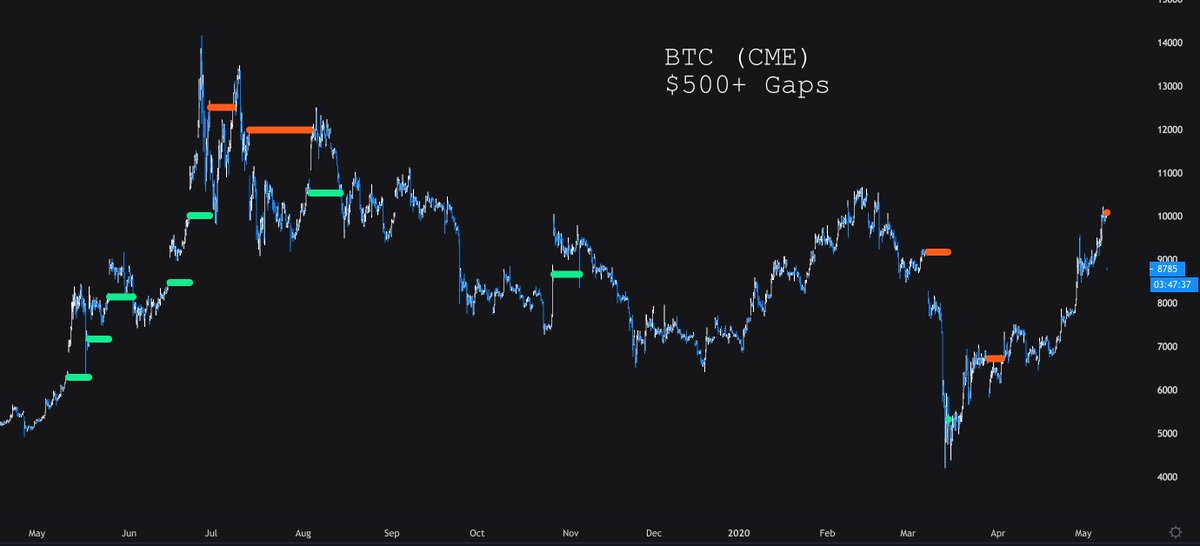 Many thought that the drop to $8,000s was the end of BTC's bull trend, but, just days later, the cryptocurrency tapped $10,000 on the CME, thus filling the gap just days after it formed.
While this by no means can be repeated to a T, it shows that there is some validity to the Bitcoin futures gap theories.
Featured Image from Shutterstock