Bitcoin saw a strong crash on Wednesday after another attempt at breaking past and holding $12,000. The leading cryptocurrency dropped as low as $11,200 as sellers flooded the market.
Some say it was news that the office of Bithumb, a leading exchange in South Korea, was raided that crashed the market.
BTC has yet to reclaim the $11,500 support on the bounce after this move. Regardless, analysts remain optimistic as the asset's medium to long-term time frame outlook remains strong.
Bitcoin Isn't Entirely Bearish After the Strong Correction
One trader noted in the wake of BTC's strong correction that it isn't as bearish as it may seem. He shared the chart below expressing his cautiously optimistic sentiment.
As captioned, Bitcoin's drop actually allowed it to form a low that was higher than the two previous corrections seen in the second and last week of August.
This suggests that the uptrend remains intact. As $11,200, where BTC bottomed today, is also a liquidity zone, this may trigger a move back toward the upside.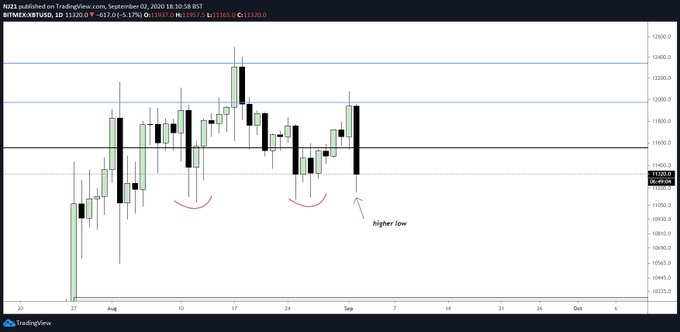 Chart of BTC's price action over the past few weeks with an analysis by crypto trader TraderNJ (@TraderNK1 on Twitter). Chart from TradingView.com
Others have expressed their optimism about Bitcoin, despite the drop. One trader remarked that BTC's ongoing moves up and down are just part of a textbook consolidation range that could end up breaking higher:
"It's just one of those dropdowns. There's a few very important reasons; – Continue to have liquidity to buy the dips. – Take profits on the way up, so you don't give back to the market. Continuation of the ranging, likely."
All Eyes on Gold
What's next for BTC may be dictated by the price action of gold, which itself is dictated by the value of the U.S. dollar relative to foreign currencies.
As Bitcoin dropped on Wednesday, so did the value of gold. This confirms a correlation that has formed between the two assets over recent months, which has only been exacerbated by it becoming a prominent narrative in the media and on social platforms.
That considered, gold may be the driving force for Bitcoin moving forward. The price of the precious metal, though, is expected to move higher as monetary stimulus continues around the world and as central banks continuing pushing capital to gold.
Featured Image from Shutterstock
Price tags: xbtusd, btcusd, btcusdt
Charts from TradingView.com
There's a Crucial Silver Lining to Bitcoin's 7% Correction