After holding in the high-$9,000s for days on end, Bitcoin recently exhibited some weakness uncharacteristic to the recent uptrend. The cryptocurrency fell from the $9,800 support level to $9,100 in a move that liquidated $40 million, with BTC plunging on fears of Satoshi Nakamoto liquidating his coins.
Approximately 50% of the drop has since been recovered, with Bitcoin now trading at $9,475 as of the time of this article's writing.
Yet there are three telltale technical and fundamental signs signaling that cryptocurrencies could sustain more losses.
#1: There Are Many Bitcoin Sellers With ~$10,000 Asks
According to order book data, there is still pronounced sell-side pressure above Bitcoin's current price, in and around $10,000.
One trader made this clear when he shared the chart below, showing clear ask-side orders in the "10,000 and 10,700 region" on Bitfinex.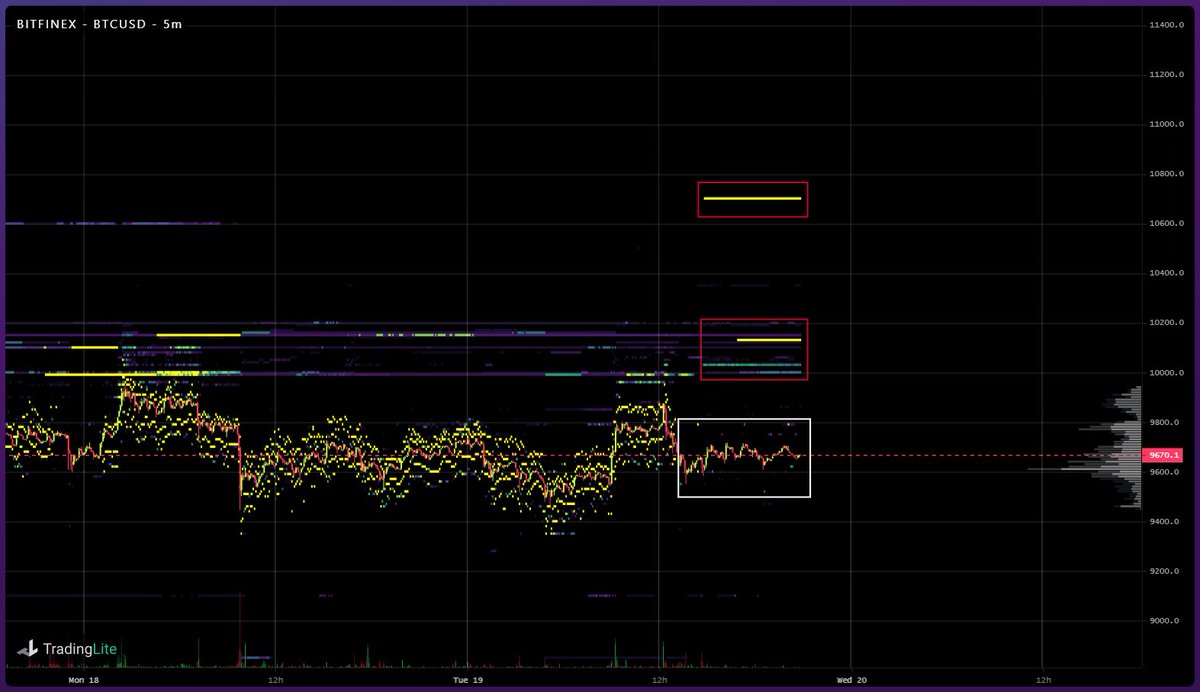 These sell orders may not seem like much from a macro perspective. What's a few dozen million in a market worth dozens of billions? But the last time Bitcoin saw a sell wall similar to the current one, it crashed.
As reported by NewsBTC previously, on May 9th BTC encountered a strong $30 million sell wall that existed from $10,010 to $10,230. What followed was a $2,000 crash in the two days after the sell wall appeared.
#2: On-Chain Metrics Signal a Contracting Network
Three out of seven of IntoTheBlock's metrics are currently "bearish," indicating that the underlying Bitcoin network is contracting alongside price. This corroborates the sentiment that there is a downtrend forming.
#3: Bitcoin Investor Sentiment Is Extremely High
To put a cherry on top of the proverbial crypto cake, analysis has found that Bitcoin investor sentiment is spiking.
Data shared by crypto analytics startup The TIE indicated that their proprietary Bitcoin social media sentiment indicator (30-day average) recently reached the "highest" it has been "since 2017." 2017, of course, was when the cryptocurrency hit $20,000.
Bitcoin's sentiment (30 day average) is the highest that we have recorded since 2017.

30 day average tweet volumes on Bitcoin are also at 2020 highs. pic.twitter.com/A1IXRaeIPo

— The TIE (@TheTIEIO) May 18, 2020
While some would argue that this suggests there is increased demand for cryptocurrency, this is not exactly the case.
As can be seen in The TIE's chart displayed above, there were a number of occasions in which the growth of The TIE's sentiment indicator marked the top of rallies. For instance, the last time the indicator was in this range as at the peak of Bitcoin's false relief rally from $6,000 to ~$9,500 in 2018.
The correlation isn't perfect per se, but it does show that when Bitcoin investors get too overzealous, the price tends to pull back as smart money sells into the FOMO.
Featured Image from Shutterstock