Bitcoin price may be down compared to it was just weeks ago, but it is not out. Bulls are fighting hard and have been keeping $10,000 as unbreakable on the way back down as it was on the way up.
With each touch of the key resistance turned support, the cryptocurrency's price action more closely resembles that of a Wyckoff accumulation schematic. If that's the case, the crypto asset is being absorbed by smart money and whales, and mark up could come next.
Bitcoin Bulls Defending $10,000 Support, Or Is Smart Money Accumulating BTC?
Bitcoin price is now trading at around $10,400 after a valiant, week-long effort from bulls to keep the cryptocurrency above support at $10,000.
And while the battle at a glance looks to be hard-fought, what could really be going on in between each minor intraday price swing, is full-blown accumulation taking place at such a critical level.
Related Reading | "Weak Hands" Have Been Shaken Out On The Bitcoin Crash To $10,000
$10,000 acted as resistance throughout the bear market, and could now be acting as support. At the same time, either whales or smart money investors like hedge funds or institutions could be loading up on BTC while prices are currently low.
According to a sharp-eyed analyst, the cryptocurrency's recent low timeframe price action closely resembles a Wyckoff accumulation schematic. If this is the case, what comes next is mark up to much higher prices.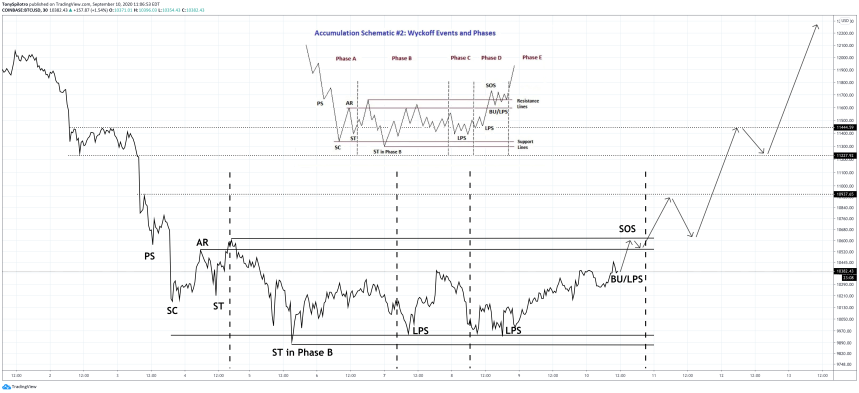 BTCUSD 30M Wyckoff Accumulation Schematic Comparison | Source: TradingView
Crypto Market At Critical Junction, Trend Ahead To Be Defined By Next Several Days
The current market structure in Bitcoin very closely mimics the schematic and shows that only a few days remain before this pattern is either confirmed or invalidated.
Falling below $9,800 and sweeping the lows, would likely either mean more downside ahead, or a quick shakeout before another move up – but it won't be accumulation.
Related Reading | Data Shows Whales Are Loading Up On Bitcoin, But Why?
Accumulation would mean that smart money and investors might be absorbing the supply now at low prices, preparing to sell the asset much higher. A rise out of the current trading range and back to reclaim highs would confirm the pattern, and make higher prices probable.
Coinciding with this potential pattern, blockchain data shows that whales with wallets holding 1,000 BTC or more are loading up on Bitcoin now, at this high of prices. They've been doing so ever since Black Thursday, either preparing to hedge against inflation or perhaps for another reason.
Whatever the cause, the next days in Bitcoin price action will be telling if the current drop was to re-accumulate Bitcoin at lower prices, or just a stop along the way to new lows.