When Bitcoin price action is sideways and directionless for the better part of a year, bulls and bears argue over which direction will be ultimately chosen.
However, considering macro conditions like rising interest rates, a sinking stock market, and mounting ting debt, bears aren't ready to throw in the towel. But they might want to after seeing this chart.
Bitcoin Price Chooses A Direction: Up And Away
Bitcoin and other cryptocurrencies are normally notoriously volatile. But volatility has dwindled to next to nothing since the FTX collapse struck.
Few have been willing to take the risk on BTC and altcoins while macro conditions are this on the edge of collapse. It resulted in a big move off the bottom, but also more than six months of consolidation and confusion.
But after several months of sideways price action, Bitcoin appears to have chosen a direction and broke out to form a new trend. Bears, however, remain stubbornly short per market sentiment.
Bearish traders might want to reconsider their positioning after taking a look at the Directional Movement Index.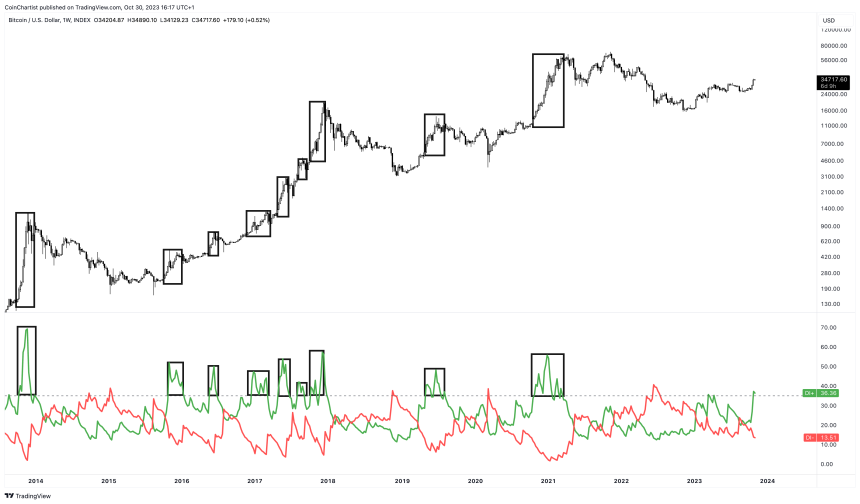 There is no denying: Bulls are in charge | BTCUSD on TradingView.com
Bullish Directional Movement Is Anything But Average
The Directional Movement Index is typically found bundled with the Average Directional Index, and consists of a negative and a positive directional indicator. The tool's premise is simple: when DI+ (green) is above DI- (red) the asset is bullish and DI- is above DI+ when bearish.
This technical analysis indicator is currently showing the DI+ soaring, while the DI- is falling and below the 20 line. The 20 line is notable more for the ADX, which isn't pictured. When the ADX rises above 20, the tool suggests a trend is active and strengthening.
Bitcoin isn't above 20 on the weekly yet, but has begun to do so on lower timeframes. With how strong the recent move was, the ADX could confirm above 20 over the next week or two. At that point, bears might finally be forced to concede that a new bull trend has blossomed.