Bitcoin took a strong dive during Wednesday's trading session. The asset fell from the $12,075 highs of the day prior to a local low around $11,200, marking a 7% correction.
The leading cryptocurrency remains near the lows as buyers have yet to step in en-masse. There seems to be some uncertainty about the medium-term future of BTC as the price of gold flags seemingly due to the U.S. dollar bouncing.
Investors are responding in kind. Data suggests that BTC miners are liquidating some of their tokens, suggesting that they perhaps see a stronger move to the downside in the near future.
It may also be that miners may have triggered the collapse, as on-chain data shows that there were some strong miner outflows prior to the drop from $12,000.
Bitcoin Miners Are Selling Coins, On-Chain Data Shows
Bitcoin miners are liquidating their coins en-masse according to data shared by CryptoQuant, a blockchain data startup. The company reported that " #Poolin, #Slush, #HaoBTC have taken the bitcoins out of the mining wallets and sent some to the exchange." The outflows of the past 24 hours collectively amount to over 1,500 BTC.
It can be said that in selling these coins, these miners are anticipating a move to the downside.

Chart of BTC's recent price action with the outflows from miner pools shared by cryptocurrency and blockchain analytics firm CryptoQuant.
This statistic comes as other on-chain data outlets have reported that the number of inactive Bitcoin on the blockchain has begun to increase.
This means that longer-term holders are starting to move their coins, seemingly to begin the liquidation of that BTC for fiat or for other cryptocurrencies.
Bitcoin moving from "HODLer" wallets isn't exactly bearish, though. This exact same trend was seen at the start of the previous bull run that brought BTC from ~$500 to $20,000.
Long-Term Uptrend Remains Intact: Analysts
Although miners may be liquidating their coins seemingly in anticipation of a move to the downside, analysts remain optimistic.
On a short-term time frame, sentiment is bullish because Bitcoin's market structure technically remains bullish. One trader shared the chart seen below, for instance, which shows that the uptrend is intact.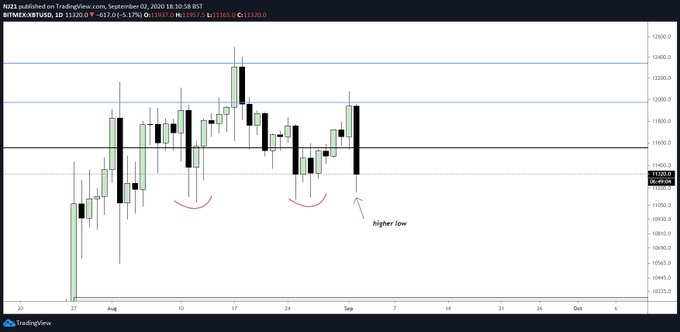 Chart of BTC's price action over the past few weeks with an analysis by crypto trader TraderNJ (@TraderNK1 on Twitter). Chart from TradingView.com
On a longer-term basis, many note that macro fundamentals remain in favor of BTC's growth. Raoul Pal, for instance, noted that Jerome Powell's speech about monetary policy in terms of the Federal Reserve suggests the coin will appreciate 50-100x in the coming years.
Photo by Artur Stanulevich on Unsplash
Price tags: xbtusd, btcusd, btcusdt
Charts from TradingView.com
There's an "Unusual" Amount of Bitcoin Sellling Pressure From Miners