Bitcoin funding rates have remained low even when the price of the digital asset has rebounded. The trend for the previous week showed that investors remained extremely wary of the market, and there has not been a change for the new week either. This coincides with the general market sentiment falling back deep into the fear territory. This report takes a look at where the bitcoin funding rates are currently and what it says about the market.
Funding Rates Remain Below Neutral
Back at the beginning of August, the bitcoin funding rates had finally recovered to neutral, speaking some hope in the market. However, this was only short-lived as the funding rates had declined below neutral the following week.
Since then, there has been no significant positive change in the funding rate. Rather, it has continued to plummet, with only a few slight recoveries here and there. The last week was no different in this regard, as funding rates dropped below 0% once more.
It was most prominent on the Binance crypto exchange, where funding rates had reached their lowest point in the last two months. The crypto exchange has also not seen any recovery to the neutral level in the last two weeks, marking one of the most bearish trends for the exchange.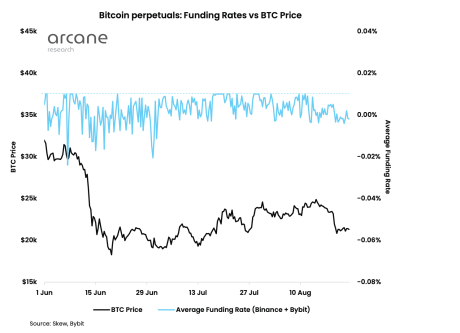 Funding rates remain below neutral | Source: Arcane Research
The funding rates remained low even when the bitcoin open interest had recorded a marked recovery. It had jumped to near all-time highs at 370,000 BTC, but since there was no positive shift in investor sentiment, open interest had plummeted back to 364K BTC.
What This Means For Bitcoin
Such a long stretch of time below neutral for bitcoin funding rates can only mean one thing for the digital asset, and that is that traders are increasingly bearish toward bitcoin for the short term. The two weeks of consistent below-neutral funding rates on the Binance exchange point to low demand for BTC at this time.
BTC trading in the mid-$21,000s | Source: BTCUSD on TradingView.com
It also goes to show the same for the crypto market in general. Perpetual traders favor short liquidations and, even then, continue to place conservative bets. And all of this is happening while open interest remains elevated. As such, perps continue to trade below the spot prices.
However, such a stretch of below-neutral funding rates is not always all bad for the digital asset. It is important to know that such trends set up a pretty good spot for a shot squeeze, but that is if there is a sharp climb in investor interest. For now, bitcoin investors are choosing to stay out of the market and placing very conservative bets at best.
Featured image from Coingape, charts from Arcane Research and TradingView.com
Follow Best Owie on Twitter for market insights, updates, and the occasional funny tweet…