Just two hours ago, Bitcoin started to rally after trading at $6,700 for most of Saturday morning and afternoon, rallying as high as $7,020 in a vertical move that brought the asset 4%. But, as fast as the cryptocurrency rallied, it was rejected, returning to where it began just minutes later — a loss for bulls hoping BTC could establish a higher high on the daily chart.
Joe McCann  — a noted crypto trader and an AI/Cloud specialist at Microsoft — remarked that the recent explosive move is most likely related to a futures short squeeze caused by negative funding rates on BitMEX:
"Funding rate continues to maintain its negativity yet price won't go down. If bulls keep this up there will be an epic squeeze coming… There's the squeeze."
With the surge's gains having since been reverted, what are analysts thinking comes next for Bitcoin and the rest of the crypto market?
Analysts Are Growing Bullish On Bitcoin
Surprisingly, despite the strong rejection at the key $7,000 technical resistance, analysts are bullish about the short-term to medium-term prospects of the leading cryptocurrency.
According to a Bloomberg report published April 3rd, Bitcoin recently pushed above a key technical resistance, allowing the DVAN Buying and Selling Pressure Gauge to print a "positive divergence and a buy signal."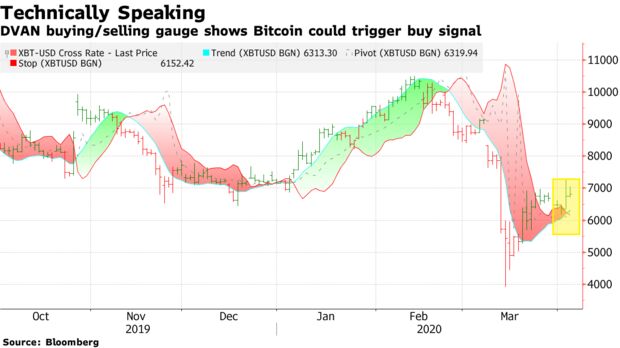 The last time this indicator printed a buy signal was at the start of the year, which preceded Bitcoin's rally from $7,000 to $10,500 within 50 days' time. 
Furthermore, prominent crypto trader TraderSmokey recently noted that Bitcoin has passed above the 12-hour Kumo cloud, the central aspect of the Ichimoku Cloud indicator, which suggests an uptrend could be forming.
Not Everyone Is Convinced
Unfortunately, not everyone is convinced: a well-known trader remarked that looking through the perspective of Elliot Wave analysis, it still seems somewhat bearish. He shared on April 3rd:
"[T]heres [sic] so many different ways you could count BTC here: either wxy, larger triangle, larger flat, I'm not too sure, the one thing that does stick out is the series of 3 wave moves and lack of 5 wave motives. [F]or this reason, I think its still too early to call a bottom."
Featured Image from Shutterstock