After a multi-day consolidation around $9,000, Bitcoin is finally breaking out again. Thursday morning saw the cryptocurrency hit $9,400, revisiting the highs of last week as bulls step in.
While the ever-important $9,400-9,500 zone has held as macro resistance yet again, the asset is coiling for a breakout. And according to a top analyst, one who has made accurate macro Bitcoin calls, the breakout will be one in the upward direction.
Bitcoin is Coiling to Break Past $10,000
The recent rejection at $9,400 is no worry for Bitcoin, according to a top trader. He noted that considering the recent price action, there's a good chance BTC could hit $10,700 in the coming week.
As to why the trader thinks this is the case, he explained:
"I might be wrong but something that's been bugging me is how some of the stronger altcoins like ADA/USD ook mad bullish but ADA/BTC looks like trash, so I kind of feel BTC is going to go on a face melting move soon."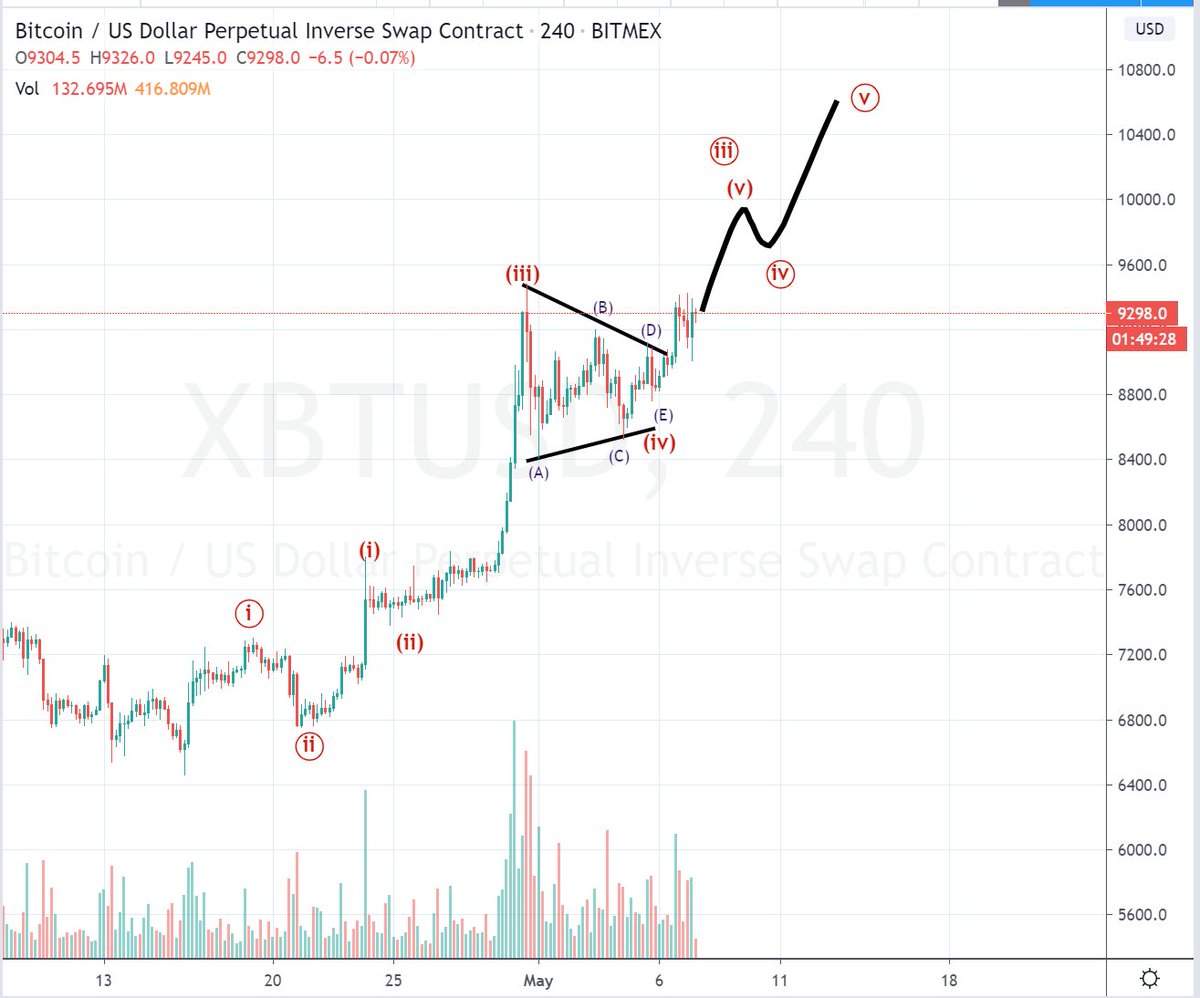 Although some are skeptical of the efficacy of Elliot Wave analysis, the trader has a strong track record in analyzing the crypto markets.
In the middle of 2018, when Bitcoin was in the midst of a bear market, he revealed at which point he expects BTC to bottom, writing:
"I'm calling a bottom at exactly 3.2k with a 200 dollar leeway either side."
Not the Only Bull
It isn't only the abovementioned trader that expects an imminent move past $10,000 for Bitcoin.
Another top trader recently shared the chart below, indicating the cryptocurrency is poised to break to $11,000 in the near future. Backing this cheery sentiment was a confluence of signs: 
Bitcoin is poised to break out of the channel it has traded in since 2019's highs
The cryptocurrency crossed above a number of key moving averages, including the 200-day SMA
The stochastic indicator is signaling there is "room for expansion" to the upside. The trader added that there is a "strong directional confluence of stochastic momentum & TK momentum."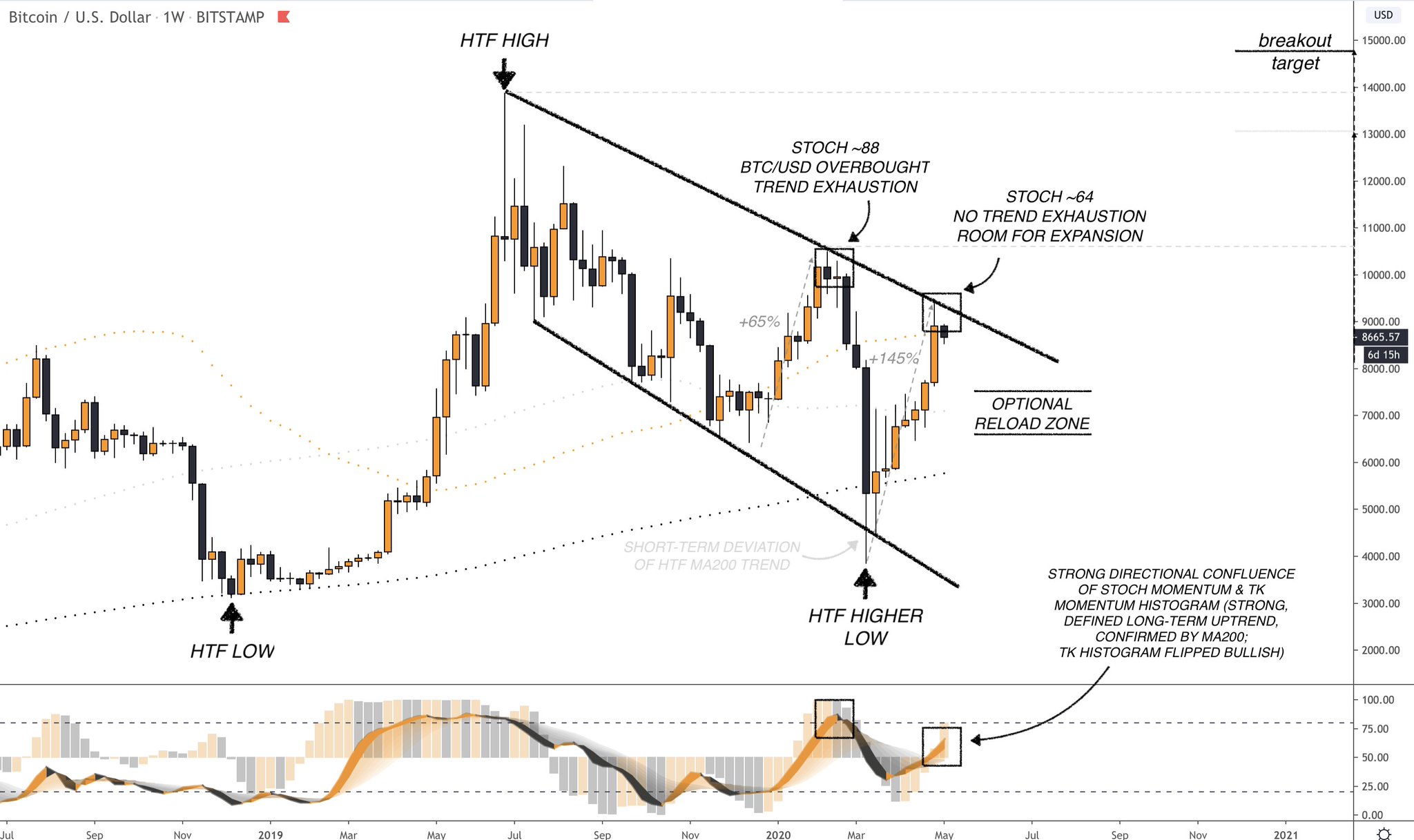 It Lines Up With the Bitcoin Halving
The bullish scenario proposed by traders lines up with the imminence of the Bitcoin block reward halving.
In approximately five days' time according to estimates, the number of BTC that miners mint per block will be sliced in half automatically by the protocol. The result is in an instant 50% reduction in the cryptocurrency's inflation rate.
The halving will be bullish for Bitcoin, analysts have said. Dan Morehead, the head of one of the earliest crypto hedge and venture funds, Pantera Capital, is one such analyst.
In Pantera's April newsletter, the former Wall Street trader said that from a simple supply-demand analysis, he sees Bitcoin rising in the wake of the halving:
"It seems reasonable to say that if the new supply of bitcoin is cut in half, all else being equal, the price should rise. This ceteris paribus line is easy to envisage. Most miners sell their block rewards as fast as they can. They need the money to pay for energy, data center space, and to buy faster chips in the never-ending arms race."
Photo by Anna Popović on Unsplash