Bitcoin (BTC) hasn't done all too hot over the past ten days, finally floundering above $9,000 to fall to $7,500, where the crypto sits now. In spite of this bearish price action, coupled with warnings that a move even lower is around the corner, there could be one industry catalyst that drives Bitcoin higher in the coming weeks.
This catalyst is believed to be Facebook's cryptocurrency, dubbed "Globalcoin" or "Libra", whose white paper is slated to be published by next week. Analysts believe that this venture from the social media heavyweight will validate the idea of digital currencies, thus pushing the adoption of BTC and its brethren.
What is Facebook's Crypto? 
For nearly a year now, the crypto space has been on its toes about Facebook's involvement in this ecosystem. Last year, the company was revealed to have a blockchain team, led by former executives of PayPal and Instagram, including technologist David Marcus. But only until recently was the crypto community privy to Facebook Blockchain's secrets.
As covered extensively by NewsBTC, the Silicon Valley darling has been hard at work on their own cryptocurrency, slated to be a stablecoin backed by a "basket" of fiat currencies. Globalcoin is expected to be a digital medium of exchange for Facebook's extensive ecosystem, and will be available through physical automated tellers, exchanges, and through a purported reward system.
Not much is known more than that, however many have tried to postulate how the product, which is being worked on by 100 staffers, will affect Bitcoin and the broader crypto-economy.
What Will Drive Bitcoin Higher
While many have taken the approach of a cynic, claiming that Facebook can detract from Bitcoin's value proposition, this may not be the case. Caitlin Long, a former executive at Morgan Stanley turned blockchain proponent, broke down her thoughts on why Globalcoin could actually bolster Bitcoin adoption.
9/ Sixth, @Facebook's foray into #cryptocurrency will likely end up a beneficial detour on the path to broader #bitcoin adoption. By educating consumers abt the benefits of #crypto & improving the user experience, FB will pull more users into #BTC whether it intends to or not

— Caitlin Long ? (@CaitlinLong_) June 9, 2019
In an extensive tell-all about her thoughts on Facebook's first real foray into cryptocurrency, Long ventures that Globalcoin will "end up benefiting Bitcoin" by accelerating the pace of adoption. The company will be doing this through tacitly educating its users about crypto assets, presumably when users transact Globalcoin and interact extensively with a digital economy.
Once users get acclimated with Globalcoin, Long suggests that they will turn to Bitcoin for "one simple reason" — BTC is scarce, Facebook's cryptocurrency is not. The former banker didn't mention much more than that, but asserted that this transition will come with time, as "people will migrate over time to the most honest ledger for storing their hard-earned wealth".
Backing her claim, she looks to the fact that as early Bitcoin diehard Nick Spanos has pointed out, education efforts about Venezuela's Petro (an 'oil-backed' digital asset meant to save the nation's hyperinflating economy) seemingly resulted in a "spike in Bitcoin use in Venezuela". The same could easily occur this time around, but with billions instead of millions.
10/ h/t to @nickspanos for pointing out that's exactly what happened in Venezuela–education efforts about its ill-fated #petro correlated to a spike in #bitcoin use in Venezuela. pic.twitter.com/ivULEyt4Tu

— Caitlin Long ? (@CaitlinLong_) June 9, 2019
She isn't the first to have brought this up.
Analyst and industry commentator Luke Martin recently explained that for much of crypto's history, entrants to the industry started with Bitcoin. Bitcoin is, of course, the "largest, most well-known, first decentralized cryptocurrency" that acts as an on-ramp to any other cryptocurrency ecosystem.
But with Facebook in the fold, Martin suggests that Globalcoin may usurp Bitcoin's status as the cryptocurrency onramp.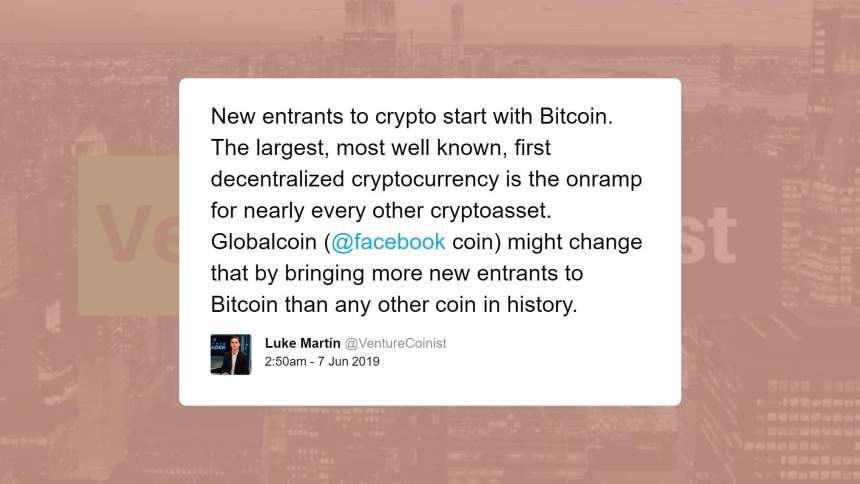 The numbers corroborate this. Earlier this year, Ari Paul suggested that Facebook's cryptocurrency could, and this is a conservative estimate, see adoption by 300 million — less than 20% of the firm's active clientele.
Even if a mere 10% of the hypothetical audience of 300 million "stumble across Bitcoin", the number of BTC users would double, "increasing the pace of adoption, the network effects, and the value of the network."
No price target can be extrapolated from these statistics, but such an inflow would likely result in the biggest influx of buying pressure this space has ever seen. If each of the 30 million invested a relatively meager $100 into Bitcoin, that would be a $3 billion capital inflow. Couple this with fiat amplifiers, and you have a monumental bull run on your hands.
Although Globalcoin is almost surely going to drive the long-term value of BTC, coupled with the adoption and acceptance of digital assets, it isn't a venture without shortcomings. Long suggests that the 'blockchain' or ledger of the presumably centralized cryptocurrency will be a "honeypot" for governments and Facebook itself. With time, however, many believe that Bitcoin could usurp the copycat in Globalcoin.
Featured Image from Shutterstock