The multi-year bear market Bitcoin has been caught within in the time following its decline from highs of nearly $20,000 has shown few signs of ending anytime soon, as BTC has struggled to gain any solid footing within the five-figure price region.
It is important to note that on-chain data shows that using Bitcoin's all-time highs as a metric of its current market structure may be deceiving, as very few BTC actually transacted at this level.
The same data also shows that the cryptocurrency's actual cost basis actually sits around $6,000, meaning that the benchmark digital asset is trading up significantly from where most investors acquired it.
With that being said, it does appear that Bitcoin's price action throughout the past few years has been very favorable to investors, with most being quite profitable.
Bitcoin Cost Basis Sits Around $6,000, According to New Data 
Bitcoin is currently trading down over 50% from its 2017 highs of nearly $20,000 that were set for a brief instance in late-December.
These highs were not sustainable, and ultimately marked the peak of the massive bull market seen throughout that year.
In the time since, BTC has been struggling to garner any momentum, only briefly breaking above $10,000 on a few short occasions over the past several years.
This has made the cryptocurrency appear to be in firm bear territory, and on a few occasions it has declined by over 80% from its highs when it ventured into the $3,000 region.
New data, however, reveals that from investors' perspective, BTC has generally been bullish throughout the past few years.
According to analytics platform Messari, the benchmark digital asset's average cost basis sits around $6,000. This means that the majority of BTC's investors are quite profitable, showing that its bear market has been as intense as it previously seemed to be.
Very Little BTC Has Ever Been Traded Around its ATHs
Despite $20,000 being Bitcoin's all-time highs, very little Bitcoin actually exchanged hands at this price point.
Ryan Watkins, a researcher at analytics platform Messari, spoke about this in a recent tweet, explaining the average investor's cost-basis sits around $6,000.
"When Bitcoin rocketed to ~$20,000 in 2017 it became front page news. However, despite the hype, not much Bitcoin actually traded near $20,000. Nor has much traded above even half of that. In fact, the estimated cost basis for the Bitcoin network is just under $6,000."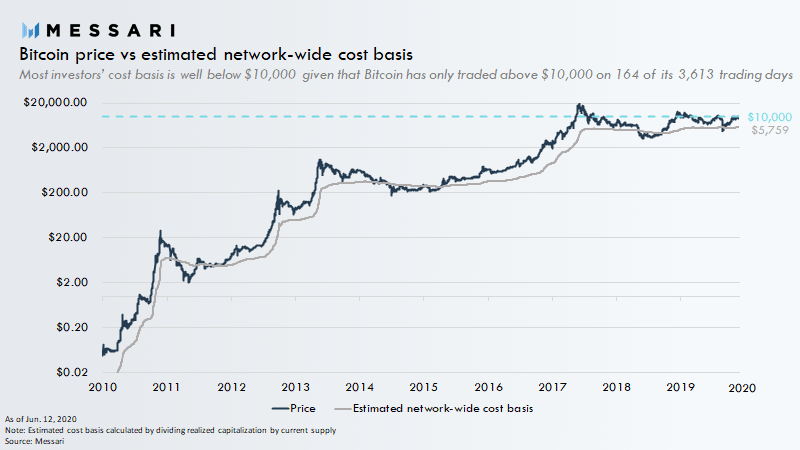 This indicates that the cryptocurrency's current price at just below $10,000 puts it in a strong position relative to its macro price action.
Featured image from Shutterstock.