Binance Coin (BNB) finds itself in a precarious position, with its price rebound heavily contingent on a resurgence in network activity for BNB Chain. The decline in network activity has played a pivotal role in hindering price momentum for BNB, leaving investors and enthusiasts eager for a turnaround.
BNB's recent price action has been characterized by extended periods of sideways movement. The bears have proven resilient at the resistance level, preventing prices from breaching the $225 mark. 
Currently, BNB is trading at $216.80, according to CoinGecko, with 24-hour gains of a modest 0.8%. Over the past seven days, the coin has seen a marginal decline of 0.1%, leaving investors and enthusiasts eagerly awaiting signs of a potential price rebound.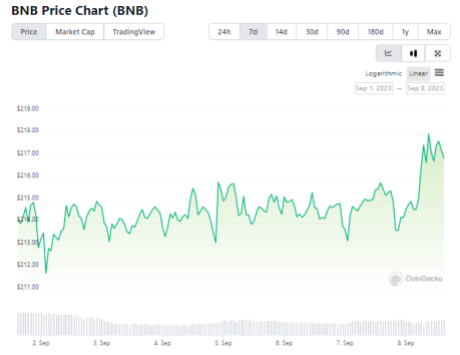 BNB seven-day price action. Source: Coingecko
BNB Hinging On Bitcoin's Performance
For bulls hoping to witness an upward movement in BNB's price, their hopes might rest largely on Bitcoin's shoulders. A significant breakthrough for Bitcoin above the $26,000 mark could inject much-needed bullish sentiment into the broader market, potentially benefiting BNB in the process.
Technical price analysis paints a rather bleak picture for BNB. The Relative Strength Index (RSI) reflects the lack of demand for BNB, with a brief spike above the neutral 50 on August 30 quickly followed by a decline below the neutral 50. As of the latest data, the RSI remains in this bearish territory.
Additionally, the On-Balance Volume (OBV) has witnessed significant drops in trading volume, both in early June and late August. These sharp declines have contributed to BNB's lateral price movement, further reinforcing the prevailing bearish market structure.
BNB market cap currently at $33 billion. Chart: TradingView.com
Regulatory Woes And Executive Exodus
Adding to BNB's challenges is the regulatory scrutiny Binance, the platform behind BNB, has been facing recently. The exchange has been in the crosshairs of regulators worldwide, and the situation has been exacerbated by the departure of several high-ranking executives.
Mayur Kamat, Binance's head of product, is the latest in a string of senior executives to leave the company, marking the fourth such departure.
As BNB grapples with these obstacles, experts in the field predict that the coin may experience further downward pressure. According to a price report, some experts anticipate BNB's price to drop to $208 by September 19.
Binance Coin's prospects remain uncertain as it navigates a challenging landscape characterized by declining network activity, technical indicators flashing warning signs, regulatory hurdles, and executive departures.
The fate of BNB appears intertwined with the broader cryptocurrency market's performance, and investors and enthusiasts will be closely monitoring developments in the coming weeks.
(This site's content should not be construed as investment advice. Investing involves risk. When you invest, your capital is subject to risk).
Featured image from iStock