Cardano (ADA) has undergone a strong surge to the upside over recent days. Per data from TradingView.com, the coin is up around 30% since it bottomed just two days ago.
Unfortunately, technical signs show that the cryptocurrency is primed to reverse lower after the rally. This is in line with some analysts that expect Bitcoin's ongoing recovery to taper off as it faces resistance in the $10,800-11,200 region.
ADA Primed to Correct After 30%+ Surge
Cardano is primed to correct to the downside after undergoing the aforementioned surge that came as Bitcoin saw a strong recovery.
An analyst shared the ADA chart seen below on September 25th.
It shows that Cardano's recent price action has formed a textbook bearish divergence between its trend and a crucial trend indicator. This divergence suggests a loss of momentum in the uptrend, increasing the chance the cryptocurrency reverses lower. Adding to this, ADA is now flirting with the upper band of a range indicator, indicating it may be overbought on a short-term time frame.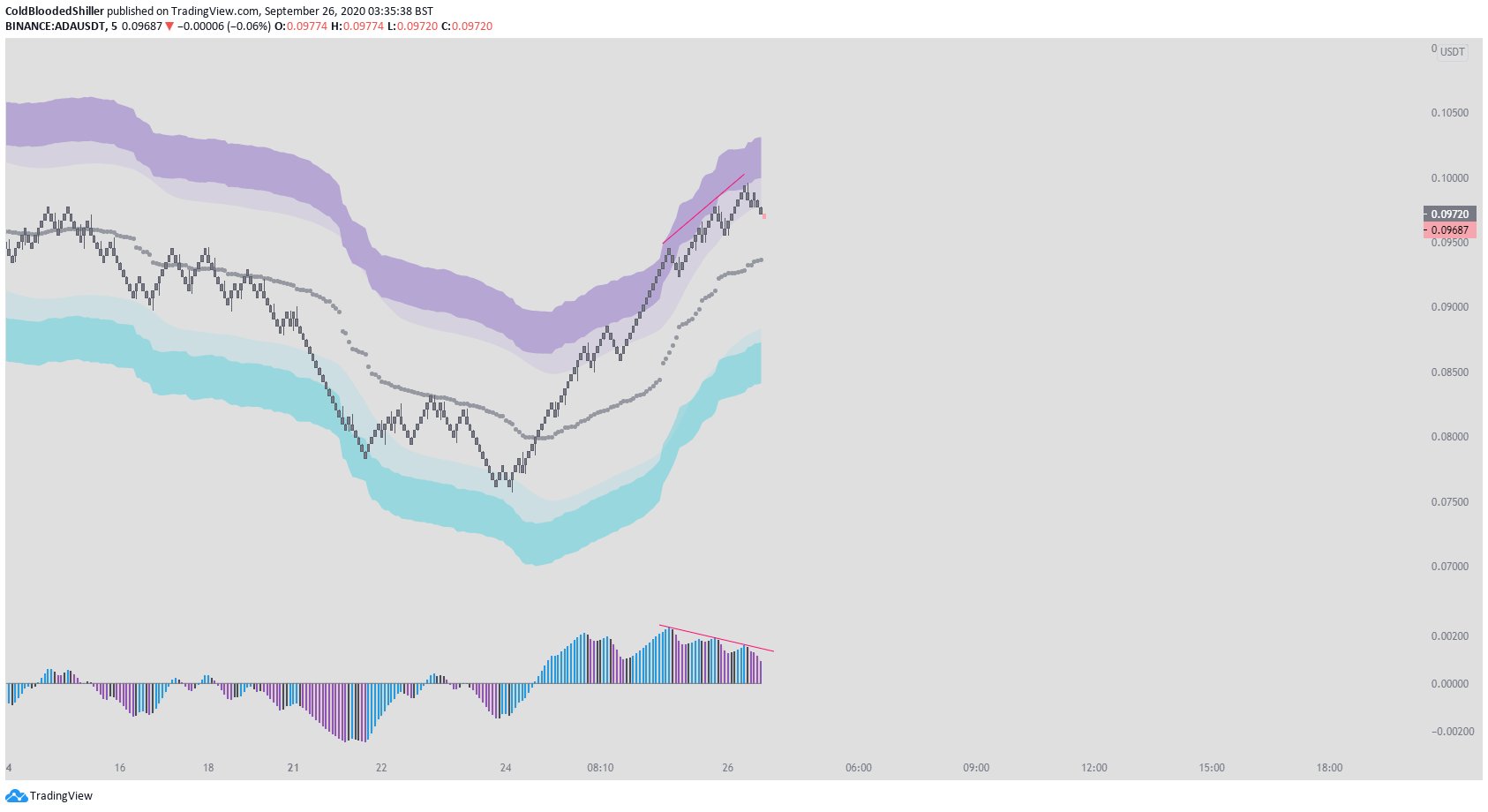 Chart of ADA's price action over the past few weeks with analysis by crypto trader Cold Blooded Shiller (Coldbloodshill handle on Twitter). Chart from TradingView.com
Another trader echoed the assertion that Cardano could be reaching a top in the near term. This trader's analysis showed that ADA has entered a short-term downtrend as it fails to retake the highs at $0.098 per coin.
Shift Towards DeFi Could Help Cardano
Cardano shifting towards decentralized finance could help ADA catch a bid, similar to how DeFi has boosted Ethereum over recent months.
Charles Hoskinson, the founder of the blockchain, announced in August that he is obsessed with DeFi. He said he's been poring over "hundreds of pages of reports, lots of interviews and discussions" because he sees value in some of the most popular trends in decentralized finance.
Should Cardano developers move to capture some of the DeFi market share as Ethereum faces high transaction fees, ADA could begin to gain more traction.
Especially with the current iteration of DeFi applications, where users often need a blockchain's native currency to act as a collateral or reserve asset, ADA will benefit if DeFi takes off on Cardano.
Photo by Fabian Wiktor on Unsplash
Price tags: adausd, adabtc
Charts from TradingVIew.com
Cardano Rejects at Pivotal Resistance After 30% Surge: The ADA Bear Case