ADA seems unstoppable with a 37% rally in the last week. The seventh crypto by market cap is the best performing asset on that ranking and could continue to reclaim previous highs.
Related Reading | Cardano Completes Network Upgrade, ADA Reacts To The Upside
At the time of writing, ADA's price trades at $1.16 with a 12% profit in the last 24-hours.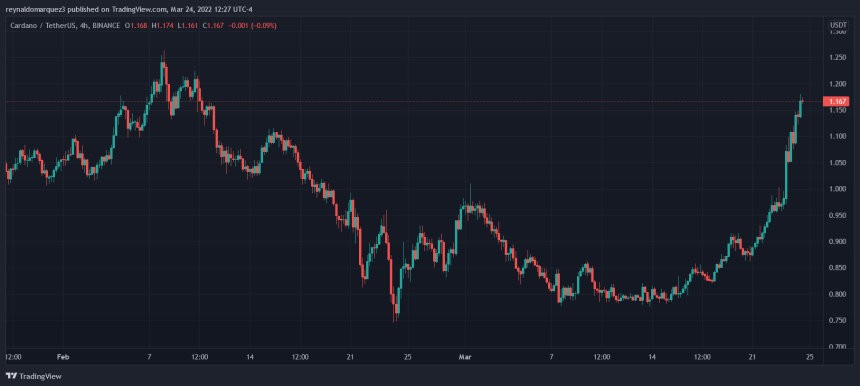 The current seems to be fueled by leading crypto exchange Coinbase announcement to included Cardano to its staking offering. The platform has enabled users to stake their ADA and benefit from reward.
According to the exchange's blog, this service aims at removing friction from the process of staking ADA. For some users, Coinbase said, this can be "confusing and complicated".
Per the exchange's latest earnings report, the platform records 43 million users with 3 million active users per month. In 2021, Coinbase reported $1,6 billion in revenue, most of which proceeded from retail traders.
In that sense, ADA staking has found a major spot to increase its adoption levels and provide millions with access to its rewards. The platform is offering a 3.75% APY for ADA staking, with a reward delivery schedule of 5 to 7 days.
Cardano is quickly approaching the important psychological price point of $1.20. The cryptocurrency last saw these levels before its move into its all-time high near $3.
In the short term, Cardano could face hurdles as it attempts to break above $1.20. Data from Material Indicators (MI) records a cluster of asks or selling orders around those levels.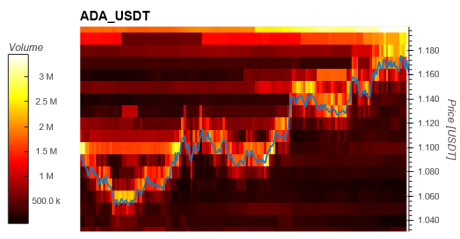 As the chart shows, these asks could operate as resistance with $3 million in selling orders. In case of rejection, $1.16 could act as support as there are $1,5 million in bid orders.
As the price of Cardano moves higher, MI also records an increase in selling pressure from investors with asks orders of around $100,000 (purple in the chart below). This selling has been mostly absorbed by smaller investors with bid orders of around $10,000 (red in the chart below).
Cardano Ecosystem Growths
Despite its critics, the Cardano ecosystem shows important growth after introducing smart contract capabilities, as measure by its total value locked (TVL). According to a report from Wu Blockchain:
On March 23, Cardano TVL exceeded 300 million US dollars, most of which were provided by two DEXs, and TVL ranked 24th among all L1s. Currently, ADA worth $23.8 billion is staking in the Cardano network, with a staking rate of 71.64%.
Related Reading | 7% Rally Pushes Cardano (ADA) Closer To $1
Still far from the TVL of Ethereum's DeFi protocols, this growth hints at a potential trend for ADA's price as more users onboard its ecosystem. The inventor of Cardano, Charles Hoskinson, has celebrated the explosive expansion of the projects building on this network.
Remember when I predicted thousands of assets and DApps on Cardano? Well I was wrong, there are now millions of native assets issued and DApps are now in the hundreds. #SlowAndSteady https://t.co/mK4So6NHa1

— Charles Hoskinson (@IOHK_Charles) March 23, 2022