One of the so-called "Ethereum killers," Cardano has made it to the headlines of the cryptocurrency market after the 80% bull run it has seen over the past week. The increasing buying pressure behind it seems to be fueled by the progress the IOHK team has made to finally roll-out the Shelley upgrade.
Chart of ADA over the past week from TradingView.com
As the protocol prepares to transition into a proof-of-stake consensus algorithm, market participants appear to be flocking to Cardano which could allow its price to rise further.
Cardano Is Poised for Further Gains
Data from IntoTheBlock reveals Cardano's network growth has been skyrocketing. On June 30, roughly 2,400 new addresses were created, but now nearly 10,000 new addresses are joining the network on a daily basis. The significant increase in user adoption represents a 313% upswing in only one week.
Network growth represents one of the most important gauges to understand the health and well being of a given crypto project. Based on the ADA's price history, a rising network growth usually leads to a further price increase.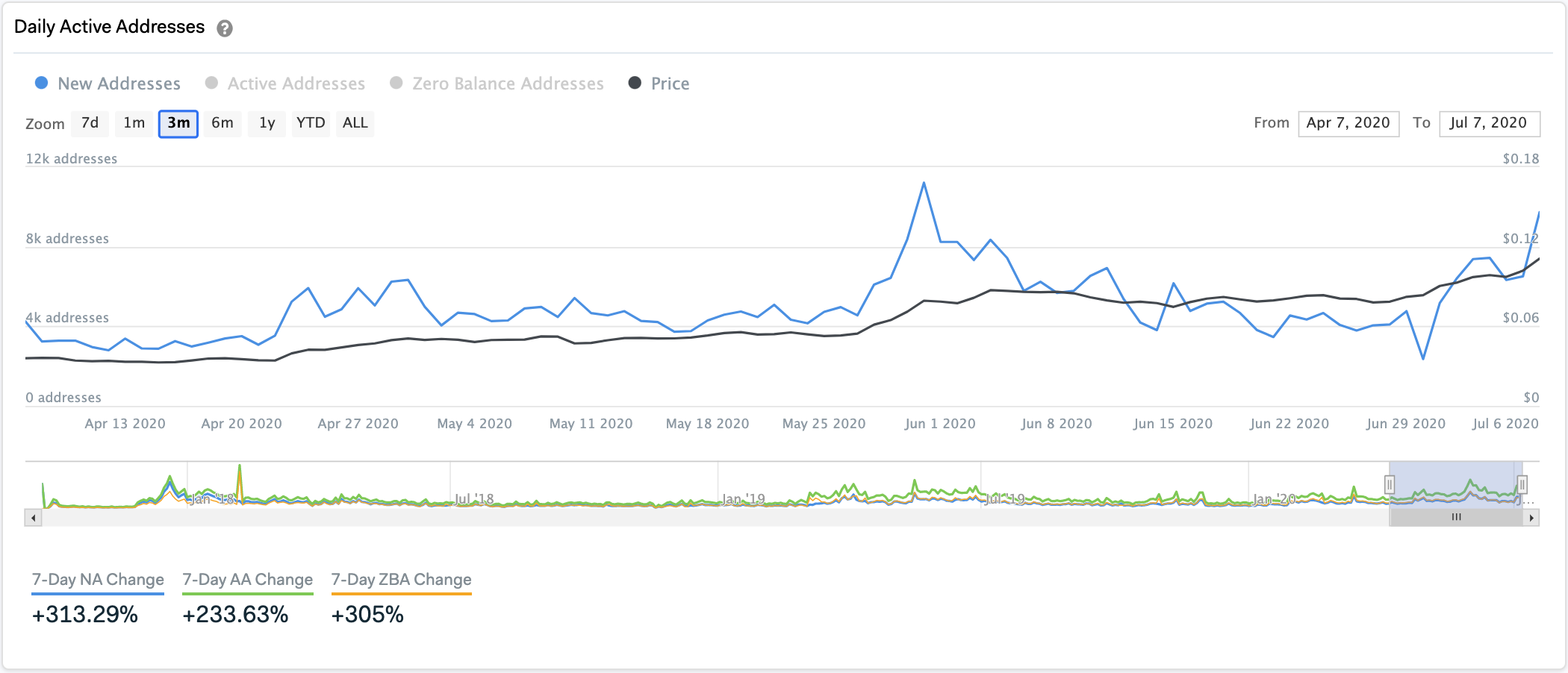 Cardano's Network Expands Exponentially. (Source: IntoTheBlock)
The uptrend in on-chain and social volume adds credence to the optimistic outlook. When combined with rising network growth, these metrics are a great triple thread to track to determine whether or not Cardano is poised for higher highs.
On-chain volume is currently surging to levels not seen since early January 2018 while social volume reached a new yearly high of 77. These positive movements may soon be reflected on ADA's price as speculation around the upcoming Shelley hardfork continues mounting.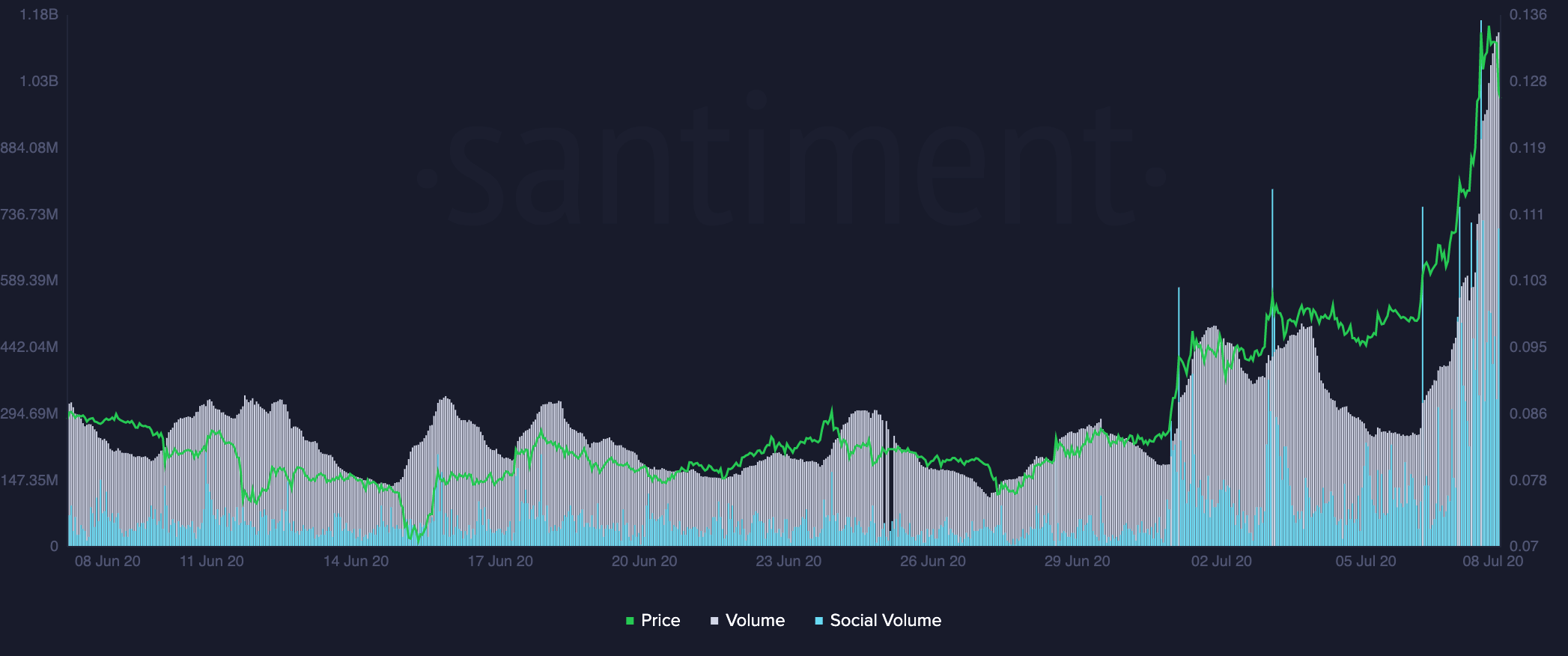 Cardano's On-Chain and Social Volume Surge. (Source: Santiment)
Too Many Eyes on ADA
Despite the high probability of a further upward advance, investors must be aware that Cardano has made it to Santiment's Emerging Trends list due to the rising chatter around it. This is a highly concerning indicator for ADA's short-term price action.
Generally, when the crowd is paying increased attention to an asset because of an ongoing pump, it tends to lead to a correction.
"Within the next 12 days after a coin claims a top 3 position on our list of Emerging Trends, its price drops by an average of 8.2 percent. Based on our study, once the increased crowd attention subsides (which usually happens in a matter of hours/days), a short-term price correction – or consolidation – is often a likely outcome," said Santiment.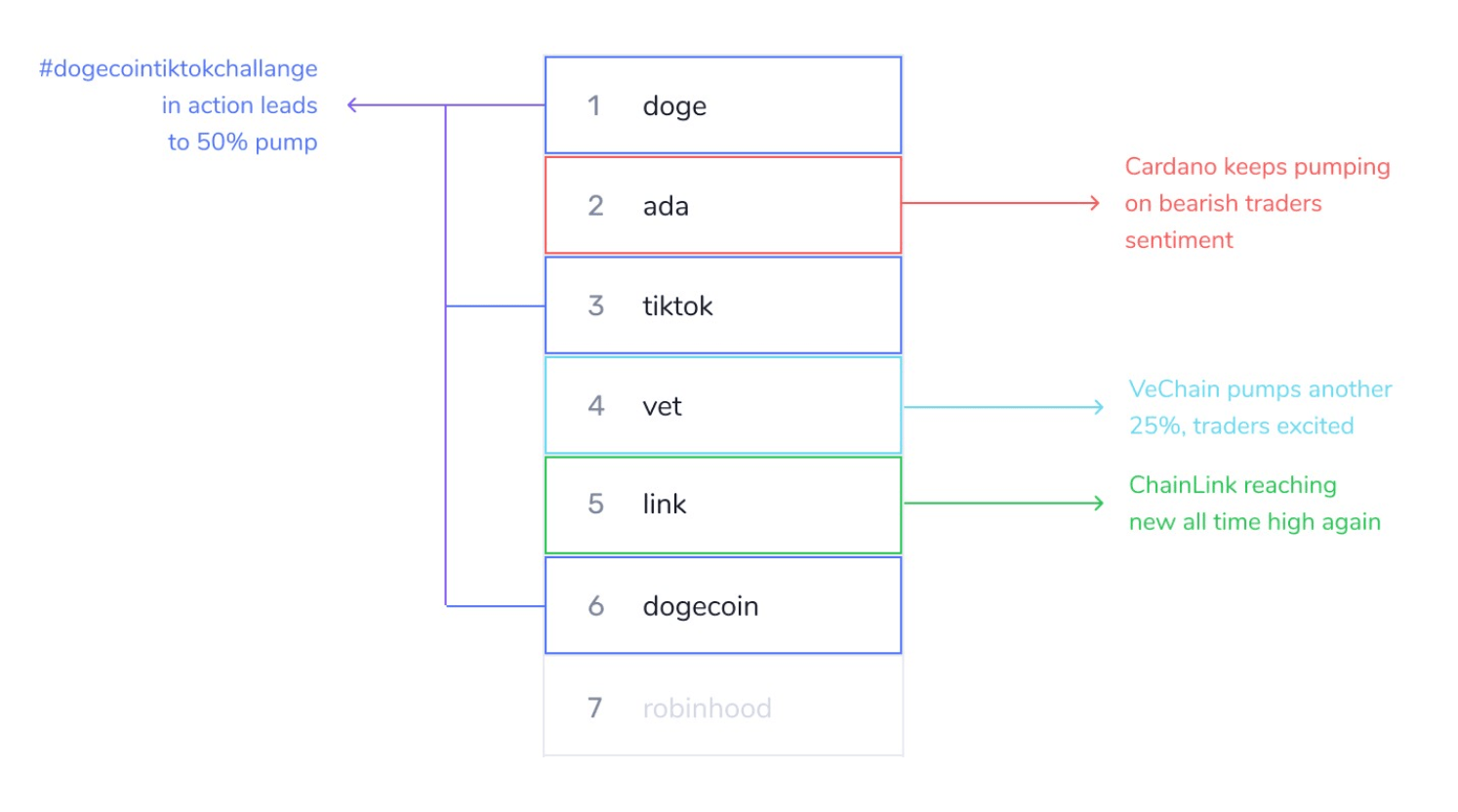 Cardano Makes It to the Top Emerging Trends. (Source: Santiment)
In the event of a correction, IntoTheBlock's "In/Out of the Money Around Price" (IOMAP) model suggests that there is a significant support level ahead of Cardano. Approximately 5,500 addresses had previously purchased over 2.43 billion ADA between $0.11 and $0.114.
These price levels represent a significant supply wall that may reject the smart contracts token from a further decline.

Cardano Sits On Top of Strong Support. (Source: IntoTheBlock)
The IOMAP cohorts also show that if ADA is able to turn the $0.126 resistance level into support, there are not any major barriers ahead of it that will prevent it from reaching a new yearly high.
Featured Image by Shutterstock
Price tags: adausd, adabtc
Chart from TradingView.com