Cardano had attempted to recover on its chart in the past week, but the bulls could not sustain the attempted upward movement. Over the last 24 hours, ADA dipped close to 9%, and in the previous week, it registered a loss of 1%.
At the moment, ADA is moving closer to its previous low as demand for the altcoin has remained bleak. The technical outlook of the ADA has pointed towards the bears gathering strength. The buying strength of the altcoin has declined considerably ever since ADA attempted to move upwards on the chart.
With Bitcoin unable to break above the $24,500 mark, many altcoins have suffered on their respective charts in the last week. As demand fell, so did accumulation. ADA could drop to $0.30 before the price increases over the subsequent few trading sessions.
If Bitcoin price begins to recuperate over the subsequent trading sessions, ADA might move close to $0.33 and trade within a range before it tries to break out of the field.
Cardano Price Analysis: One-Day Chart
ADA was trading at $0.32 at the time of writing. The altcoin has been under selling pressure in recent trading sessions, bringing the price down to $0.32. In the last week, ADA managed to drive its price from $0.30 to $0.35.
At the moment, Cardano is inching closer to $0.30. A fall from the $0.32 level will make ADA fall below $0.30, and the altcoin would rest at $0.28. If Cardano trades above the $0.30 mark, the coin could propel to $0.34.
Overhead resistance for the altcoin was at $0.33 and then at $0.35. These two levels above will act as vital price levels for ADA. The coin remains near $0.35; it can shoot past the $0.36 mark. The amount of ADA traded in the last session declined, displaying selling strength.
Technical Analysis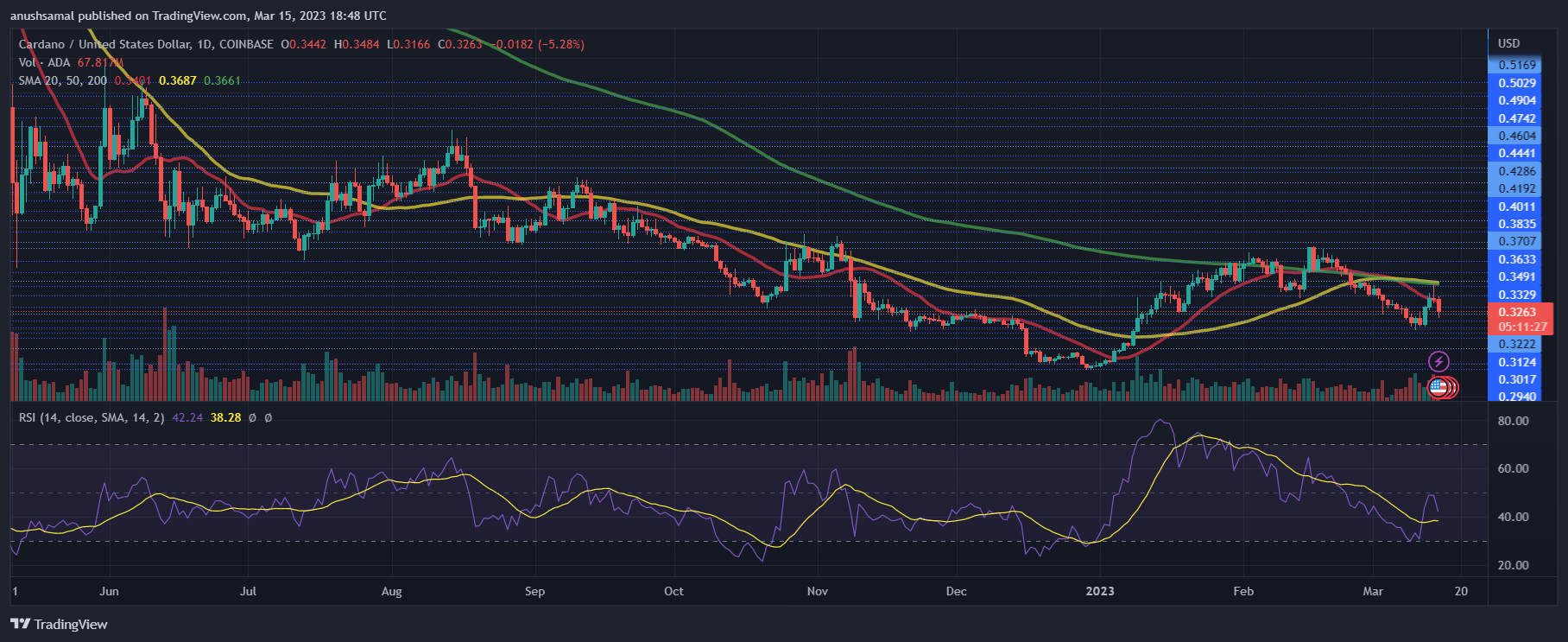 Traders have lost confidence in the asset. ADA registered a fall in buying strength as the coin depreciated further. The Relative Strength Index was below the half-line, with a downtick signifying a fall in purchasing power on the one-day chart.
In accordance with the same, Cardano was below the 20-Simple Moving Average line (red), indicating that the price was in the sellers' control. The sellers were driving the price momentum in the market.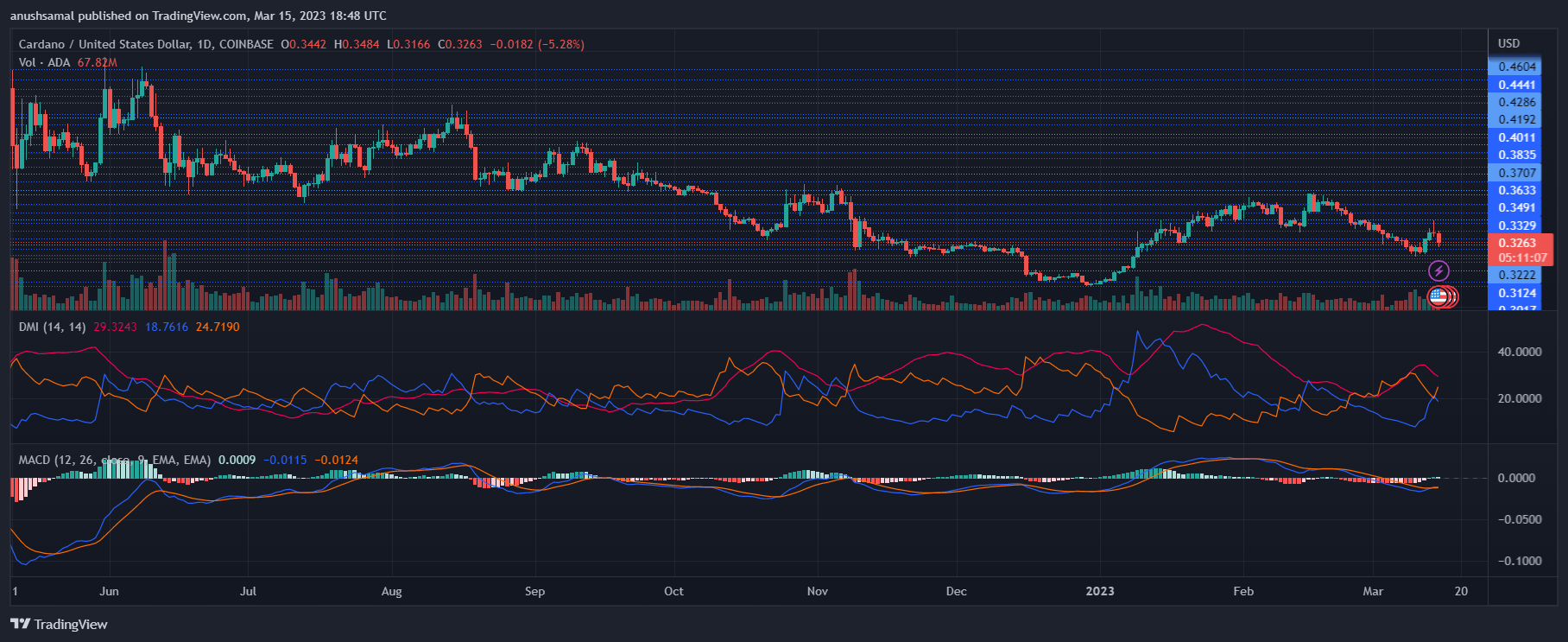 Despite the fall in price, ADA depicts buy signals on the one-day chart. The Moving Average Convergence Divergence indicates price momentum and trend reversal. The indicator formed green signal bars, which are tied to buy signals.
These signals could mean that prices fall over the next trading session and recover in the subsequent trading sessions. The Directional Movement Index (DMI) demonstrates the price direction and strength of the same.
DMI was negative as the -DI (orange) line was above the +DI (blue) line. The Average Directional Movement was sloping downward, which meant the current price trend was losing strength.
Featured Image From UnSplash, Charts From TradingView.com