Cardano has had one of the best performances in the crypto market during 2021. The cryptocurrency scored major milestones and climbed its way up the ladder of the crypto top 10 by market cap.
Currently sitting at the third position, after surpassing DOGE, XRP, BNB, Cardano (ADA) trades at $2,37 with a 2.1% loss in the daily chart. In the weekly chart, the third crypto by market cap records a 5.8% loss.
Analyst Justin Bennet has been closely following ADA's price action. The cryptocurrency has seen a lot of movement during September with a significant pullback on the 7th, followed by a relatively quick recovery into the high area of its current levels.
At that moment, ADA stood at around $2.70 with support at $2.60, $2.47, and $2.30. As Cardano continues its downtrend, the final obstacle for the bears stands at the latter support mark.
Related Reading | Cardano Sees Over 40,000 Smart Contracts Deployed 4 Days After Alonzo HFC, How This Affects The Price
Bennet claims that if this line of defense is lost, ADA could rapidly drop to $2. The cryptocurrency recently saw the "intersection of ascending channel support and a horizontal level" since it started its recovery after the crash on the 7th. The analyst said:
I still think there's a good chance we see ADA trade to $2 this month. However, as I've said for the last week, it's going to take a daily close below $2.30 to confirm the breakdown.
Alternatively, if the bulls retake higher levels, ADA could resume its upward trend. However, Cardano has been moving below a trend line formed in the past days, as indicated by the chart below, and seems likely that it could increase its downside risk during the weekend.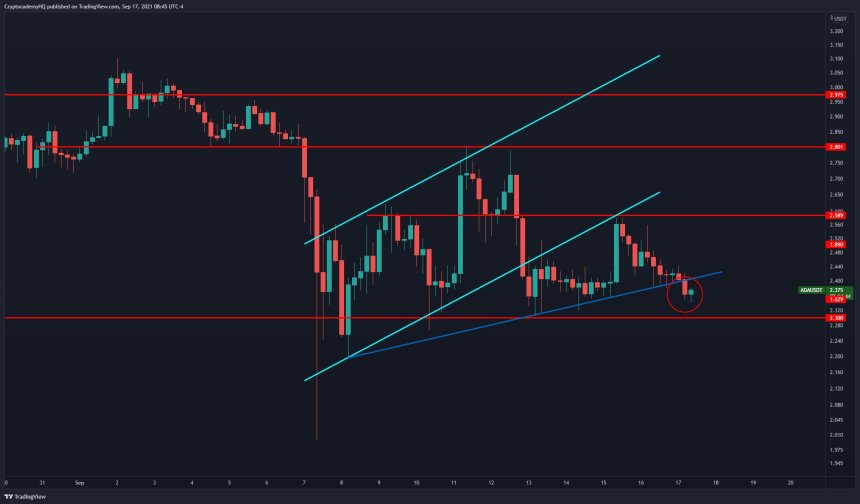 What Bitcoin Could Signal For Cardano (ADA) In The Short Term
In the crypto market, most of the assets increased their correlation with Bitcoin as big moves to the upside or downside occur. Cardano could benefit from this phenomenon, as ADA sits at a critical point, or it could see itself returned to the $1 levels.
Related Reading | Cardano Successfully Deploys Alonzo HFC, But Why Is Price Down?
The next days could be crucial for the entire crypto market, as Bitcoin's price action could determine if the bulls or bears are in control. Bennet said:
A weekly close back inside that range wouldn't be good, but a lack of macro higher highs is enough. If we're in a bull market, we should see Bitcoin take out $53k, $65k, etc. Simple as that.
Conversely, there is one scenario where Bitcoin could see more gains as altcoins like Cardano (ADA) bleed. There has been growing rumors about the possible approval of a BTC ETF, this could give Bitcoin a fresh inflow of capital flow, as analyst Pentoshi said:
I do think we will see more capital inflow into Bitcoin especially as ETF talks heat up over the next month. It doesn't mean there won't be outliers and opportunities in alts. of course, there will be. But the word itself "Alt season" implies seasonality which means something that isn't year round.
In that sense, the analyst recommended investors keep track of the Bitcoin dominance for risk management. Q4, 2021, approaches and investors seem to feel more uncertain about the direction of the crypto market.
Related Reading | New To Bitcoin? Learn To Trade Crypto With The NewsBTC Trading Course