Cardano investors have been heavily impacted by current market conditions with ADA losing its spot in the top 5 crypto by market cap. After an impressive rally during 2021, this cryptocurrency has lost critical zones and could return to previous lows.
Related Reading | Cardano (ADA) Ready For Rally Towards $1.50? What Indicators Are Saying

At the time of writing, ADA's price trades at $0.87 with a 2.3% loss in the last 24 hours. In higher timeframes, Cardano records a 19.5% and 28.1% loss for the past 30 days and over the past year, respectively.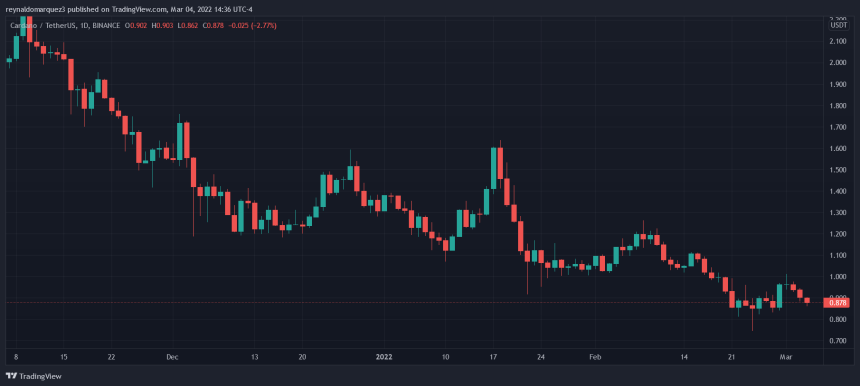 ADA's price seems to be following the general sentiment in the market as larger cryptocurrencies are trending to the downside over macro-factors and general uncertainty. The Ukrainian-Russia conflict and a potential shift in the U.S. Federal Reserve (FED) monetary conflict seem to be operating as the core causes of unrest in market participants.
However, Cardano seems to be suffering more losses than other cryptocurrencies in the top 10 by market cap. In the short term, these losses could deepen beyond $0.85.
Data from Material Indicators (MI) shows major resistance for the bulls at around $0.89 which could keep the price suppressed at its current levels, at least for now. There are around $2 million in asks orders at $0.89, as seen below.
If bulls manage to break above this resistance, the $1 mark stands as the next major resistance with fewer asks orders stacked at those levels. Only $1 million in asks orders sit at that price point.
On the downside, bulls are facing more troubles as liquidity around $0.85 seems to be getting thinner which could suggest further losses in the short term. As Cardano trend lower into its current levels, bid orders went from over $1.5 million to around $900,000.
Cardano Whales Come Into The Picture, Who Is Buying ADA At Current Levels?
If these levels fail, $0.80 stands as the next major support to prevent a deeper plunge into previous lows. However, further data shows that retail investors are buying the dip, in lower timeframes with larger investors have been selling.
As seen below, investors with asks orders of around $100,000 (purple line below) have been selling into current PA, while smaller investors with orders of around $100 (yellow line below) have been buying. Bulls have seen support from investors with around $1,000 (green line below) in bid orders, but nothing significant for lower timeframes.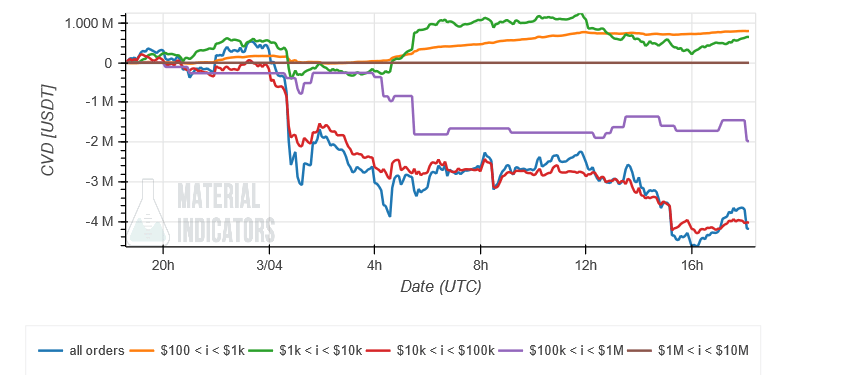 In higher timeframes, Cardano whales seem to have been buying ADA at current levels for around a week. Data provided by a pseudonym user indicates that addresses holding over 100,000 ADA have seen an increase of over 1,000 ADA during this period. The user added:
Might be too early to tell but potentially we see whales accumulating big again.
Related Reading | Cardano Inventor Front-Ran SundaeSwap Users? Research Casts Light
ADA Whales could be re-accumulating as a result of the recent improvements introduced to the mainnet. As newsBTC reported, Cardano's developer IOG is focused on updating the network scalability and throughput and recently implemented the first of three major updates for 2022.