Popular U.S. brokerage platform Robinhood has listed Cardano (ADA) for its customer. Users will be able to trade the cryptocurrency starting today and gain exposure to its spot price.
According to the announcement, Robinhood listed Cardano due to popular demand. The cryptocurrency has been a retail favorite for years and has managed to make its way into the crypto top 10 by market capitalization.
Over the past months, Cardano (ADA) has moved between the third to the eighth most valuable cryptocurrency on the planet. At its high, ADA's price was trading north of $3, but it has been trending to the downside with the rest of the market since late 2021.
At the time of writing, ADA's price trades at $0.44 with a 2% loss in the last 24 hours and 7 days respectively following the general sentiment in the market. The Robinhood announcement is an important milestone for ADA as it could boost its adoption levels in the United States.
At the time of writing, the cryptocurrency is yet to react to the announcement as the price of ADA continues to trade in the red with other large cryptocurrencies. The crypto market is highly influenced by current macro factors which could become a short-term hurdle for any potential Cardano rally.
In that sense, the price of Bitcoin and Ethereum provides important clues to the future performance of other cryptocurrencies. The number one crypto by market cap currently trades about important two-week support at around $19,600.
Bulls must preserve these levels to prevent further losses in the price of Bitcoin and Cardano. Data from Material Indicators records a high level of liquidity below BTC's price current levels. The cryptocurrency has over $20 million in bid orders in the mid area around $19,500.
Key Resistance And Support Levels For Cardano
Additional data provided by Material Indicators record low liquidity to the downside and a high stack of selling orders for the price of Cardano (ADA). As seen below, in the yellow box about the price, there are over $2 million in selling orders for ADA's price at immediate levels.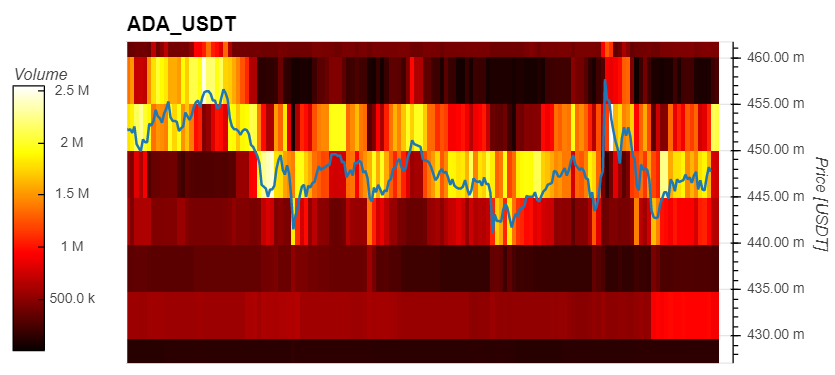 Cardano bulls must maintain the price at about $0.43, on lower timeframes, or risk going lower into previous support levels. $0.40 and $0.43 are critical to deviate from a future bearish scenario.
Cardano is on the brink of deploying an important network and performance update via its Hard Fork Combinator (HFC) event "Vasil". This update has been delayed on several occasions causing concern in the ADA community, but a successful deployment might provide the bulls with enough momentum to make a run into $0.50 and beyond.