Chainlink, like many major altcoins, has witnessed incredibly mixed price action in recent weeks.
The cryptocurrency's general trend has been largely dependent on that of Bitcoin, as the benchmark digital asset has been firmly guiding the entire market throughout the past few days and weeks.
This has mostly exposed altcoins to bearish momentum, as BTC has been flirting with posting a major breakdown as it trades around $10,000. This level has been ardently defended on multiple occasions throughout the past couple of days, with each dip below it resulting in a strong rebound.
Chainlink has seen similar turbulence, but analysts are now noting that it may be well-positioned to see some notable upside in the near-term.
One analyst is pointing to the strong support it has at both $11 and $10 as a reason why a movement up to $15 may be imminent in the near-term.
The cryptocurrency is also showing signs of repeating the price action it saw during the mid-point of its parabolic rally during its previous bullish cycle.
Chainlink Repeats Price Action Seen During Past Bullish Cycle
At the time of writing, Chainlink is down just under 5% at its current price of $11.87. This is around the price at which the cryptocurrency has been trading throughout the past few days.
It is important to note that this does mark a notable rebound from recent lows of $9 that were set just a couple of days ago.
One analyst is noting that although the cryptocurrency is currently trading down significantly from its recent highs of $20, there is a strong possibility that it will soon see a continuation of its uptrend.
He said that it is showing some striking similarities to the dip seen during its previous bull cycle.
"LINK is just repeating its previous bullish cycle," he said while pointing to the below chart.
Image Courtesy of il Capo of Crypto. Chart via TradingView.
These Key Support Levels May Help Propel LINK Higher
Another analyst explained that there are two key support levels – at $10 and $11 – that are likely to act as a springboard for Chainlink to see further upside, so long as they continue being defended.
"Two areas of interest for scalps; – $11 zone for a potential S/R flip towards $15. – $10 zone again for a similar move towards $15. Overall, everything moves correlated," he explained.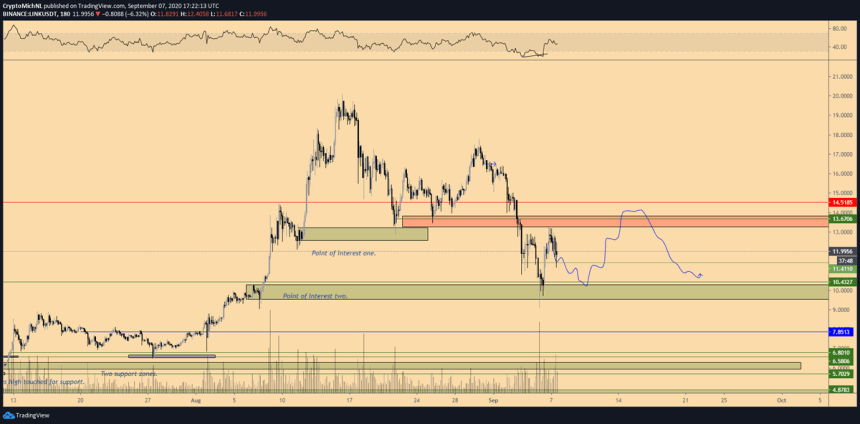 Image Courtesy of Crypto Michael. Chart via TradingView.
Whether or not Chainlink can defend against a decline beneath these levels may depend almost entirely on Bitcoin's short-term outlook.
Featured image from Deposit Photos.
Charts from TradingView.