Chainlink (LINK) is ripping higher once again, despite a stagnation in the price of Bitcoin and other top cryptocurrencies. The altcoin is up 20% in the past 24 hours, surging as high as $18.40, a new all-time high price.
LINK has since seen a slight retracement to $18 as there are some that are selling this rally, presumably cashing out on their gains.
Here's what analysts think comes next for the cryptocurrency.
Chainlink Could See Correction, Some Fear
While Chainlink's rally has almost been unstoppable over the past few months, there are some starting to expect the asset to top in the near future.
Tyler D. Coates, a crypto-centric technical analyst and author, shared the chart below. It shows that LINK's macro price action suggests $17.50 is likely the point at which the asset's parabolic advance will pause and potentially reverse to the downside:
"LINK target is $17.5 which would appear to line up nicely with a top of Phase 4 in the #Hyperwave fractal. Definitely not a buying opportunity, $15 – $17.5 is for taking profit."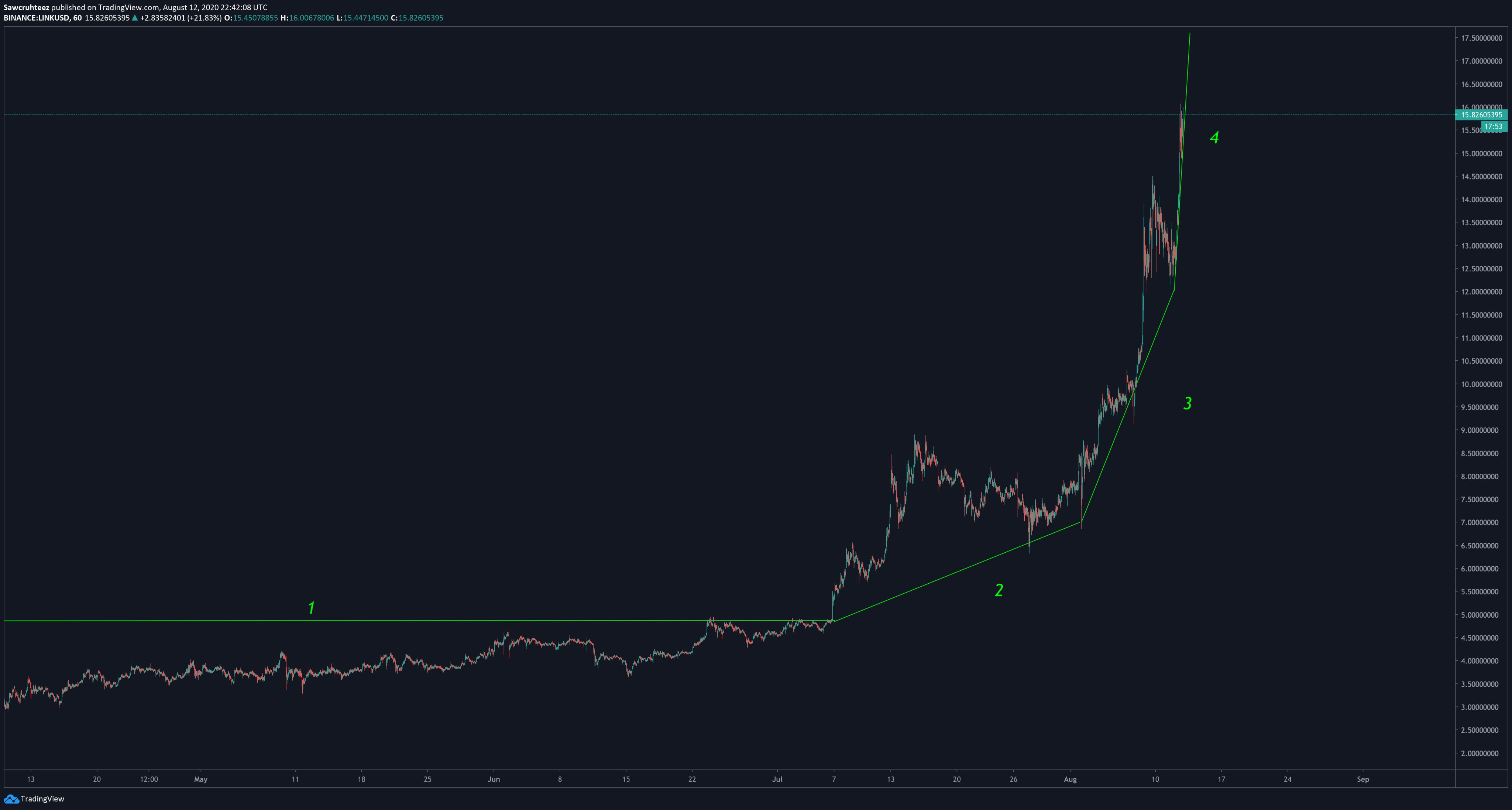 Chart of LINK's macro price action with a Hyperwave anaylsis by trader and technical analysis author Tyler D. Coates (@Sawcruhteez on Twitter). Chart from TradingView.com
This skepticism was echoed by Santiment, a blockchain analytics firm.
The company shared the tweet below prior to the latest leg higher above $18. Santiment is suggesting that Chainlink investors are starting to become hesitant and are potentially liquidating their coins, despite the expectations of upside.
Santiment cited three crucial metrics to corroborate this point. These metrics are as follows: LINK deposits into exchanges have reached an all-time high value, the number of daily active LINK deposits has spiked to levels seen at prior highs, Chainlink's so-called "mean dollar invested age" is plunging.
$LINK is up a whopping +68.7% in the last week. However, we are seeing signs that investors are becoming increasingly uncertain in its prolonged rally. Speculative interest has exploded, and we've looked into some concerning signs for the #1 trending coin. https://t.co/Id7GDEAw9z pic.twitter.com/fm8av3ZVUk

— Santiment (@santimentfeed) August 12, 2020
Dragging Up Its Competitors
LINK's price action is managing to have effects on other cryptocurrencies. The project's two primary competitors Tellor (TRB) and Band Protocol (BAND) have both gained around 7% in the past 24 hours, rallying higher as other altcoins sink.
Chainlink, Tellor, and Band Protocol all provide what are known as "oracles" for decentralized applications. Oracles connect off-chain data to decentralized applications — a service that has become increasingly important to DeFi.
Featured Image from Shutterstock
Price tags: linkusd, linkbtc
Charts from TradingView.com
Chainlink (LINK) Surges Another 20%: Here's What Analysts Think