Data shows Chainlink investors have been pessimistic recently, something that could actually turn out to be bullish for the cryptocurrency.
Chainlink Sentiment Has Been Highly Negative Recently
As pointed out by an analyst on Twitter, cryptocurrency market participants look to be bullish on LINK right now. The relevant indicator here is the on-chain analytics firm Santiment's "Weighted Sentiment," which tells us about the general sentiment around a given coin.
This metric is based on two other indicators: the Sentiment Score and the Social Volume. The former measures whether investors are talking negatively or positively about an asset currently. This indicator goes through social media text documents (the likes of tweets, telegram messages, Reddit threads, etc.) and uses a machine learning algorithm to discern the sentiment.
The latter metric, the "Social Volume," simply measures the total number of unique social media text documents that are discussing the asset in question. This indicator helps us know whether the coin is being talked about a lot or not right now.
When the Sentiment Score is weighted by this Social Volume, the aforementioned Weighted Sentiment is obtained. This means that this metric only shows spikes whenever the sentiment is leaning towards one side and the Social Volume is also high at the same time.
Now, here is a chart that shows the trend in the Chainlink Weighted Sentiment over the last few months: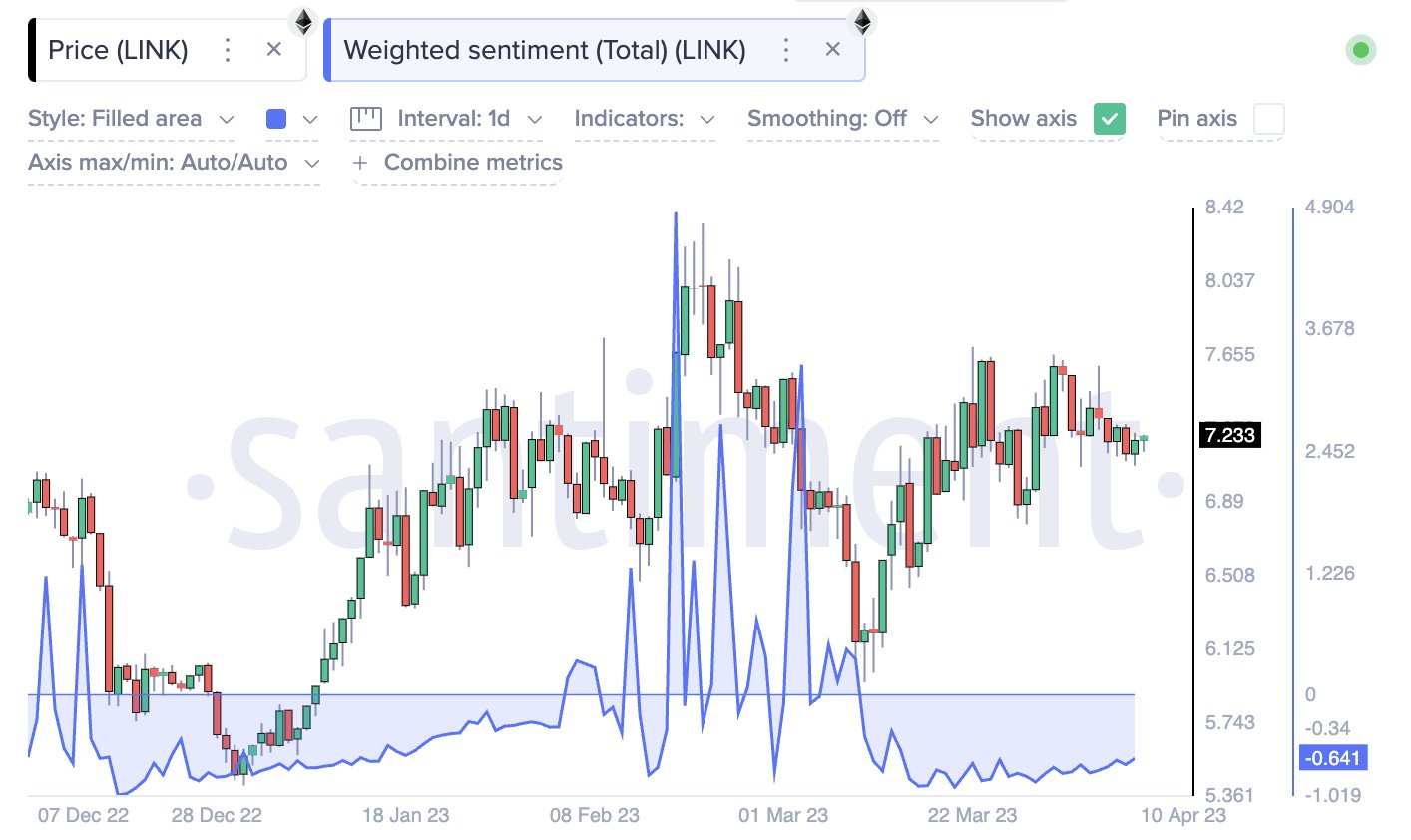 Looks like the value of the metric has been red in recent weeks | Source: Santiment on Twitter
As displayed in the above graph, the Chainlink Weighted Sentiment has been at relatively high negative values during the last few weeks. This means that a large amount of negative discussion is taking place around the asset currently.
Most of the market being bearish on LINK, however, may in fact be bullish for the price. The reason behind that is whenever the sentiment goes towards any extreme, the price becomes more probable to go against the view of the majority.
A trading philosophy called contrarian investing follows this idea. Contrarian investors generally buy when the market is fearful, while they sell when the holders get greedy.
This can also be seen at work in the chart. In February, the Weighted Sentiment hit pretty high positive values, suggesting that holders became highly optimistic about the coin. With this euphoria, however, the price actually topped out and has since declined.
Back in December, the indicator had similarly negative values as now. The cryptocurrency hit a low with this sentiment and rebounded with some sharp bullish momentum.
Naturally, this trend doesn't necessarily have to repeat this time as well. However, given the pessimism in the market, perhaps a contrarian investor would tend to believe a bullish jump may take place in the near future.
LINK Price
At the time of writing, Chainlink is trading around $7.386, up 7% in the last week.
LINK seems to have been moving sideways recently | Source: LINKUSD on TradingView
Featured image from iStock.com, charts from TradingView.com, Santiment.net