Since FTX's downfall, the sports-themed cryptocurrency Chiliz has been struggling. The anticipated pump from the beginning of the 2022 FIFA World Cup on November 21 has done little to stem the negative tide in this post-FTX timeframe.
Chiliz bulls took confidence on November 10 as CHZ rebounded from the range lows to near the range highs. Despite the overwhelming anxiety on the market, the token posted gains of 72% from November 9 to November 18 within 10 days. But then, that's a different narrative.
Let's take a quick glance of how the token is performing thus far:
Since FTX and throughout the World Cup, CHZ has been performing rather sluggishly
The oversold RSI and falling reserves in the exchange both point to a favorable direction for the token's price
In theory, a long position taken at the current price level would yield a profit
According to data compiled by CoinGecko, CHZ is trading at $0.136387, down nearly 19 percent in the last seven days. As Christmas nears, investors might be wondering if the token has any gas left to create some fireworks in terms of price increase.
Metrics relating to the asset's risk have also been unfavorable. Messari reports that CHZ has a -4.78 Sharpe's ratio alongside 1.11 volatility.
Considering CHZ's past performance, these numbers are not what investors want to see.
Somewhat Bullish Technicals?
A Pearson's R score of 0.8342 in the regression channel indicates that a more pronounced downward trend is imminent.
On the other hand, CHZ's RSI readings are currently oversold, which could provide CHZ bulls a foothold.
But the break of the support line at $0.1540 propelled the price to its current level. The Bollinger band has also been extremely negative, with its moving average creating an additional resistance at $0.1623.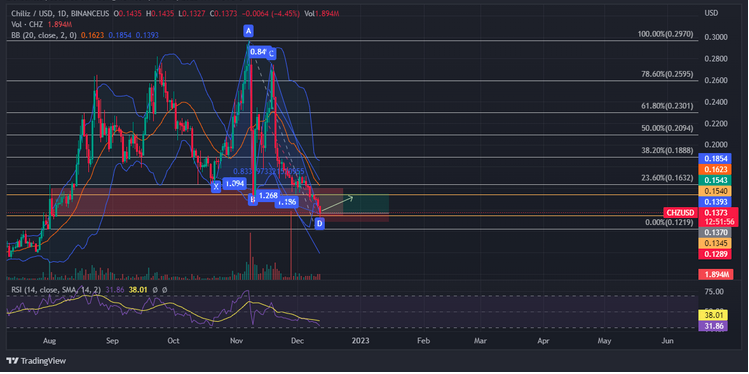 Chart: TradingView
The bullish order block that emerged way back in August could provide investors and traders with some guidelines. According to CryptoQuant statistics, a bullish price reversal may be imminent because of the dwindling reserves.
However, investors and traders should remain vigilant. The bullish order block is the only obstacle preventing the bears from continuing their downward movement.
As prior price moves have created a XABCD harmonic frame, the support at $0.1373 may serve as a launching pad for bullishness.
Although the CMF figure is negative, it is only -0.01. This provides CHZ bulls with the opportunity to recover.
Profitable Long Position And Stop Loss
Surprisingly optimistic indicators could prompt a retest of the $0.1540 resistance by buyers. The current market price of CHZ is deeply discounted, suggesting that investors and traders may wish to purchase the drop. A profitable long position would have a stop loss at $0.1289.
However, given the persisting bearishness in the market, traders and investors should exercise caution with longer-term CHZ plays.
CHZ total market cap at $837 million on the daily chart | Featured image: The Atlantic, Chart: TradingView.com