Is the market heading into an extended bull run? By all measures, it looks that way. In a time like this, there are opportunities to grow your portfolio, so investors should always be on the lookout.
The projects we're going to talk about here have the chance to give you a chance to increase your portfolio by 10x – not just potentially by holding the tokens – but by actually making trading and searching the market for the best tokens easier. The projects in question are yPredict and Launchpad XYZ. Let's dive right into what makes them so powerful for a crypto trader.
Why Do These Tokens Look Like They Can Go 10x?
The answer to this question is plain and simple: they offer useful tools to the trader at a time when the market is becoming increasingly complicated.
For example, yPredict offers AI-based tools that help with analysis, on top of social trading. Launchpad XYZ, on the other hand, helps you pick out the best upcoming projects and provides a lot of information on projects.
The combination of these platforms can offer powerful tools to the investor that streamlines and boosts trading potential. They are at the cutting edge of Web3 and, as we all know, this is a space that is going to grow increasingly in the years to come.
Harness The Power of AI with yPredict
yPredict represents an advanced platform that utilizes blockchain technology to provide a prediction market that is both transparent and secure. By operating on the Ethereum blockchain, this decentralized platform utilizes the YPRED token as its native currency.
The primary goal of yPredict is to offer users a decentralized alternative to conventional prediction markets, making use of smart contracts to enhance its capabilities. Users are given the opportunity to create and participate in prediction markets covering a wide range of subjects, such as finance, politics, and sports.
One notable feature of the platform is "Social Trading," which enables users to track and replicate the trades made by the most successful traders on the platform. This feature provides users with a unique opportunity to benefit from the expertise of these traders.
Overall, yPredict aims to democratize the prediction market industry by providing users with a transparent and decentralized platform for engaging in prediction trading. Through the utilization of blockchain technology, the platform ensures the integrity and security of these prediction markets.
What Can You Do with yPredict?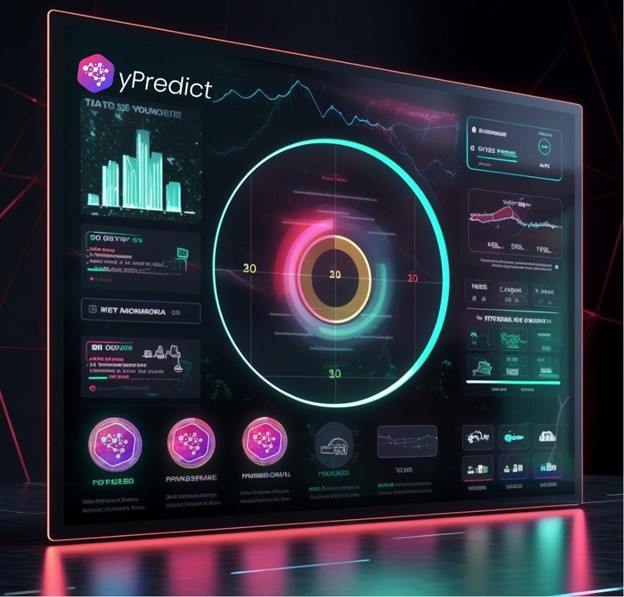 yPredict offers a diverse range of services to cater to the varying requirements of traders and investors. These services encompass market predictions, an analytics dashboard, a marketplace for predictive models, and a specialized trading terminal.
Market Predictions:
The yPredict.ai Market Predictions platform serves as an open platform that grants users free access to coin/securities price predictions. These predictions are generated through a combination of in-house developed predictive models and carefully selected models from the marketplace's developers. The purpose of providing these free predictions is to showcase the potential of AI/ML-driven tools in analyzing price trends on the yPredict platform.
Analytics Dashboard:
The yPredict Analytics platform provides users with a range of tools, including pattern recognition, sentiment analysis, indicator analysis, and transaction analysis. This comprehensive analytics platform operates on a freemium pricing model, offering three membership levels: free, active, and pro trader. Each level unlocks additional features and capabilities to enhance users' trading strategies and decision-making processes.
Marketplace:
The yPredict marketplace enables developers to list the prediction results of their models as a subscription service known as "Results as a Service." Traders and investors can subscribe to these models on a monthly basis, gaining access to real-time results through the yPredict platform. This arrangement allows developers to generate passive income from their AI/ML models while focusing on their development, rather than active trading. Simultaneously, traders benefit from a wide selection of predictive models and can choose subscriptions that align with their preferences and trading styles.
Terminal:
The yPredict Terminal is specifically designed for experienced traders, offering a sophisticated trading platform. This terminal provides advanced functionalities and features tailored to meet the requirements of seasoned traders, empowering them to effectively execute their trading strategies.
The YPRED Token is At the Heart of the Ecosystem
yPredict tokens are constructed on the Polygon blockchain, which presents several advantages, including compatibility with Ethereum, scalability, security, and a developer-friendly environment. While other blockchain alternatives may possess similar features, the Polygon community distinguishes itself through its inclusivity and appeal to developers.
In order to preserve the value of each token as the community of holders expands, the supply of YPRED tokens is limited to 100 million.
The project incorporates its own Decentralized Autonomous Organization (DAO). This DAO model governs the listing and delisting of models on the marketplace, with YPRED holders utilizing their voting rights to make decisions. This democratic approach ensures transparency and fairness in the decision-making process.
Moreover, the implementation of the DAO Governance mechanism for developers' model submissions helps uphold high analytical standards on the platform. This commitment enhances the platform's attractiveness to traders, investors, and other developers who seek a dependable and trustworthy marketplace.
The yPredict Presale is Running Out Fast
📣 yPredict Unveils Revolutionary AI-Driven Backlink Model, Disrupting Crypto and Marketing Sectors!

🚀 Witness the power of AI and blockchain technology with yPredict, as they launch their game-changing backlink model. This cutting-edge solution has the potential to skyrocket… pic.twitter.com/4hJYiw6qUP

— yPredict.ai (@yPredict_ai) July 4, 2023
The yPredict presale is currently underway. As each stage progresses, the token price will increase, and a specific quantity of tokens will be available for sale. In the current stage, the token is priced at $0.09. In the subsequent stage, the price will rise to $0.10. Eventually, the token will be listed at a price of $0.12.
A significant portion of the tokens, 80% to be exact, has been allocated to the presale, with 50% of these tokens becoming accessible during the token generation event. Following the event, there will be a lock-in period of 6 weeks, and the remaining tokens will be vested over a span of 6 months.
Make The Best Decisions with the Launchpad XYZ Dashboard
Launchpad XYZ is a comprehensive dashboard designed for the Web 3 environment, catering to both novice and experienced traders by providing essential tools to make well-informed trading decisions. With a wide range of features, including reliable data, market sentiment analysis, and valuable insights, Launchpad XYZ offers traders a comprehensive set of resources to navigate the intricate world of Web3.
Moreover, Launchpad XYZ offers extensive data on various utility tokens, delivering crucial metrics on liquidity, analyst insights, customizable indicators, and opportunities for arbitrage.
By offering a user-friendly experience reminiscent of Web2 platforms, Launchpad XYZ simplifies the trading process and eliminates the need for multiple applications. Simultaneously, it harnesses the advantages of Web3, such as revenue-sharing models, fractionalization of real-world assets, and self-custody. Essentially, Launchpad XYZ equips traders with all the necessary tools to confidently enter the realm of cryptocurrencies.
A notable feature of Launchpad XYZ is its real-time updates on upcoming Web3 investments. This empowers investors to stay ahead of the curve by discovering new projects and ideas before they become widely available. This includes exclusive alerts for crypto presales that are accessible only to a limited number of private investors. Additionally, Launchpad XYZ reserves a portion of presale tokens for its users to purchase. However, to be eligible for a share of the presale allocation, users must stake a minimum of 10,000 LPX tokens for a 90-day period.
A Powerhouse of a Platform
Staking is a major part of Launchpad XYZ and advantages include fee discounts, early access to play-to-earn (P2E) games, and prestigious community badges.
Furthermore, LPX stakers will have the opportunity to participate in upcoming NFT mints identified by Launchpad XYZ as potential successors to the highly successful Bored Ape Yacht Club (BAYC). It is worth highlighting that initial investors in BAYC NFTs acquired them for under $200, while some have since been sold for millions of dollars. Given the lucrative potential, gaining access to NFT mint whitelists will undoubtedly be highly appealing to many Launchpad XYZ users.
Another significant benefit available to LPX stakers is early access to P2E game releases. This market has witnessed substantial growth, with games like Axie Infinity and Decentraland reaching peak market capitalizations in the billions of dollars.
Additionally, Launchpad XYZ is actively developing a decentralized exchange that will empower users to trade a diverse selection of asset pairs, including specific perpetual contracts. These contracts enable traders to engage in leveraged speculation and short-selling of cryptocurrencies. LPX token stakers will enjoy reduced trading fees on the Launchpad XYZ exchange, further enhancing the practical value of LPX tokens.
The Launchpad XYZ team consists of skilled professionals and industry experts from various backgrounds, united by a shared commitment to fostering creativity and maximizing efficiency. Their primary goal is to create a robust and specialized large language model tailored specifically for Web3, utilizing a range of artificial intelligence solutions.
Launchpad XYZ Presale is Also Extremely Popular
Happy Friday #Launchpadders! 💪

Don't forget that the $LPX presale is still LIVE!

🚀 Which upcoming feature on #LaunchpadXYZ are you eagerly awaiting?#Presale #Web3 #CryptoCommunity #Threads

— Launchpad.xyz (@launchpadlpx) July 7, 2023
Launchpad XYZ is currently in the midst of its presale phase for the LPX token, offering interested participants the opportunity to acquire the token using ETH, BNB, USDT, or cards. A specific allocation of 250 million tokens has been reserved for the presale, while the total token supply amounts to 1.025 billion.
In the ongoing presale stage, the LPX token is priced at $0.0445 per LPX. Subsequently, the token price will increase to $0.046 in the next stage. The presale will span across a total of 10 stages, concluding with the listing of the token at a price of $0.0565.
The funds raised from the presale will be allocated for various purposes, including platform development, marketing initiatives, user acquisition endeavors, market-making activities, and a portion dedicated to the project team.
Conclusion
As the market becomes more sophisticated, so too will the tools that traders use have to develop. Both yPredict and Launchpad XYZ have one eye on the future, which makes them ideal for traders looking to squeeze every bit of performance out of their funds. We highly recommend taking a look at their presales, as they are seeing tokens being sold rapidly.