Despite the ongoing crypto market bull rally, Web3 gaming tokens have remained relatively tepid for the most part. According to CoinMarketCap, the total market cap of GameFi tokens have plummeted by 5% over the past day.
However, popular trader @CryptoTony__ reveals that gaming coins are on the verge of a big upside move. Crypto Tony is one of the most popular crypto influencers – with over 350k followers on X – and has a knack for picking out excellent money-making opportunities early.

Other experts also believe that the Web3 gaming season is on the horizon. Crypto Rand, who has over 300k followers on X, highlights that the Gaming Index – which tracks top tokens such as $APE, $MANA, $SAND, etc – is consolidating over a crucial resistance for several days, signalling an oncoming bull rally.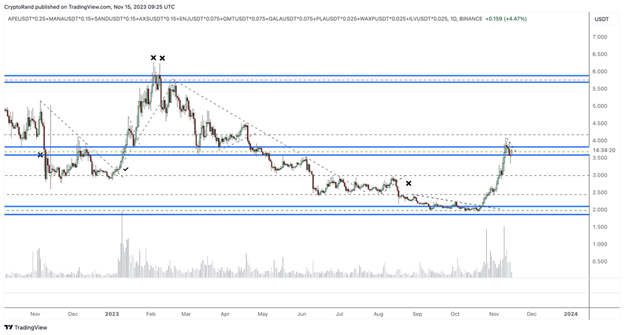 The YGG Web3 Games Summit is taking place tomorrow, with founders of several top companies in attendance and expected to make big announcements. This could provide the ideal backdrop for a strong breakout.
Best Gaming Tokens To Buy Now
To prepare for the oncoming rally, smart money traders are quickly opening long positions on tokens such as $SAND and $APE. However, some new presale tokens are also emerging as excellent investment opportunities.
With this in mind, we list the top 5 gaming tokens to invest in.
Meme Kombat ($MK)
Meme Kombat – a new high-utility meme coin – is another gaming token that Crypto Tony is bullish on. He's also not the only one – smart money traders such as Michael Wrubel are also backing $MK to display an explosive bullish rally after its launch.
Meme Kombat is still in its presale, which offers an excellent opportunity for early buyers to earn maximum profits. $MK has already raised close to $2 million in its ICO in just over a month.
Meme Kombat's play-to-earn platform will feature the battle between top meme coins –  11 fictional characters, each representing popular meme tokens such as Doge, Shiba, Pepe, Floki, etc, will engage in AI-simulated battles. The outcome of the battles will be decided on-chain, allowing players to wager on it.
The platform offers diverse gaming and betting opportunities, such as Player vs Player, Player vs Game, direct betting and side-action betting.
To balance their risks with rewards, $MK holders can stake their tokens and start to earn staking rewards, currently at an APY of 600%. They will have the option to allocate a portion of their staked tokens towards betting.
Crypto Tony also praises Meme Kombat's fully-doxxed team – the identity of all developers behind the project has been revealed, including its founder Matt Whiteman. This reduces the risk of any scams or rug pulls, fostering trust amongst the investors.
TG.Casino ($TGC)
TG.Casino is an innovative Telegram-based crypto gambling platform, which offers access to hundreds of games and sports books including the NBA, NFL, MLB, Premier League, etc. Players can also compete against each other in live events, where they can also enjoy a 150% bonus up to $30,000 and 500 free spins.
TG.Casino's native token – $TGC – is currently in its presale phase, where it has already raised over $2.2 million in just over a month. Players choosing to bet with $TGC will receive a 25% cash back on all their losses, along with exclusive access to several games.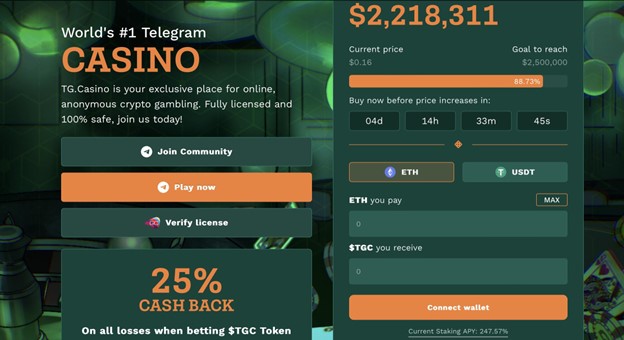 Furthermore, $TGC holders will also be rewarded through the project's buy and burn scheme, in which a portion of the casino profits will be used to buy the token in the open market. 40% of these tokens will be burned to create a deflationary supply, while the remaining 60% will be distributed as staking rewards. The $TGC staking pool is currently offering an APY of 246%.
In a unique twist, TG.Casino offers anonymous gambling services, without even the burden of any KYC verification or account setup. Moreover, all the features are available on the popular messaging app Telegram – users are not required to download any additional application.
The integration with Telegram is an unprecedented approach in the crypto gambling industry, one that offers several benefits. For instance, Telegram has over a billion users, many of whom are crypto gambling enthusiasts and could be interested in $TGC. Similarly, players are protected by Telegram's end-to-end encryption.
Wall Street Memes ($WSM)
Wall Street Memes initially launched as a meme coin with high viral potential, thanks to its strong community backing. Indeed, the project enjoys a massive social media audience, with over 1 million followers across various platforms. Even Elon Musk is a fan of its Twitter account.
However, after a successful start in which it garnered over $40 million in market cap, Wall Street Memes has also launched its own crypto casino. The Wall Street Memes Casino offers over 5000 games, along with the WSM sportsbook, which allows live betting on thousands of sports and esports games.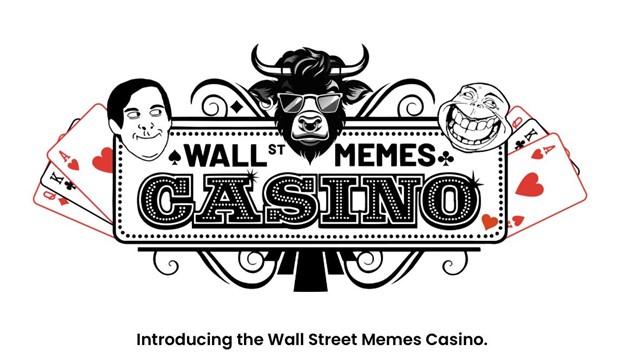 With the NFL, NBA and football season currently underway, now could be the perfect time for players to compete using their $WSM tokens.
According to the project's weekly updates, the Casino Loyalty program is set to launch next week, offering a wide range of perks to its players, along with exclusive rewards for $WSM users. The Buyback and Rewards dashboard – which reveals a player's Net Gaming Revenue and the amount of $WSM that is being brought back – will also launch by the end of November.
The casino is also launching its own custom game – Bull Run Smash – which will also be coming later this month. Players joining the Wall Street Memes Casino are currently receiving a 200% signing bonus of up to $25,000.
The Sandbox ($SAND)
The Sandbox is a metaverse environment that allows players to be a part of a common virtual world and build, buy and sell digital assets in the form of a game. Some of the popular games include Gucci Cosmos Land, Deadmau5, The Monstrocities: Terra and Deja Vu 2.
According to CoinMarketCap, $SAND is the fourth-largest gaming token, with a market cap of over $850 million. Despite plunging 4% over the past 24 hours, the token continues to trade above the $0.40 support, up 41% in the past month.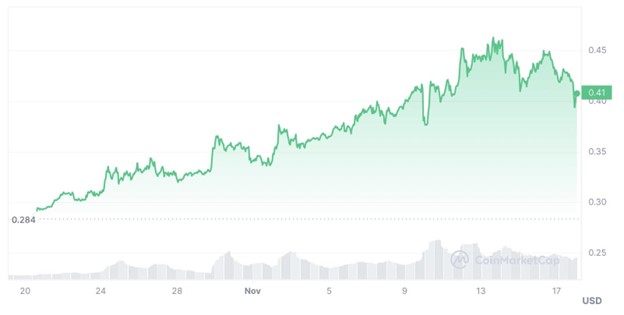 As mentioned by Crypto Tony, $SAND is on the cusp of another bullish breakout, making it one of the best gaming tokens to buy. Indeed, the token is within striking distance of a number of key moving averages, including the crucial 30-week Exponential Moving Average at the $0.42 mark.
Bulls could also target the 10-day simple and exponential moving averages, both of which are currently in the $0.41 to $0.42 price range. Even without that, TradingView – a technical analysis platform – gives a "Buy" signal to the token in the daily time frame.
The co-founder of The Sandbox – Sebastian Borget – is one of the speakers at the YGG Web3 Games Summit tomorrow, which could provide the perfect opportunity for a breakout.
ApeCoin ($APE)
According to CoinMarketCap data, ApeCoin is the 7th largest gaming token in the crypto market, with a market capitalization close to $500 million. $APE is an ERC-20 token, built by Yuga Labs, that can be integrated within games and NFTs.
ApeCoin is one of the cryptocurrencies highlighted by Crypto Tony in his list of best gaming tokens to buy. Similarly, LookOnChain data reveals that trader Machi Big Brother, who has close to 150k followers on X, buys $APE almost every day and is currently in possession of $12.88 million worth of tokens.
Despite a 6% depreciation today, the token is up 20% over the past month. More importantly, it continues to hold above the crucial $1.30 support, which keeps its bullish scenario in play.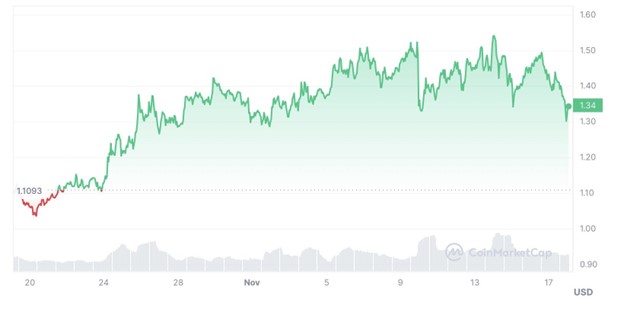 According to crypto analyst Andrew Griffiths, APE still remains heavily undervalued and could pump up to the $3.50 price mark by the end of the year, which would be a 170% move to the upside from its current price of $1.30.
In the short term, bulls could look to breach the 10-week Exponential Moving Average at $1.37 and the 20-week Simple Moving Average at $1.49, which could result in a strong bullish continuation.