Buying real estate doesn't have to be as tedious as it has been in the past. In fact, you can actually start buying digital real estate right inside the metaverse for a much lower cost than you would purchase it in the real world.
In addition, a handful of metaverses also intend to offer tokenized fractional shares in real estate properties, meaning you can own a piece of real-world real estate for a fraction of the price.
This article will cover some of the best real estate metaverses to watch for in 2022. Some projects intend to bring real-world real estate assets onto the blockchain, while others are highly popular metaverse-based real estate projects.
The five best real estate metaverses to watch for in 2022
Real Estate Investment Club – The best metaverse for real estate entrepreneurs
Decentraland – The world's most popular real estate metaverse
Somnium Space – A social VR world with a complete economy
Next Earth – A true land ownership platform in the metaverse
Upland – A virtual property strategy game that is mapped onto the real world
A Closer Look at the five best real estate metaverses to watch for in 2022
1. Real Estate Investment Club
Real Estate Investment Club (REIC) is a project to bridge the gap between the real estate industry and the metaverse. It is a metaverse project designed to be the "go-to" place for everyone interested in real estate investing – inside or outside the metaverse. In addition, it intends to be an exclusive community where members can share ideas and provide education about investing in real estate, crypto, and NFTs.
The REIC NFT collection was designed by one of the creators of the Grand Theft Auto and Red Dead Redemption games, making them highly polished and extremely desirable.
The NFTs serve as your avatar to the REIC metaverse called MetaCity. REIC intends MetaCity to be the central hub of Metaverse-as-a-Service projects, creating a fully-fledged economy from which REIC members can profit. In addition, players can monetize their assets and services inside the metaverse to earn an additional income stream.
NFT holders have the following utility;
Metaverse Access – Exclusive access to the REIC – MetaCity and the REIC HQ.
Real-world events – The team intends to host private real-world events in premium locations, the first being Edinburgh.
Education – REIC – MetaCity will provide education for real estate, blockchain, crypto, and NFTs.
Entertainment – Network and socialize with community members through the Web3 platform and the metaverse.
At the center of the metaverse lies REIC HQ, the flagship product of the REIC team. This building is beautifully designed by a group of developers and architects. Inside REIC HQ, they intend to host regular meetups and education services. They also plan to provide future investment opportunities by allowing REIC members access to industry elites for personal mentorship in real estate investing.
It is essential to mention that the entire REIC metaverse is built using Unreal Engine 5, a popular gaming engine that produces top-tier games such as Gears of War and Fortnite. Using Unreal Engine 5 means MetaCity will be a highly detailed metaverse with battle-tested game mechanics and lifelike animations. Just take a look at the following video to see;
REIC… ?#NFT #NFTS pic.twitter.com/7w9Ib7xEwT

— Real Estate Investment Club (@REIC_io) July 25, 2022
Holding REIC NFTs also provides other perks besides accessing the metaverse. One of the best perks is that it allows you to access the Digital Asset Property Group (DAPG) – a tokenized real estate investment platform.
You see, REIC hopes to pioneer bringing real estate investments to the blockchain. The team believes that a large proportion of the real estate industry will eventually be tokenized, with fractional ownership represented on the blockchain. As a result, REIC hopes to provide the necessary infrastructure to make this a reality.
Furthermore, NFT holders are also entered into the following giveaways;
REIC merch giveaways
Consultation and investment advice from industry elites
Webinar/Seminar access
Holidays in premium locations
Luxury items such as watches and cars
Charitable donations
First real estate downpayment in Ethereum.
Overall, Real Estate Investment Club is a fantastic metaverse for anybody looking to increase their knowledge in the real estate industry. The NFTs for the project will be minted in September 2022.
VISIT REAL ESTATE INVESTMENT CLUB TODAY
2. Decentraland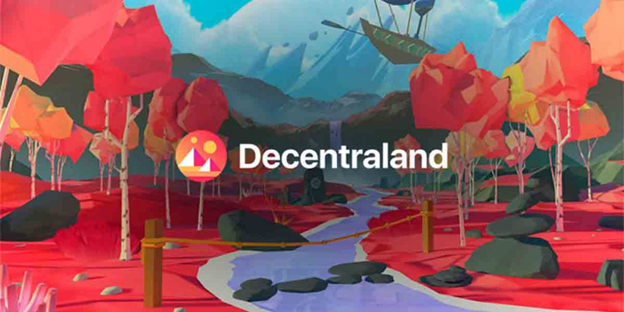 A metaverse real estate list would not be complete without mentioning Decentraland – one of the industry's most popular real estate metaverses.
Decentraland was founded in 2017 and has gained almost 300,000 active monthly users since its inception – making it one of the most populated metaverses in the crypto industry.
It is a metaverse in which players can own virtual real estate and explore the world created by themselves. Users can access the 3D metaverse directly from any web-based browser. A VR headset is not required to enter but will provide a more immersive experience.
Players start by creating their own avatars, which are used as a digital identity, and allow the player to begin exploring Decentraland.
The metaverse is a giant map full of Land parcels that users can purchase. Once a player owns a plot of land, they are free to build any type of real estate on top of it that they can imagine. To do this, players must use the Decentraland Builder SDK, a software development kit that allows developers to create structures within the game.
Players can build anything they can imagine on their land, including things such as;
Art galleries
Language schools
Hang out spots
Casinos
Gaming rooms
Hotels
Event locations (e.g., for concerts and movies).
As Decentraland is one of the oldest metaverses (if not the oldest), the real estate prices in the metaverse are already pretty high. However, if you are lucky, you might find a cheap parcel of land for sale in a desirable location.
3. Somnium Space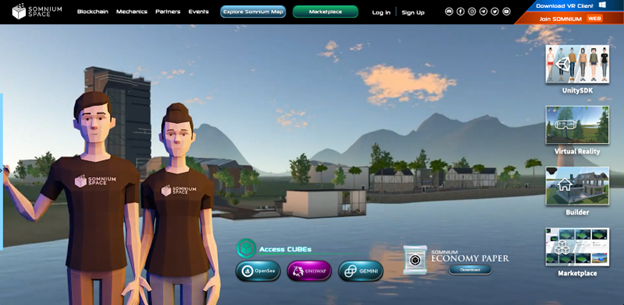 Somnuium Space is a VR Metaverse built on Solana and Ethereum blockchains. The project intends to be a social virtual reality world with an entire economy and its own currency.
Players can buy digital land, homes, buildings, and in-game assets in the metaverse. It is a world where its players can build, script, and monetize the world while socializing and exploring each other's creations.
$CUBE is the native token behind the platform. It is used as an in-game transaction token to purchase any plots of land within the metaverse.
One thing that makes Somnium Space stand out from other metaverses is that it hosts all players inside one big persistent VR universe instead of using sub-servers. This means that users won't be experiencing loading times when moving around in the metaverse.
Furthermore, the team has developed UnitySDK, a more advanced SDK to upload full-body Avatars and completed scenes on your land parcels. This allows players to easily monetize their real estate in the metaverse by building VR experiences. In addition, the technology integrated full body tracking, including lip & eye tracking, inside the VR metaverse.
In addition to this, the platform is available on all the major VR headsets, including;
The great thing about the Somnium Space metaverse is that you can work in any 3D program that outputs .obj files.
Overall, Somnium Space is creating a social and community-based VR real estate metaverse that has advanced SDK features for developers.
4. Next Earth
Next Earth is the first true land ownership platform in the metaverse. It is a platform that allows users to purchase, develop, and sell virtual land mapped onto the earth.
Next Earth describes itself as a platform-as-a-Service product that provides all the infrastructure necessary for landowners to develop any type of business.
The metaverse is split into separate land tiles, which can be sold, purchased, staked, and developed depending on the user's needs. Each of these individual land tiles is mapped to a 10×10 m square of land on our original Earth.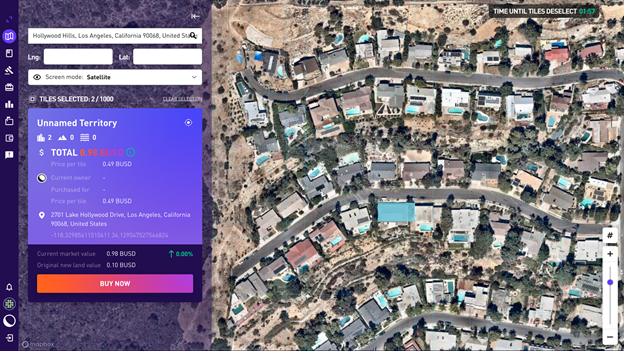 The project has three types of Land tiles determined by the tile's real-world content; water, urban, and non-urban.
In addition, the tiles can have two types of classes: Art or Land. All tiles begin as Land Class tiles, which can be used to build structures on top of them. If a player wishes to, they can turn their Land tile into an Art Class and then commission an image on top of it for advertising purposes. This change is permanent and prevents them from building structures on top of it.
$NXTT is the native currency for Next Earth and will serve as the in-game transaction token.
One of the best things about Next Earth is that they put charity as one of their main objectives. With every Next Earth transaction, there is a 10% donation that is sent to environmental charities. They chose environmental charities as blockchain has a stigma of consuming too much energy and potentially harming the environment.
Finally, Next Earth intends for the entire project to morph into a fully operational DAO so the community members can decide the project's future direction.
Overall, Next Earth is trying something new in the metaverse real estate space by creating a metaverse based on our very own planet, Earth.
5. Upland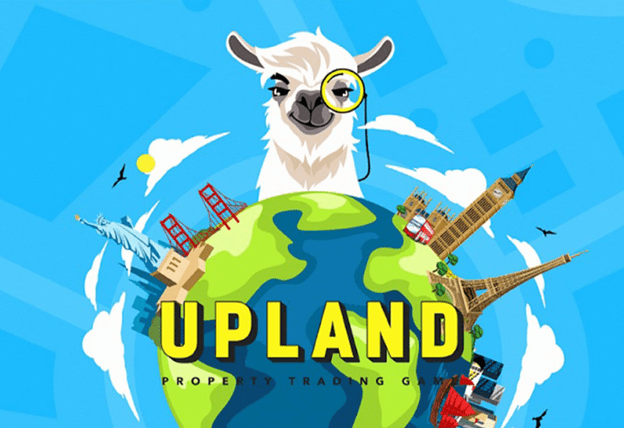 Upland is the largest virtual real estate strategy game that is mapped onto the real world.
The game started developing in September 2018 by Uplandme, a Silicon Valley-based company with support from Block.one. The project is hosted on the EOS blockchain.
The entire project is built on three pillars; Play, Earn, & Connect. The game is a parallel universe that allows users to become digital landowners, develop properties and shops, manufacture cars, and earn tokens while playing.
Because the real estate in the game is mapped onto the real world, starting with San Fransico, you can purchase plots of land from addresses you are already familiar with, such as your childhood home address or school.
Players can access the game through web browsers and on iOS and Android devices.
In the game, players have the following options;
Collect properties
Complete collections to earn more UPX
Compete in challenges
Participate in treasure hunts
Participate in live events
$UPX is the in-game transaction token that is used to buy property in the game and generates earnings for holders. So long as a player keeps holding their property, they continue to earn UPX tokens as a reward.
In addition to earning from holding properties, players can also collect fees from visitors visiting their properties in the metaverse.
The aim of the game is to accumulate as much wealth as possible in the form of properties and $UPX tokens. The wealth of each player will be compared on the Leaderboard, so players can see where they rank in the entire metaverse.
Players can also build in the game by picking from various pre-made models by the team.
One of the great things about Upland is that they recently partnered with the EOS Authority and ClimateCare to offset a year's worth of carbon emissions. So far, they have managed to offset 281 tonnes of CO2.
As Upland is an entire strategic property game, they have created an academy where users can go to learn the best methods of earning through the game.
Overall, Upland has created a vibrant real estate economy that mirrors today's real world.
Conclusion
Overall, real estate metaverses will continue to dominate the industry over the coming years. All the projects on this list provide an excellent opportunity to start investing in real estate and digital estate.
However, if you are interested in connecting with like-minded real estate investors and want an in-depth education on the industry, Real Estate Investment Club should be your first point of call.