As the crypto has experienced an uptick this week, prominent traders have been weighing in on meme coins primed wth the most potential.
This article explores the top five tokens that analysts think are likely to see significant price increases as we move toward the end of 2023.
Meme Kombat
The most promising new meme coin is Meme Kombat ($MK), a Play-to-Earn (P2E) project enabling users to gamble on the outcome of AI-generated battles between their favorite meme characters.
It is currently in a presale and is off to a tremendous start as it has raised over $600K in three weeks. The project has been highlighted by several prominent analysts for its interesting potential.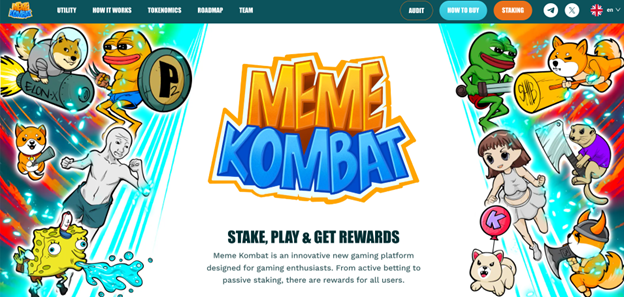 YouTuber Jacob Bury, for example, has called it the next 10x potential meme coin. Meanwhile, Michael Wrubel told his 300K subscribers that he is bullish on the project, highlighting its innovative use case and staking mechanism as reasons why.
Its use case massively sets it apart from other meme coins. As well as providing a way for users to earn free crypto, Meme Kombat's gambling feature capitalizes on the prevalent crypto casino trend started by projects like Rollbit.
Furthermore, the gambling mechanism tackles the most common concern of meme coins, which is their lack of utility.
Additionally, users can stake $MK tokens and earn a 112% annual percentage yield (APY). This will encourage community participation while bolstering token demand and locking up a notable portion of its supply.
Yet such benefits are causing a fast presale. Therefore, those looking to buy must act fast or risk paying a higher price later.
Wall Street Memes
Another project that analysts are rallying behind is Wall Street Memes ($WSM), a trending meme coin that has just launched an exclusive Telegram-based casino.
The combination of meme coins and crypto gambling works well since meme coin investors are often risk-averse degens who enjoy high-stakes financial activity.
Wall Street Memes recently underwent one of the most successful presales of 2023, raising over $25 million in just a couple of months. Its price exploded 3x following its exchange launch and is currently up over 40% in the last 24 hours.
Another benefit is that $WSM has one of the most prominent online communities of any meme coin, boasting over one million followers across all platforms. Moreover, it has received Twitter engagement from Elon Musk on several occasions.
Considering this, many analysts are comparing Wall Street Memes to Dogecoin, but its added utility and staking mechanism put it at an advantage. Also, rumors are circulating that Wall Street Memes could be listed on Binance soon.
With this in mind, this may be the last chance to buy Wall Street Memes before it explodes to the top 5 meme coins by market cap.
HarryPotterObamaSonic10Inu
HarryPotterObamaSonic10Inu ($BITCOIN) is a mysterious meme coin that has kickstarted a new trend of long-name projects.
The use of its $BITCOIN ticker symbol has made it renowned for generating confusion with the world's leading cryptocurrency.
While it does not boast any utility, the project holds an impressive $90 million market cap and has climbed almost 40% in the last seven days. That said, it is still down around 50% from its peak of $0.1977, providing significant room for growth.
Currently, it is not listed on any prominent centralized exchanges, with Uniswap processing the most trading volume. Centralized exchanges are potentially avoiding it due to the confusion its $BITCOIN ticker symbol may create for less experienced crypto users.
However, if it continues to rally, then top exchanges will eventually pick it up, and the confusion it generates will only expand its limelight, potentially helping bolster its price.
Bone ShibaSwap
Shiba Inu recently launched an Ethereum layer 2 scaling solution called Shibarium to expand its ecosystem and provide more utility. This grabbed significant community attention and caused the SHIB price to rally.
However, most of Shibarium's value will flow to its Bone ShibaSwap ($BONE) token since that will be used for staking and paying gas fees on the network. What's more, $BONE is also a meme coin, enabling it to benefit from the virality and hype prevalent in this cryptocurrency category.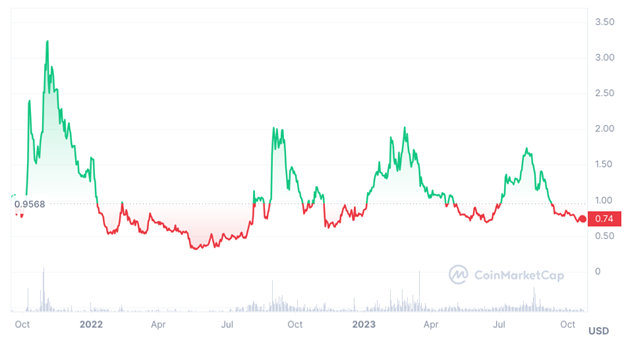 Bone ShibaSwap also boasts a significantly lower market cap than the SHIB token, at just $169 million. This hints at tremendous upside potential, particularly if the Shibarium network gathers steam.
Still, the token remains down 17% in the past year and 97% from its all-time high (ATH), presenting a potentially lucrative opportunity to buy at a low price.
Safereum
One of the issues that many critics hold about meme coins is the lack of trust and transparency surrounding them. This is prevalent with Pepe, which recently lost $15 million from its multi-signature wallet as a group of insiders went rogue.
New meme coin Safereum combats this issue through robust security and tireless smart contract auditing so investors know their funds are safe. The meme coin boasts a renounced smart contract with five audits and has locked liquidity for one year, with the liquidity pool currently valued at $1.1 million.
These factors significantly bolster the project's stability, enhancing its long-term potential.
It launched on 7 October and already has a $7 million market cap. After an initial pump, the project sold off, but holders have shown their resilience and conviction as it has recovered 17% in the past 24 hours and is up over 80% in a week.
It is worth noting that this remains a high-risk play, but its security and price action look promising so far.