With crypto anticipated to enter a full-fledged bull market in 2024, new projects listed on the Binance will likely yield tremendous gains.
Several factors contribute to which cryptos Binance lists; these include community interest, security, use case, and roadmap.
With this in mind, here are the five most likely candidates for 2024 Binance listings. Identifying these projects early could prove a particularly lucrative strategy given the current market conditions.
Bitcoin ETF Token
The top project that could gain a Binance listing in 2024 is Bitcoin ETF Token. There are several reasons for this, mainly that the project harnesses the vast hype of the Bitcoin ETF landscape, indicating significant community interest.
It features a staking mechanism currently offering a 389% APY. This will reward its community while reducing the token's available supply, which could bolster its price. It will also burn 5% of tokens at five key Bitcoin ETF events, generating scarcity at times of market euphoria.
Moreover, it features a 5% burn tax on each transaction, encouraging long-term holding and furthering the token's scarcity.
These factors all indicate strong price potential. However, the project also meets Binance's other listing requirements. For instance, it features an audited smart contract and an in-depth whitepaper, illustrating the team's care and effort in the project.
Moreover, its use case is robust, featuring cutting-edge tokenomics to reward holders while leveraging the excitement of the Bitcoin ETF hype.
Lastly, it features a strong roadmap detailing its tokenomics, and its staking mechanism schedules the token emissions until 2028, hinting at its long-term potential.
Currently, investors can buy $BTCETF for $0.0052, but they must act quickly as its price will rise in one day.
Meme Kombat
Meme Kombat is a GambleFi meme coin that enables users to bet on AI-generated meme battles. This one-of-a-kind use case leverages two of crypto's most popular trends, combining them into one project to reach untapped markets.
The project is undergoing a presale and has raised almost $1.7 million in six weeks, illustrating strong community interest. Moreover, analysts like Cilinix Crypto and Michael Wrubel have also rallied behind the project.
Its presale success and community support tick Binance's most crucial requirement of the project being in demand.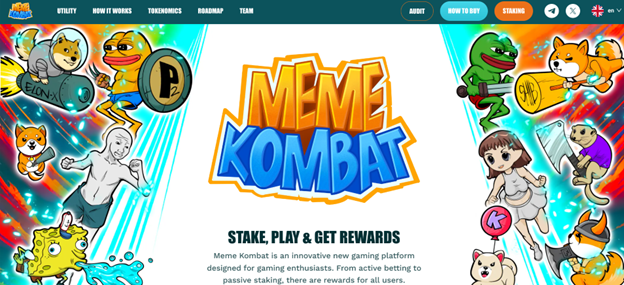 However, it also meets the other requirements. For example, it features market-leading security, with a doxxed team and a smart contract audit, something not commonly seen in meme coins. This makes Meme Kombat a prime candidate for a Binance listing if the exchange wants exposure to such an explosive market.
Meanwhile, it features a fresh and innovative use case, which also taps into the prevalent P2E trend, which looks primed to explode in the next bull run.
Lastly, its roadmap details plans for 2024 and beyond, noting that there will be ecosystem expansion, partnership, and development efforts.
Investors can buy $MK for $0.189, but they must hurry as this will rise to $0.205 in one day.
Bitcoin Minetrix
Bitcoin Minetrix is a groundbreaking new project that could revolutionize Bitcoin mining. It enables users to mine Bitcoin by staking $BTCMTX on its Ethereum-based platform.
The seamless process enables anyone to begin without hardware, technical expertise, or overhead costs. As such, the project could enable Bitcoin mining mass adoption, a critical narrative with the Bitcoin halving just months away.
Another factor attributing to its potential Binance listing is its decentralized and transparent token, which eradicates the risk of cloud mining scams. These scams have become common in the industry and fared a barrier to users getting started with Bitcoin mining.
Moreover, the Bitcoin Minetrix Telegram channel offers access to Bitcoin mining experts, from whom users can learn more about the project. This significantly enhances Bitcoin Minetrix's reputation, security, and trust.
Its roadmap is also highly ambitious, targeting mass adoption and market cap growth after its platform launch.
Yet the community's unprecedented support is the factor most likely to secure its Binance listing. After launching six weeks ago, it has already raised a staggering $3.9 million and is nearing its final presale stage.
As such, those looking to buy $BTCMTX at a fixed price must not wait around.
Visit Bitcoin Minetrix Presale
TG Casino
One of the most prominent upcoming blockchain use cases is crypto casino. With a total market cap of $800 million, it looks primed to grab a notable chunk of the broader casino industry's $263 billion valuation in the next bull run.
One project leading the way in terms of excitement and innovation is TG Casino, an anonymous Telegram-based casino.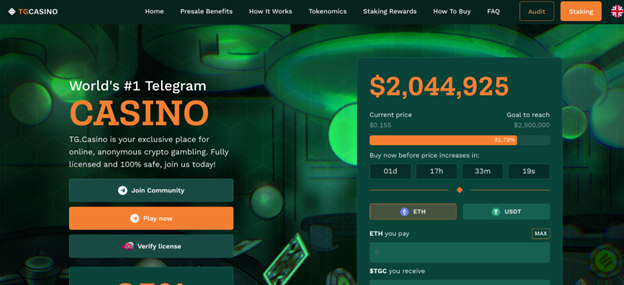 Launching on Telegram provided several advantages, like further reach, a more simplistic user experience, and the ability for users to gamble privately worldwide thanks to its end-to-end encryption.
Moreover, it is one of the only licensed and regulated Telegram casinos, attesting to its security and increasing the likelihood of a Binance listing.
The $TGC token has several benefits, including access to exclusive games and rooms, 25% cashback on all losses, a 260% staking APY, and more.
It also features a buyback mechanism that will repurchase $TGC tokens from the open market with a portion of the platform's revenue. It will burn 40% of tokens and allocate 60% to staking rewards, bolstering its supply and demand dynamics.
The community has shown significant interest in the presale, raising over $2 million so far. However, with the current round ending in one day, those looking to buy should act fast for the lowest price.
Sponge Token
One of the most prominent success stories of the recent bear market was meme coin phenom Pepe, which reached a $1.8 billion valuation after getting listed on Binance.
Yet, alongside Pepe, the newly launched meme coin Sponge also pumped. More recently, it has again seen tremendous gains amid Pepe's resurgence, currently up 299% this month and 231% this week.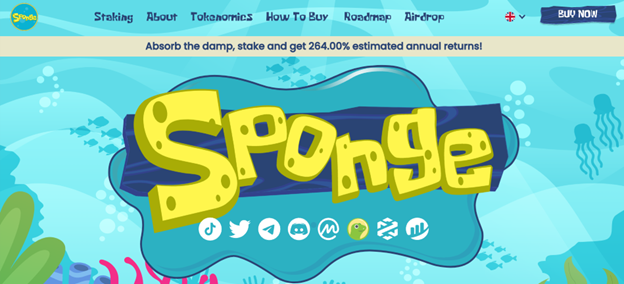 Given its parabolic nature and ties to Pepe's history, it would be no surprise if Binance snaps the project up before the next bull run.
One of the reasons for Sponge's success is its significant focus on community. It recently ran an airdrop worth $100k, driving massive hype while broadening the project's reach.
Moreover, it boasts a staking mechanism with a 264% APY. As well as rewarding its community, this is anticipated to reduce sell pressure on the token, enabling substantial price potential.
Sponge is also listed on several prominent centralized exchanges like Gate.io, MEXC, and Bitget. This shows that the project is attractive to major exchanges and strengthens its case for an upcoming Binance listing.
Currently, Sponge holds a $15 million market cap, providing massive room for growth if it does get listed on Binance.