The crypto market has experienced a notable uptick over the past 24 hours, with top projects like Bitcoin and Ethereum up 1.58% and 2.2%, respectively. However, many other altcoins have outperformed the market leaders, and others are poised to surge in the coming days.
This article looks at six of the top cryptos to buy now based on price, market trends, utility, on-chain data, and more.
Bitcoin ETF Token
Currently, the best altcoin to buy is Bitcoin ETF Token. It features a unique blend of utility and innovative tokenomics while leveraging the monumental Bitcoin ETF hype.
The project is undergoing a presale, raising $1.1 million in two weeks. This illustrates the community's significant interest, which is also evident in the project's media coverage from outlets like Cointelegraph, Crypto News, and Yahoo Finance.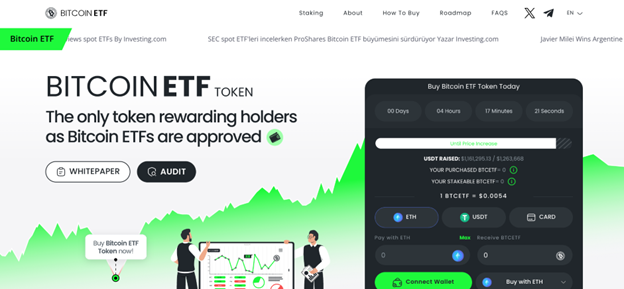 Bitcoin ETF Token enjoys an exciting position with scarcity-driven tokenomics and vast demand potential, given its relation to the widely anticipated Bitcoin ETF approvals expected to occur in January.
One of its main focuses is token burns, destroying 5% of its total supply at five key Bitcoin ETF milestones, creating a sense of scarcity while the hype is highest. Meanwhile, $BTCETF has a built-in 5% burn tax on transactions, making the token deflationary and reducing its supply over time.
It also features a staking mechanism, currently offering users a 212% APY, but this will decrease as the staking pool grows, incentivizing early investors. Staking will also lead to favorable supply and demand dynamics since it provides an added demand stream while leading many tokens to get locked up.
Lastly, the Bitcoin ETF Token website has a news feed, updating users on the latest Bitcoin news from around the web.
Meme Kombat
The next crypto to buy as prices turn green is Meme Kombat. Meme coins have made a tremendous resurgence over the past month, with market leader Dogecoin up over 30% and many newer meme coins up 1-10x.
However, Meme Kombat stands out as the next one to explode because it blends the viral, community-centric nature of meme coins with the compelling crypto gambling trend for massive utility.
In a nutshell, Meme Kombat enables users to bet on the outcome of AI-generated battles between meme coin characters. Users require the $MK token for gambling and can also stake it for a 532% APY.
The platform boasts numerous sophisticated game modes, including multi-player, and leverages traditional odds mechanics for a realistic and immersive experience.
Yet, in true meme coin fashion, the Meme Kombat X is brimming with viral memes relevant to ongoing market events. This will help grow the project's community and bolster its price potential.
It also features a doxxed team and smart contract audit, attesting to its security and legitimacy. This presents a significant advantage over many other meme coin projects.
Meme Kombat is currently in its presale, having raised $1.9 million in seven weeks. Investors can buy $MK for $0.205 but must hurry as its price will rise in three days.
TG Casino
TG Casino is a revolutionary new project enabling users to gamble anonymously directly from the Telegram app. Launching on Telegram provides additional benefits like increased accessibility, end-to-end encryption, and availability to Telegram's one billion users.
It is currently undergoing an immensely successful presale, having raised $2.6 million and recently amassing over $300K in one day.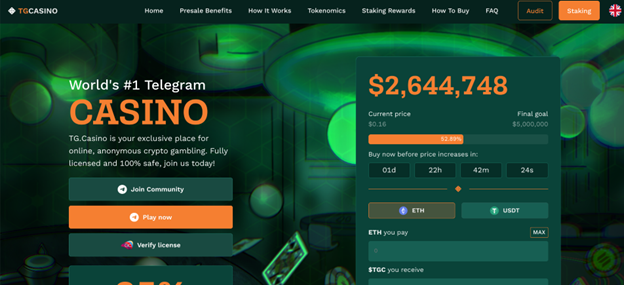 The project is also backed by many prominent analysts, with popular X influencer Eric Cryptoman stating he has personally invested and that it "Could be a huge runner when it launches" on exchanges.
Its native token, $TGC, holds numerous benefits, which all attribute to a strong demand. For instance, users get 25% cashback on all losses, a 218% staking APY, free rewards, and access to exclusive games and rooms.
TG Casino's team has recently attained a KYC certificate from Assure DeFi, and the project has had a smart contract audit. Moreover, it is licensed and regulated by the Official Central Government of Curaçao, illustrating its deep commitment to security and transparency.
Such a revolutionary use case, combined with robust security measures and its current early stage, presents a rare opportunity to get into a promising project from the ground up.
However, the presale price will increase in one day, so investors must be quick.
Bitcoin Minetrix
Bitcoin Minetrix is another project boasting a compelling use case and is launching in a timely manner. It lets users mine Bitcoin by staking $BTCMTX on its Ethereum-based platform.
The process is simple, and anyone can get started, regardless of their technical expertise and financial resources.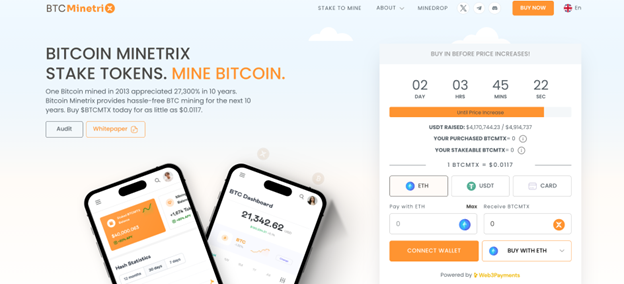 It works by users staking $BTCMTX in return for Bitcoin mining credits, which they can burn for cloud mining power. This then translates to free Bitcoin.
The process is simple yet completely groundbreaking. It eradicates the risk of cloud mining scams through its decentralized $BTCMTX token. Moreover, the innovative token economy means there will be staking-driven demand but a scarce supply since most tokens will be staked and rewards are paid out in credits, not $BTCMTX.
Furthermore, with the Bitcoin halving not six months away, the mining rewards will become even more valuable, potentially furthering demand for $BTCMTX.
Its one-of-a-kind use case could truly reshape Bitcoin mining, moving it toward mass adoption by removing many of the previous hurdles to getting started.
As such, analysts are massively bullish on the project, with Jacob Bury predicting it could 10x and Crypto Gains urging investors to "Get in early" because it "could disrupt Bitcoin mining."
Visit Bitcoin Minetrix Presale
yPredict
yPredict is an all-in-one AI ecosystem currently undergoing a presale, having raised $4.8 million so far. The presale has a $6.5 million hard cap, after which it will launch on exchanges, and its price will be determined by supply and demand.
The project offers many different AI-powered tools and a lucrative revenue-share-based staking mechanism offering up to 45% quarterly rewards.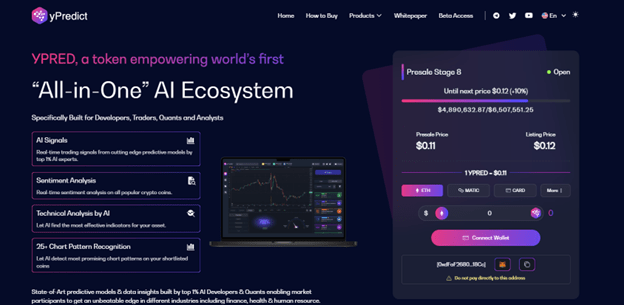 Users who invest at least $500 in the presale also get lifetime free AI-powered predictions on the best cryptos to buy and when.
yPredict's primary use case is to level the playing field between retail and institutional traders, providing immensely powerful tools at a fraction of the cost.
Some of its main features include AI trading signals, sentiment analysis, AI technical analysis, and chart pattern recognition. These tools will empower users to make better trading decisions backed by billions of data points.
It also features a predictive model marketplace where quants and machine learning engineers can sell their model predictions on a recurring basis. Users will purchase these models with $YPRED, offering a stable demand stream.
The project already has 20,000 users on its waitlist, illustrating there will be a tremendous demand for $YPRED.
Avalanche
Avalanche is a well-established Ethereum competitor that offers more scalable transactions at a fraction of the cost. While it is not the only chain to offer such advantages, Avalanche has begun to explode after several tier-one gaming and investment firms chose it as their blockchain of choice.
For instance, The Block recently reported that Republic has chosen Avalanche as the chain to launch its investment fund security token. The fund will incorporate over 700 "private assets" and has already raised over $30 million in pre-sale participation.
Currently, Avalanche is up 22% this week and 71% this year.
Another significant announcement was that JP Morgan will launch tokenized portfolios on Avalanche through its Onyx subnet. Given JP Morgan's global reach, this paves the way for true future crypto mass adoption.
Meanwhile, AAA gaming studios like Gunzilla and Shrapnel are launching their games on  Avalanche.
Gaming is another area that speculators believe could lead to mass adoption. A recent tweet by Farid noted this, also pointing out that Avalanche fits many prevalent narratives, potentially making it one of the best cryptos to buy.
The project has seen significant price growth in recent weeks, but with a $7 billion market cap, there is still lots of room for growth compared to Ethereum, which is over $200 billion.