The crypto market is constantly changing, with new coins and tokens emerging every week.
Now that September is well underway, it's a good time for traders to review their watchlists and identify potential breakout opportunities for the weeks ahead.
Next Cryptocurrency To Explode 2023
Below we highlight eight cryptocurrencies poised for potential price surges by month-end and into Q4 2023, helping investors stay informed about the market. 
1. Wall Street Memes (WSM)
Wall Street Memes (WSM) kicks off our discussion of the next cryptocurrencies to potentially explode in September.
Building on the immense popularity of the Wall Street Memes community, which has over one million followers globally, WSM has become a viral sensation – raising over $25 million during its presale phase.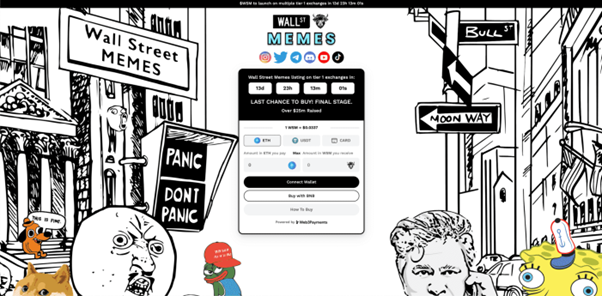 This presale is now in its final stage, with investors given a narrow window to buy WSM tokens for the low price of $0.0337 ahead of their exchange debut in two weeks.
Amplifying the buzz further is the fact that tech entrepreneur Elon Musk has interacted with Wall Street Memes' socials on several occasions, further boosting WSM's credibility.
With a rapidly approaching market debut, many early backers are touting WSM as the next PEPE – making it one to watch in the weeks ahead.
Visit the Wall Street Memes Presale
2. Bitcoin BSC (BTCBSC)
Bitcoin BSC (BTCBSC) is another token making waves, positioning itself as a greener BEP-20 version of Bitcoin on the BNB Smart Chain.
Offered at the low price of $0.99, mirroring BTC's value back in 2011, BTCBSC presents an opportunity for retail investors to capitalize on Bitcoin's legacy without its sky-high valuation.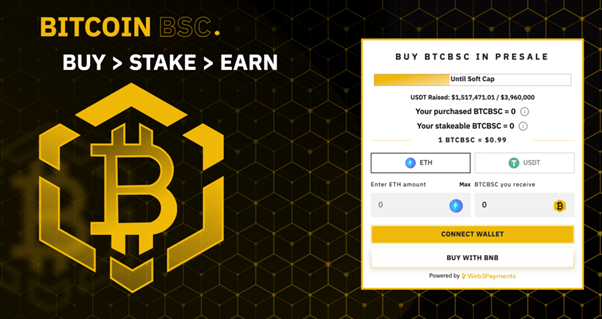 However, BTCBSC differentiates itself from Bitcoin by offering passive income opportunities through staking – with daily payouts and yields of over 300% per year.
These elements have created a significant early buzz around Bitcoin BSC's presale, with over $1.5 million in funding raised in less than two weeks.
As such, Bitcoin BSC looks primed to make a strong debut on decentralized exchanges in the coming weeks, potentially becoming a new favorite of crypto investors.
3. Launchpad XYZ (LPX)
Launchpad XYZ (LPX) is another token investors may wish to add to their watchlists in September, mainly due to its exciting feature set and presale bonus structure.
The platform states that it will help investors discover the "next 10x trades" through various tools, including an AI-powered assistant called Apollo.
Launchpad XYZ will also boast its own ranking system called the Launchpad Quotient, which uses 400+ data points to rank cryptocurrencies and NFTs based on their future price potential.
Investors can even join the Launchpad Signals Telegram channel, which provides real-time alerts and insights into trending coins.
With investors still able to obtain an 18% token bonus through the ongoing presale, many early backers believe now could be an opportune moment to check out Launchpad XYZ before it gains mainstream traction.
Visit the Launchpad XYZ Presale
4. yPredict (YPRED)
yPredict (YPRED) is rapidly emerging as a potential game-changer in the crypto space, offering an "all-in-one" analytics ecosystem for investors.
Boasting features like real-time signals, sentiment analysis, and automatic chart pattern recognition, yPredict offers users unparalleled precision – enabling them to make more informed trading decisions.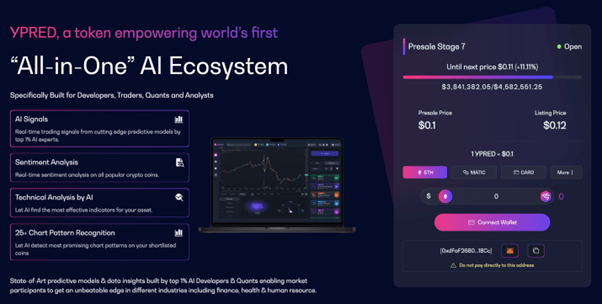 yPredict's key selling point is its integration of AI and machine learning technologies, which has led to over 20,000 people joining the platform's waiting list.
Underpinning yPredict's ecosystem is the YPRED token, which is used to pay for platform fees and staking.
With yPredict's presale now in its penultimate stage and YPRED tokens still available at a discount, this project could be worth monitoring throughout September.
5. Orchid (OXT)
Orchid provides a unique crypto-powered approach to virtual private networks (VPNs) – something that has yet to be offered successfully in the cryptocurrency market.
Using probabilistic nanopayments on the Ethereum blockchain, Orchid seeks to provide users with enhanced internet privacy and freedom.

As censorship and surveillance continue to grow, many believe that demand for Orchid's services will increase rapidly.
At the time of writing, OXT tokens are trading for $0.061, with CoinMarketCap data revealing that daily trading volume is up 18% in the past 24 hours.
If interest in so-called "privacy coins" continues to rise, OXT undoubtedly looks set to benefit, making it an under-the-radar token to watch this month.
6. VeChain (VET)
Another cryptocurrency that could explode in September is VeChain – an enterprise-focused blockchain platform that aims to enhance supply chain management and business processes.
Using Internet of Things (IoT) technology, VeChain provides a trustless ecosystem for transparent data sharing across many stakeholders.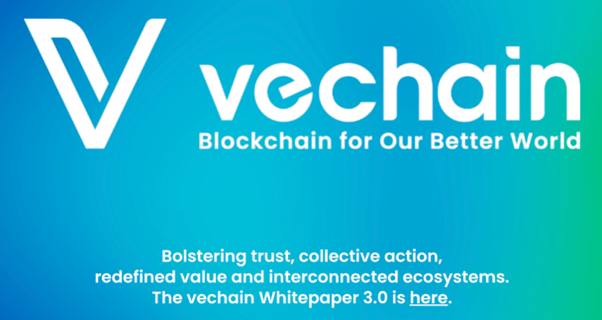 VeChain has partnered with several major brands like Walmart China, helping VET tokens build steady traction.
With a clear focus on business applications, VeChain looks well-positioned to expand as more companies adopt blockchain technology.
As such, VET could be poised for significant gains in September, thanks to its utility-driven approach and robust development activity.
7. Aptos (APT)
Aptos is a layer-1 blockchain that launched its mainnet in October 2022 to significant fanfare.
Built by former Meta Platforms engineers, Aptos aims to bring crypto to the mainstream through its high-speed network and Move programming language.
Though APT has yet to prove itself in the crypto domain, the project shows immense promise thanks to its strong technical foundation and backing by top crypto funds like a16z.
At the time of writing, APT tokens are trading around the $5.16 level, which is 73% lower than January's all-time high.
However, the token's price appears to be rejecting a solid support zone around $5.00 – hinting that APT could be gearing up for a rebound in the coming weeks.
8. Compound (COMP)
Wrapping up our list is Compound, another cryptocurrency poised for potential growth in September.
Compound is a leading decentralized finance (DeFi) lending protocol that allows users to earn interest on crypto deposits and take out collateralized loans.
The protocol revolutionized the DeFi sector with its auto-adjusting interest rates and community governance, making COMP one of the most popular tokens in the space.
According to DeFiLlama, Compound has over $1.16 billion in total value locked (TVL), making it the 16th largest DeFi protocol globally.
Though COMP is now trading 95% below May 2021's all-time high, there's a growing belief among some traders that it could be poised for a resurgence, especially as the broader DeFi sector continues to expand.