With the Bitcoin halving set to occur in under six months and numerous Bitcoin ETFs seemingly on the verge of getting the SEC's approval, the next crypto bull run seems just around the corner.
With that in mind, market participants are seeking cryptos with the most upside potential. Here are nine altcoins that could explode based on fundamental analysis, market trends, on-chain analytics, and pricing data.
Bitcoin Minetrix: Stake-to-Mine Bitcoin Mining Solution That's Raised $2.1 Million in a Month
Bitcoin Minetrix ($BTCMTX) is a new Ethereum-based platform that enables users to earn Bitcoin by staking $BTCMTX tokens.
The project is based on a cloud mining premise, where users stake $BTCMTX to receive Bitcoin mining credits, which they can burn for cloud mining power. They can then use this cloud mining power to earn free Bitcoin.
This concept solves numerous Bitcoin mining issues, most notably the complexity and accessibility problems associated with mining. Historically, mining has been reserved for tech geniuses and large-scale businesses, but anyone can start mining with Bitcoin Minetrix so long as they have an Ethereum-compatible wallet.
It also boasts significantly better security than other cloud mining solutions thanks to its decentralized and transparent ERC-20 token.
Moreover, since the $BTCMTX token holds significant utility, this translates to a strong demand stream. Meanwhile, its supply will be scarce because many tokens are staked, and rewards are paid out in mining credits. These factors hint at significant upside potential, with numerous respected analysts bullish on the project.
Currently, the project is in its presale, having raised over $2.1 million in under a month. Investors can buy $BTCMTX today for $0.0112, but they must be fast as the price is set to rise in four days.
Visit Bitcoin Minetrix Presale
Meme Kombat: Gamified GambleFi Coin With Viral Meme Coin Potential and 112% Staking APY
Meme Kombat is a new presale project enabling users to bet on the outcome of AI-generated battles between popular meme coin characters. The concept leverages the explosive crypto casino trend while "gameifying" it and incorporating meme coins for an immersive and engaging experience.
The project benefits from a viral meme coin allure while boasting a sophisticated Play-to-Earn ecosystem with carefully designed gaming features and traditional odds mechanics.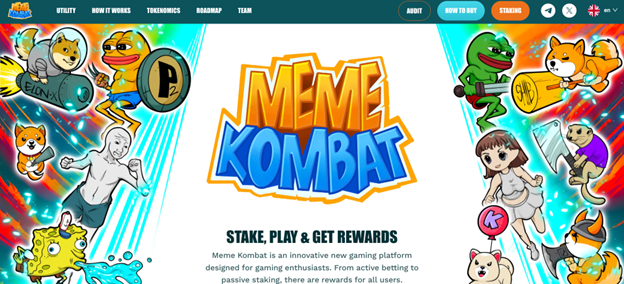 Meme Kombat's first season will feature 11 prominent meme characters and numerous fun battle types for the community to gamble on. Its roadmap also notes that there will be other seasons comprising new battle types, rewards, and opportunities.
One of the main advantages of Meme Kombat is that it is a meme coin with real utility, capitalizing on the two prominent trends of P2E and meme coins in one token. The project also has a doxxed team boasting years of experience across the blockchain, business, and tech industries.
Users gamble with the $MK token, providing a stream of utility-driven demand. However, they can also stake $MK and earn a 112% staking annual percentage yield (APY). As well as rewarding the community, the staking mechanism will reduce the available supply, bolstering its price potential.
Investors can buy $MK for $0.1667 but must not wait around as the price is set to rise in nine days.
TG Casino: GambleFi Token of Telegram Casino With Buyback Mechanism and 25% Cashback on All Losses
With the exponential rise of Rollbit and other cryptocurrency-powered casinos, TG Casino has just launched with numerous competitive advantages that indicate tremendous potential.
Firstly, it is KYC-free, and users do not need to create an account, so they can get started in seconds.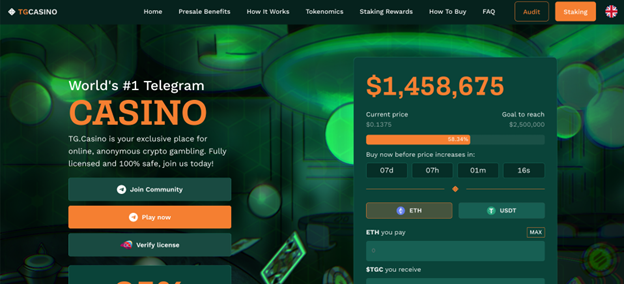 It is one of the first fully licensed and regulated casinos to launch on the Telegram application. This lets users enjoy the speed and convenience of a Telegram-based casino without sacrificing security. Other Telegram-related projects have also soared recently, like Unibot and Toncoin.
Moreover, TG Casino features a set of compelling tokenomics designed for price appreciation and long-term potential.
The platform boasts a buyback mechanism that repurchases $TGC tokens with some of the casino's profits. It will allocate 60% as staking rewards and burn 40%, contributing towards the token's scarcity.
Meanwhile, it benefits from utility-driven demand thanks to the numerous advantages holders enjoy.
The $TGC token grants users access to exclusive games and rooms, free rewards, 357% staking APY, and 25% cashback on all losses.
Yet such advantages have put the presale in tall order, raising $1.4 million in one month. Therefore, those looking to buy the presale must act quickly or risk paying a higher price.
Wall Street Memes: Trending Meme Coin That Recently Launched a Crypto Casino
After launching a presale in May this year, Wall Street Memes has begun battling for a place in the top three meme coins, rivaling Dogecoin, Shiba Inu, and Pepe. The project currently holds a $56 million market cap and has pumped over 30% in the last five days.
Yet despite its recent bullish momentum, the project still has tremendous upside potential to catch up to the top three meme coins, with Pepe at around $400 million and Shiba Inu and Dogecoin both in the multi-billions.
However, Wall Street Memes already boasts a one million-strong community and more utility than Dogecoin and Pepe, and is quickly closing in on Shiba Inu.
The Wall Street Memes team recently rolled the dice on crypto's most promising new use case: crypto casino. In a surprise launch, the team announed the casino to its community, with the $WSM token holding numerous utilities like a 200% deposit bonus up to $25,000 and 200 free casino spins.
The project also features a staking mechanism that currently provides a generous 41% APY while also removing tokens from circulation.
Additionally, Elon Musk has engaged with the Wall Street Memes X account several times, which could translate to unprecedented attention as the crypto bull market heats up.
XRP: Global Bridge Currency Nearing Regulatory Clarity
XRP is one of the biggest cryptocurrencies and facilitates cross-border payments primarily focused on institutional banking. The project has racked up partnerships with some of the world's most prominent banks and governments but came under fire after the SEC sued its creator, Ripple Labs, for selling unregistered securities in 2020.
However, promising advancements in the case have provided some regulatory certainty on XRP. For instance, the token has now been ruled not a security.
With the case expected to close in 2024, investors and financial institutions will have a clear picture of XRP's regulatory status, potentially enabling mass adoption. As such, demand for the token could surge, pushing up its price significantly.
XRP's current price is $0.54, up 3.5% in the last day and 6.5% this week. However, it remains down from July, when it was ruled not a security and peaked at around $0.9.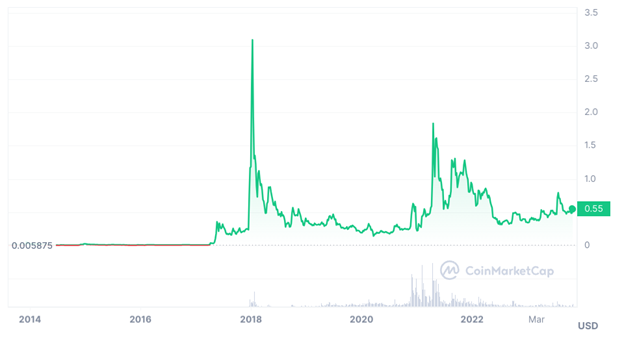 Moreover, it is down 85% from its January 2018 all-time high (ATH) of $3.84 but in a fundamentally better position thanks to its regulatory clarity and the crypto industry's advancements and adoption since then.
Shiba Inu: 1.3 Million Holder Meme Coin With Growing Ecosystem
Shiba Inu is commonly known as a viral meme coin, which peaked in 2021 and nose-dived significantly in the recent bear market. However, the team has continued innovating, most recently deploying an Ethereum layer 2 network called Shibarium.
While the layer 2 network has gotten off to a shaky start, it displays the Shiba Inu team's ability to remain on the cutting edge of crypto innovation, providing massive potential considering its 1.3 million holders.
Such a community plus continued ecosystem expansion could result in tremendous speculative and utility-driven demand as the next bull market occurs and market confidence grows.
This is also evident in Shiba Inu's performance in the last bull run, reaching a staggering $43 billion market cap.
What's more, Elon Musk's purchase of Twitter (now X) massively increases the likelihood of another meme coin season amid the broader crypto bull run.
Currently, SHIB is priced at $0.000007423, down 91% from its October 2021 ATH.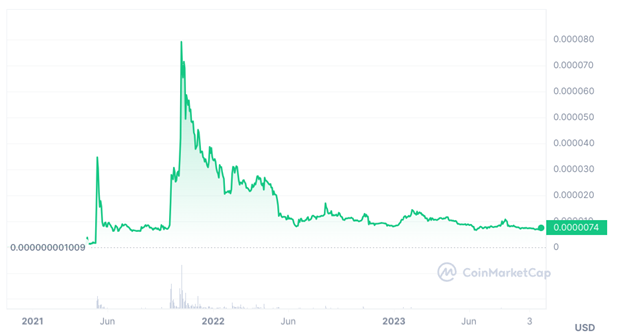 Solana: Scalable Layer 1 Blockchain With Prevelant Developer Community
Solana is a layer 1 blockchain that rose to prominence in the last bull run thanks to its high scalability and massive community. Its price has suffered significantly since one of its largest holders, Almeda Research, collapsed alongside its sister company, FTX, last year.
However, with FTX and Almeda primarily out of the picture, this has provided a more organic and long-term outlook for the project. Despite its strong sell-off, its technical advantages compared to Ethereum and other layers 1s have kept investors' interest and retained a significant developer community with over 900 active developers.
This puts Solana as the fifth-highest blockchain by developers and indicates continued innovation and long-term potential.
Currently, Solana is priced at $30.87, recently breaking the $30 mark for the first time since shortly after the FTX collapse in 2022.
This shows growing bullish sentiment surrounding the project, increasing the likelihood of a recovery to its $260 ATH in the upcoming bull market.
Cardano: Scalability and Decentralization Focused Layer 1 With Growing TVL and Ecosystem
Cardano is a layer 1 blockchain focused on decentralization, scalability, sustainability, and governance. Ethereum Co-Founder Charles Hoskinson created the project and has developed a strong and loyal community since its inception in 2017.
It is backed by academic research and utilizes alternative technological innovations to solve the "blockchain trilemma." Cardano's alternate pathway has led to slow development since its inception. Still, its growing ecosystem and TVL hint at significant utility-driven demand in the next bull run – something ADA has not experienced in previous market cycles.
With this in mind, Cardano holds the potential to explode, particularly given the charismatic leadership of Charles Hoskinson and its loyal and voiceful community.
Currently, ADA is priced at $0.27, up 5.8% in the last day and 13.9% in the past month. However, it remains down 90% from its $3.10 September 2021 ATH, opening the door to significant upside potential.
Lido DAO: Liquid Staking Solution Enabling Users to Generate Multiple Yields on ETH and Other Coins
Lido DAO is a cryptocurrency protocol that lets users stake Ethereum and other cryptocurrencies to earn a yield. To become an Ethereum staker, users must stake 32 ETH and run expensive hardware. However, Lido DAO enables users to delegate ETH to other stakers without a minimum deposit and still earn a reward.
Moreover, the project leverages an innovative mechanism known as "liquid staking," whereby users can receive an equivalent synthetic version of their staked tokens, which they can also earn a yield on.
As such, liquid staking bolsters capital efficiency for its users, meaning they can earn multiple yields at once. Lido DAO currently holds the most significant share of the Ethereum liquid staking pool, with a 77% market share.
The LDO token is used for governance, which is of significant importance considering Lido DAO's influence over the Ethereum network.
Currently, LDO is priced at $1.8 with a $1.5 billion market cap, up 2.18% in the last 24 hours and 20.6% in the previous month. However, the token is down 84% from its ATH of $11, which occurred in November 2021.