The crypto markets have again been struggling as bearish sentiment takes hold, with the Fear & Greed Index at just 35 – its lowest figure since January 2023.
However, just because the markets are worried does not mean that there isn't lots of opportunity in the space to make good gains.
Bitcoin, for example, has dipped below $26k – its lowest price in three months and while some analysts believe there could be more short-term pain for BTC, many institutional analysts believe a bull run is coming in 2024 with the next Bitcoin halving fast approaching.
Therefore, $26k could mark a solid entry point, especially with the likes of Standard Chartered predicting it will hit six figures in the next 18 months.
Below are 9 of the best cryptos to buy now despite the bearish conditions, including high-potential presales that could see major gains in the coming weeks as well as long-term holds that are currently available at discount prices.
The Best Crypto to Buy Now – In Depth
1. Wall Street Memes (WSM)
Wall Street Memes ($WSM) is our overall best crypto to buy now and is a brand new meme coin that has taken the space by storm since it launched its presale a couple of months ago.
With just a couple of weeks before it closes, the presale has already seen more than $25 million of investment and has become one of the most highly-anticipated releases of 2023.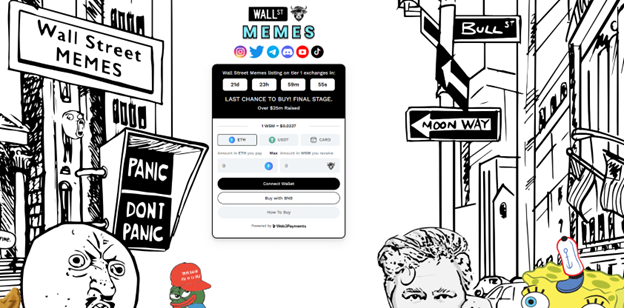 The project has spread like wildfire for a variety of reasons – it has a massive social media following, offers generous staking rewards, has high potential as a meme coin, and has a team with a long track record of success in the space.
Starting as a humorous offshoot of the popular Wall Street Bets subreddit, Wall Street Memes now has more than a million followers across various social media platforms. Elon Musk is a known fan and has interacted with the pages on multiple occasions.
According to the staking dashboard, the project is currently offering a generous estimated annualized yield percentage (APY) of 72% for those that add tokens to the staking pool.
Its team has long experience in the space and previously sold out the Wall Street Bulls Ethereum NFT collection in just 30 minutes as well as releasing a popular Bitcoin Ordinals collection.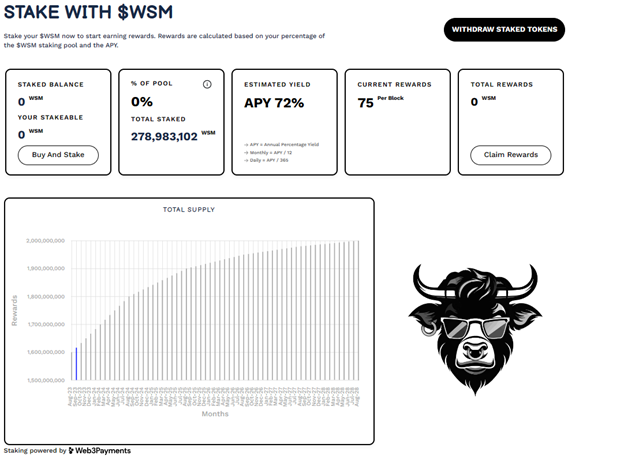 With just a couple of weeks remaining until the presale closes, excitement is quickly building with the project to launch on Uniswap and tier-1 centralized exchanges.
Tokens can be purchased for $0.0337 – visit the Wall Street Memes Linktree page for more info and the latest news.
2. Bitcoin BSC (BTCBSC)
Bitcoin BSC (BTCBSC) has only just launched in early September but is a high-potential presale that is offering a Bitcoin mimic at 2011 prices – $0.99.
Unlike the actual Bitcoin, which is built on a proof-of-work mechanism and is inefficient, BTCBSC is built on the Binance Smart Chain and has a proof-of-stake mechanism.
That means it has faster speeds, is more eco-friendly and has smaller transaction fees, and also allows users to lock their tokens in a staking pool and generate rewards.
The presale has seen 6.125 million of the 21 million max supply – the same as BTC – allocated, with the remaining supply and any unsold presale tokens added to the staking pool.
BTCBSC will unlock tokens on the same 120-year schedule as BTC and allows holders to generate huge APYs.
BTC20, which offered a similar project to BTCBSC but on Ethereum, recently sold out its $6 million presale in just two weeks before pumping by 600% after it launched on exchanges.
3. Launchpad XYZ (LPX)
Launchpad XYZ (LPX) is a new gateway platform that aims to become a one-stop-shop for all Web3 users – whether they are newly arrived from Web2 or experienced in the space.
The project will provide a vast array of tools, data points and information to help users better understand the space and help them maximize their profit-making potential.
Features include a custom-built trading terminal, AI-powered chatbot, and a Launchpad Quotient which will use more than 400 data points to provide scores and reviews of new and established crypto projects.
One of the main features of the platform is already live and providing good returns for members – the alpha Telegram signals group has made multiple 1,000%-plus calls in recent weeks, including one on LINQ that saw 7,000% gains.
The LPX token underpins the project and is used for membership and access to various parts of the protocol.
Currently available for $0.0445, the token presale has now raised more than $1.5 million – visit the Telegram group for more info.
4. yPredict (YPRED)
Next on our list of the best crypto to buy now is yPredict (YPRED), which utilizes artificial intelligence (AI) and machine-learning (ML) to help crypto traders become more profitable.
The project features its own custom-built trading terminal that has advanced metrics and tools to help traders win trades, as well as wide community features to help traders improve their skills and discuss strategies.
yPredict uses AI to build predictive models and scan the market to eliminate noise, allowing its members to operate more efficiently.
The project works off a three-tiered membership system, with a subscription paid in YPRED allowing access to different levels of tools and features.
So far, more than $3.7 million has been raised in the yPredict presale and buyers can also see a 20% discount – tokens are currently on sale for $0.10 but will be listed at $0.12.
Join the Telegram group for more info on yPredict.
5. Bitcoin (BTC)
Bitcoin is the original cryptocurrency and still, by far, the largest and most popular as it currently enjoys a 50% share of the entire market.
Although BTC has a pretty small use case, being used very sparingly as a currency, its unmatched tokenomics and small supply have allowed it to become one of the best-performing financial assets ever.

Described as 'digital gold' and considered one of the safest crypto investments, Bitcoin is among the best long-term crypto investments, although Bitcoin is currently slumping in price and has been predicted to drop further by the end of 2023. It remains more than 60% down from its all-time high.
However, with the next halving – where it becomes doubly difficult to mine BTC – fast approaching in mid-2024, a new bull run and even a six-figure-plus Bitcoin is believed to be on the cards.
With the price currently hovering at around $26k, investors may wish to adopt a more long-term strategy, such as dollar-cost-averaging, when purchasing BTC
6. Ethereum (ETH)
Ethereum is undoubtedly the most 'useful' cryptocurrency in the whole space.
It is the top altcoin and has not moved out of second spot of the coins with the largest market cap in years – only Bitcoin beats it.

Due to its scalability and efficiency, the Ethereum blockchain has become the most popular chain for decentralized app (dApp) builders and the projects built upon it are worth a combined $25 billion.
That's more than four times nearest rival Tron, and shows just how popular the network is.
However, like Bitcoin, the ETH token is currently way off its all-time highs and could slump further in the short term before bouncing back next year.
7. XRP (XRP)
XRP is one of the biggest gambles on this list but could prove to be one of the most profitable.
Its underlying features and use case as a cross-border payment mechanism are unmatched and it has proved hugely popular with banks and other institutional partners.

However, Ripple Labs – XRP's parent company – has been locked in a three-year court case with the US Securities and Exchange Commission (SEC).
That has consistently deflated its price and potential. Although a recent court win saw the token pump by more than 50% overnight, those gains have largely been wiped out.
The court battle is ongoing and any investors in XRP will need to keep an eye on the court case to determine whether it will pay off or not.
8. Polygon (MATIC)
Polygon (MATIC) is an Ethereum layer-2 network, meaning it is built on that chain but capable of much greater speeds and lower fees.
It has quickly become a darling for global brands and in the last couple of years has secured partnerships with the likes of Disney, Nike and Starbucks – offering various different solutions such as NFT collections and even marketplaces.

Polygon is capable of transaction speeds of up to 65,000 transactions-per-second (TPS) an incredible speed that far outstrips the likes of global payments giant Visa – which has a max speed of 24,000 TPS.
MATIC, however, is also more than 70% down from its all-time high but could enjoy a resurgence in the coming months.
9. Maker (MKR)
Maker (MKR) continues to provide good returns in the face of bearish sentiment in the rest of the market.
While Bitcoin and other top altcoins have slowed down after their hot start to the year, Maker is one of the few coins regularly offering gains.

At the time of writing, MKR is trading at around $1,100 a price nearly double what it was in June.
Another platform built on Ethereum, it is designed to solve volatility issues and make international and peer-to-peer transactions faster and easier through the DAI stablecoin.