The past 24 hours have seen an overall decline of around 3% in the crypto market, with major altcoins like Ethereum, XRP, ADA, SOL, and AVAX dropping 3-10% in price.
However, according to prominent crypto analysts, this pullback comes after a period of increasing strength in altcoins which signals positive price action ahead.
As CryptoCon pointed out on X (Twitter), altcoins are clearly getting stronger. This strength is evidenced by the uptrend in overall altcoin performance as well as altcoins moving above the 50-week simple moving average (SMA).
Historically, when altcoins can move above and hold this key long-term moving average, it tends to precede powerful bull runs.
CryptoCon notes that this break above the 50-week SMA is also good for Bitcoin. When Bitcoin holds above this moving average, as highlighted in red, it typically leads to impressive price action like was seen in 2016-2017.
The 2020 COVID-driven crash was an exception, but CryptoCon believes that was a black swan event. Now in 2023, altcoins have already broken above the 50-week SMA earlier than normal. Since this indicator crossover usually doesn't happen until later in the Bitcoin bull cycle, the early breakout suggests we could see a powerful altcoin surge akin to 2017, but even sooner.
Analyst Moustache also noted the total crypto market cap Supertrend indicator is signaling a buy for the first time in over 3 years. The last two times this buy signal occurred, it preceded major crypto bull runs. He believes the indicator's one wrong signal was due to the COVID-19 crash. With the indicator flipping bullish again, the overall market appears ready for the next leg up.
So despite recent declines, key indicators are pointing to growing strength in altcoins and the likelihood of major upside ahead for both altcoins and Bitcoin. Rather than a reason to be bearish, the current pullback seems more like a healthy consolidation before the crypto market's next move upwards.
Bitcoin Minetrix Presale Surges Past $4M Milestone
As the crypto market consolidates, one project generating significant buzz is Bitcoin Minetrix. The innovative platform has seen enormous inflows of funding, with its presale hitting $4 million this week.
The surge comes as retail investors buy up available $BTCMTX tokens before the next presale price increase in just over 4 days. The current price remains an affordable $0.0117 but will increase at the end of Stage 7.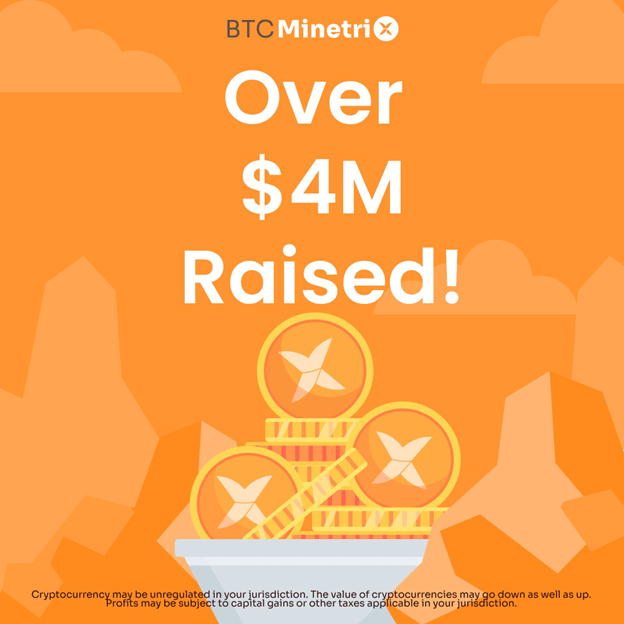 Bitcoin Minetrix is establishing itself as a highly anticipated cryptocurrency project. Its presale keeps attracting more investment as the presale progresses toward the major upcoming milestone.
The project introduces staking on Ethereum for BTCMTX tokens as an alternative to Bitcoin mining. This unique feature has grabbed the attention of the wider crypto community.
The upcoming launch of the next presale phase and associated price increase helps explain the recent spike in interest for Bitcoin Minetrix. For those looking to participate, here is what you need to know about this emerging token:
Why Investors Believe in Bitcoin Minetrix
The goal of Bitcoin Minetrix is to revolutionize cloud mining by developing a one-of-a-kind ecosystem centered around its native BTCMTX token.
BTCMTX holders can stake their tokens to generate passive income. By tapping into the infrastructure of existing cloud mining companies, this model reduces costs for individual miners.
As tokens are staked, Bitcoin Minetrix rewards holders with non-tradable ERC-20 credits. These credits can then be exchanged for Bitcoin cloud mining hashpower through the platform. After redeeming credits, users get allotted cloud mining time to earn a share of revenues. This approach streamlines the mining process while optimizing profits.
Investors are excited about Bitcoin Minetrix's potential to establish itself in the crypto space this year. Thanks to the current low $0.0117 token price and the growing popularity of its unique staking-to-mining feature, Bitcoin Minetrix offers a timely opportunity.
The upcoming Bitcoin halving in 2024 is also generating interest in Bitcoin Minetrix. BTCMTX tokens can be exchanged to offset reduced mining profitability after the halving. For miners seeking sustainability, Bitcoin Minetrix provides an attractive solution.
In addition, Bitcoin Minetrix stakers enjoy yields up to 161% annually on their BTCMTX tokens. The platform is rapidly gaining traction for integrating Ethereum staking with cloud mining of Bitcoin.
Surging Presale Explains Spike in Interest
The spike in interest for Bitcoin Minetrix is easily explained by the upcoming presale price increase and launch of the next presale phase. Here's what investors should know:
The goal is to revolutionize cloud mining through a unique BTCMTX-based ecosystem. Token holders can stake to earn passive income, while costs are reduced by leveraging existing infrastructure.
Staking earns non-tradable credits to redeem for Bitcoin cloud mining hashpower. Users then get cloud mining time, allowing them to earn a share of revenues.
Following the presale, Bitcoin Minetrix plans to list on major exchanges, significantly improving accessibility. Members of the Telegram community are eagerly awaiting listings as a major milestone.
With the anticipated Bitcoin halving approaching in 2024, Bitcoin Minetrix's launch helps users capitalize on potential mining reward growth. By tokenizing the mining process, it also makes Bitcoin rewards achievable for crypto enthusiasts worldwide.
Even though the crypto market is consolidating after a period of growing altcoin strength, Bitcoin Minetrix continues gaining momentum. With its presale hitting $4 million, the project is establishing itself as one of the most exciting cryptocurrency platforms this year.
The unique staking-to-mining feature, upcoming presale price bump, and plans to list on major exchanges explain the spike in interest. As both retail investors and crypto analysts take notice, Bitcoin Minetrix appears positioned to make a major impact on the cloud mining landscape.