Solana has enjoyed a tremendous run recently, up 7% in the last 24 hours and 80% this month. Currently, it holds a price of $38, its highest level in over one year.
Can Solana keep pumping, or will its hype fade?
Market Sentiment on Solana is Bullish, but Traders Fear Pullback
With SOL's price performing so strongly this month, numerous prominent analysts have considered where it could be headed.
In a recent tweet, Altcoin Sherpa responded to a news event that $58 million worth of SOL will soon be unlocked from FTX's cold storage. The analyst believes this will create an adverse price movement, leading to a move toward $26-$23.
However, the analyst also notes that it "should be a good dip to buy" since it is around a key level of previous resistance.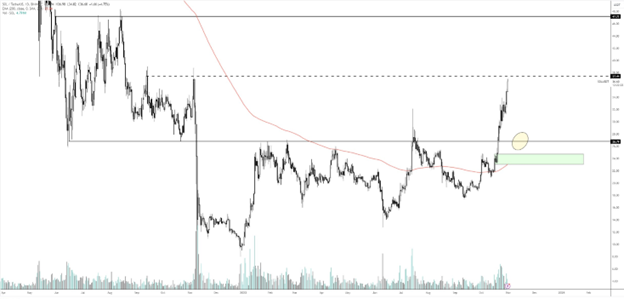 If the analyst is correct, then he has placed the range resistance at $47, indicating that may be SOL's next move after retesting its support.
TradingView analyst FieryTrading is even more optimistic about SOL. According to a recent trade idea, Solana is forming a rising wedge pattern. Traditionally, this is a bearish pattern, but Solana has been gathering significant momentum as it moves toward the range high, indicating buyers are dominant and a breakout is likely.

FieryTrading expects Solana to reach $100 after breaking the wedge formation.
Another TradingView analyst, Alan Santana, is bullish on Solana, noting that it has broken above a strong resistance zone and "formed a long-term bottom."  According to the analyst, Solana could reach $60 shortly.

The analysis also highlights that Solana's "long drawn out recovery phase is clearly visible." This is evident by the orange trend line, which also forms an ascending triangle chart pattern, a significantly bullish sign.
However, renowned crypto trader and influencer Pentoshi has also provided a Solana price prediction, noting that we may see a "local top soonish."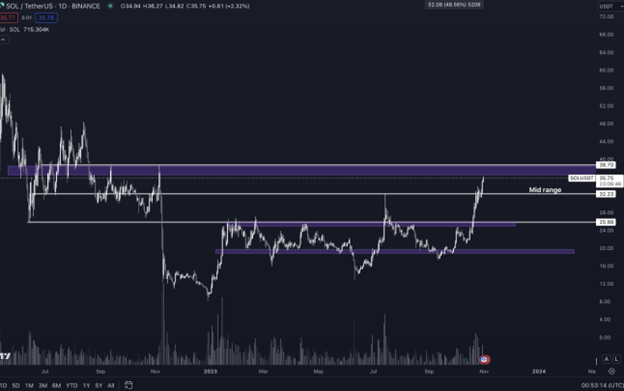 The analyst noted its "timeline is getting a little too loud," indicating that the community may have become euphoric about Solana, making it a good time to take profits.
In another tweet, Pentoshi predicted that Solana might return to $32 but also said in a reply that shorting SOL is likely not a good idea.
Yet, with Solana displaying massive volatility by rallying 80% this month, a pullback could be equally as volatile, so traders must remain aware of the downside risk.
Another crypto to watch this month is Bitcoin Minetrix, a revolutionary presale project backed to explode once it launches on exchanges.
Innovative Stake-to-Mine Project Bitcoin Minetrix Lets Anyone Effortlessly Cloud Mine Bitcoin, Raises $2.9M
Bitcoin Minetrix is a revolutionary platform enabling users to mine Bitcoin by staking $BTCMTX tokens on its Ethereum-based platform. All users need to get started is an Ethereum-compatible wallet – no overheads, hardware, or expertise required.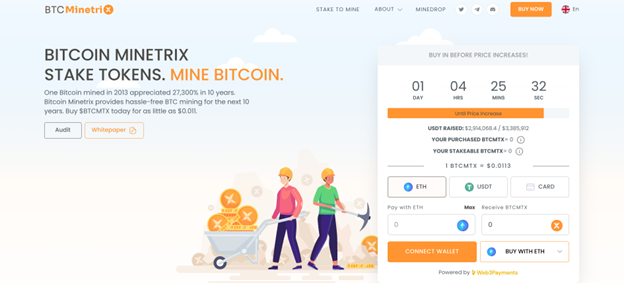 The process works by users staking $BTCMTX to get Bitcoin mining credits, which then can burn on the Bitcoin Minetrix platform to receive cloud mining power.
As such, Bitcoin Minetrix democratizes Bitcoin mining, enabling anyone to start earning free Bitcoin and contributing to the network's hashing power.
Its decentralized and transparent token also eliminates the risk of cloud mining scams that become a major deterrent for other Bitcoin mining solutions.
This has led to significantly bullish predictions, with analyst Jacob Bury predicting 10x returns once it launches on exchanges. Bury also called it a new BTC alternative, referring to the increased upside potential it could hold thanks to its lower market cap.
Currently, Bitcoin Minetrix is undergoing a presale currently priced at $0.0113 in stage four of ten. However, the price will increase by 10% in each round, with the next set to begin in one day. With that in mind, those looking to buy should act fast.
Visit Bitcoin Minetrix Presale