Bitcoin recently hit $35K for the first time since May 2022, driving massive excitement about whether this could kickstart the next bull run.
Multiple prominent nalysts have since weighed in on the situation, factoring in technical analysis, fundamental analysis, and the four-year market cycle theory.
Traders Speculate an Early Bull Run Could Occur Due to Bitcoin ETFs
Bitcoin is currently priced at $34.5K, up 1.7% in the last 24 hours, 22% this week and 67% this year. Such bullish momentum is surprising, considering it usually pumps following its 4-yearly halving, which will next occur in April 2024.
Its recent price action has been spurred by anticipation of Bitcoin spot ETF approvals, which JP Morgan analysts believe will happen within months.
Combined with Bitcoin halving anticipation and the industry's most significant threat of the SEC slowly losing power, prominent analyst Kudana has recently theorized that we could see an early bull run this time around.
Kaduna speculates that the excitement of spot ETFs could cause an ATH before the halving. This would be an unprecedented event, catching many investors off guard. However, it would also provide ample liquidity for institutions to buy / long crypto, counter-trading the well-known four-year-cycle narrative.
Meanwhile, Peter Brandt shares the more common conception that Bitcoin will not reach its ATH Q4 2024. The analyst also states that the Bitcoin bottom is already in, and the price will be a "chop fest" until its ATH.
Esteemed trader Rekt Capital has also weighed in on Bitcoin's current outlook, noting that it has already broken its macro downtrend to enter a new bull market.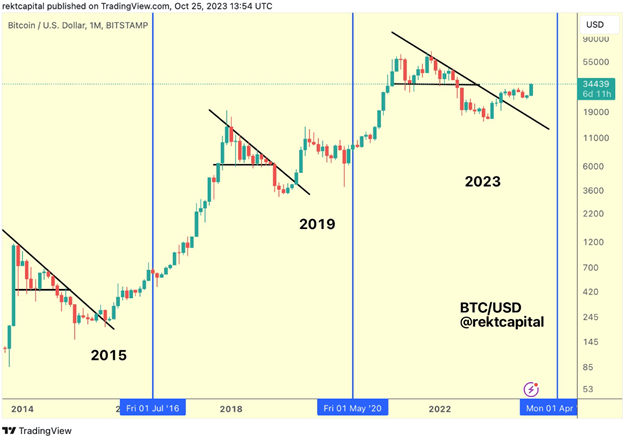 Rekt Capital noted in another tweet that Bitcoin is following a different trajectory to pre-halving in 2019.
While the analyst did not explicitly state it, this alludes to changing market characteristics, potentially aligning with Kaduna's thesis on a pre-halving all-time high.
Lastly, prominent TradingView analyst FieryTrading recently shared a trade idea, noting that Bitcoin has been following a logarithmic path and currently looks primed for its next leg up.

Along with Bitcoin's bullish outlook, another BTC-related project showing significant upside potential is the revolutionary mining project Bitcoin Minetrix.
Investors Bullish on Stake-to-Mine Project Bitcoin Minetrix as Presale Raises $2.3 Million
Bitcoin Minetrix is a new cryptocurrency platform enabling users to mine Bitcoin by staking $BTCMTX on its Ethereum-based platform. They receive Bitcoin mining credits in return and can burn these for cloud mining power, which they can earn Bitcoin with.
This revolutionary concept enables anyone to start mining Bitcoin without expertise or specialist mining hardware. Moreover, it is far more secure than other mining solutions thanks to its decentralized $BTCMTX token.
Given its groundbreaking use case, the fact that users require the token for staking and that rewards are paid out in mining credits, $BTCMTX looks poised for unprecedented success.
The project is undergoing a presale and has raised $2.3 million in a month. Considering how new the project is, such interest is a highly bullish sign, and several analysts have backed the project.
Bitcoin Minetrix has launched an airdrop worth $30K to celebrate the presale. The prize will be split between ten winners, and participants get up to seven entrees each by completing simple tasks like joining the Bitcoin Minetrix Telegram.
The presale is in its third round, priced at $0.0112. However, there are ten rounds, with a 10% price increase in each. The next round begins in one day, so those looking to secure the best price must be fast.
Visit Bitcoin Minetrix Presale